3 Cats Were Just Dumped Outside A Shelter Without Food Or Water
They were so scared 😢
Last weekend, a woman stepped outside the animal shelter where she volunteered for a quick break — but it was not the relaxing respite for which she had hoped.
Pained cries filled the air, seeming to come from the stairwell at the back of the All About Cats Rescue building in Freeport, New York. The volunteer rushed to investigate, and when she looked down the stairs, three pairs of frightened eyes stared up at her.
Two calico cats and an orange tabby were huddled together without food, water or form of identification. Security camera footage quickly explained the animals' mysterious appearance.
In the video, a gray car pulls up outside the rescue early that morning and a man and woman get out clutching the terrified cats. "They just took the cats out of the car and dumped them right there in the parking lot," Valerie Dalessio, a founder of the rescue, told The Dodo. As the cats' former owners drove away, the cats started to meow loudly.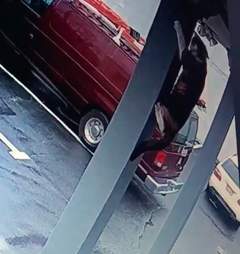 Facebook/All About Cats Rescue
But dumping the cats in that manner wasn't just a heartless move — it was a dangerous one.
"We're on Sunrise Highway, which is a very busy road," Dalessio said. "These cats are lucky they went down the stairwell and didn't run out into the street and get killed."
Once discovered, one of the kittens attempted to crawl up the stairwell column to escape her rescuer. Luckily, with a little coaxing, a volunteer captured the cat and brought her inside to safety.
Facebook/All About Cats Rescue
The three cats, now named Ashley, Amanda and Aiden, are all between 7 and 9 months old and in good health. Dalessio believes age may have played a role in the sweet cats' abandonment since they were outgrowing their kitten stage.
Now safely in the shelter, the young cats are starting to show the volunteers a more friendly and affectionate side of their personalities. In fact, the group seems outright hungry for any type of human interaction — from pets to snuggles.
Facebook/All About Cats Rescue
"They're just very sweet," Dalessio said. "You put them down and they circle your legs. They like to be held."
The three cats have had the chance to mix with the 20 other residents of the free-roaming shelter, and have scored high marks for their ability to play well with others. "They get along with everybody," Dalessio said. "They just walk around and like to get pet."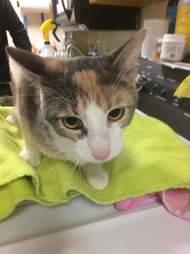 Facebook/All About Cats Rescue
Now that the young cats have been spayed and neutered, all that's left is to find them a loving forever home. And if their loving disposition is any indication, they will show their gratitude to their new family each and every day.