Cat Who Hated Dogs Loves Going On Adventures With His Dog Brother Now
"He just seemed really mad every time we would leave. He'd go to the window that overlooks where I park my car, and you'd see him in the window just staring down at us."
Amber Pitcher never intended on getting a cat. But when a Good Samaritan found Ollie — a stray cat with a badly broken leg — and brought him into the veterinary clinic where Pitcher worked, she found herself drawn to him.
"I saw him in the kennel, and he was just purring, even though his leg was completely shattered and he wasn't able to walk," Pitcher, a veterinary technician at the Village Animal Clinic in Voorheesville, New York, told The Dodo. "He was just so sweet that I made a spur-of-the-moment decision that I was going to bring him home."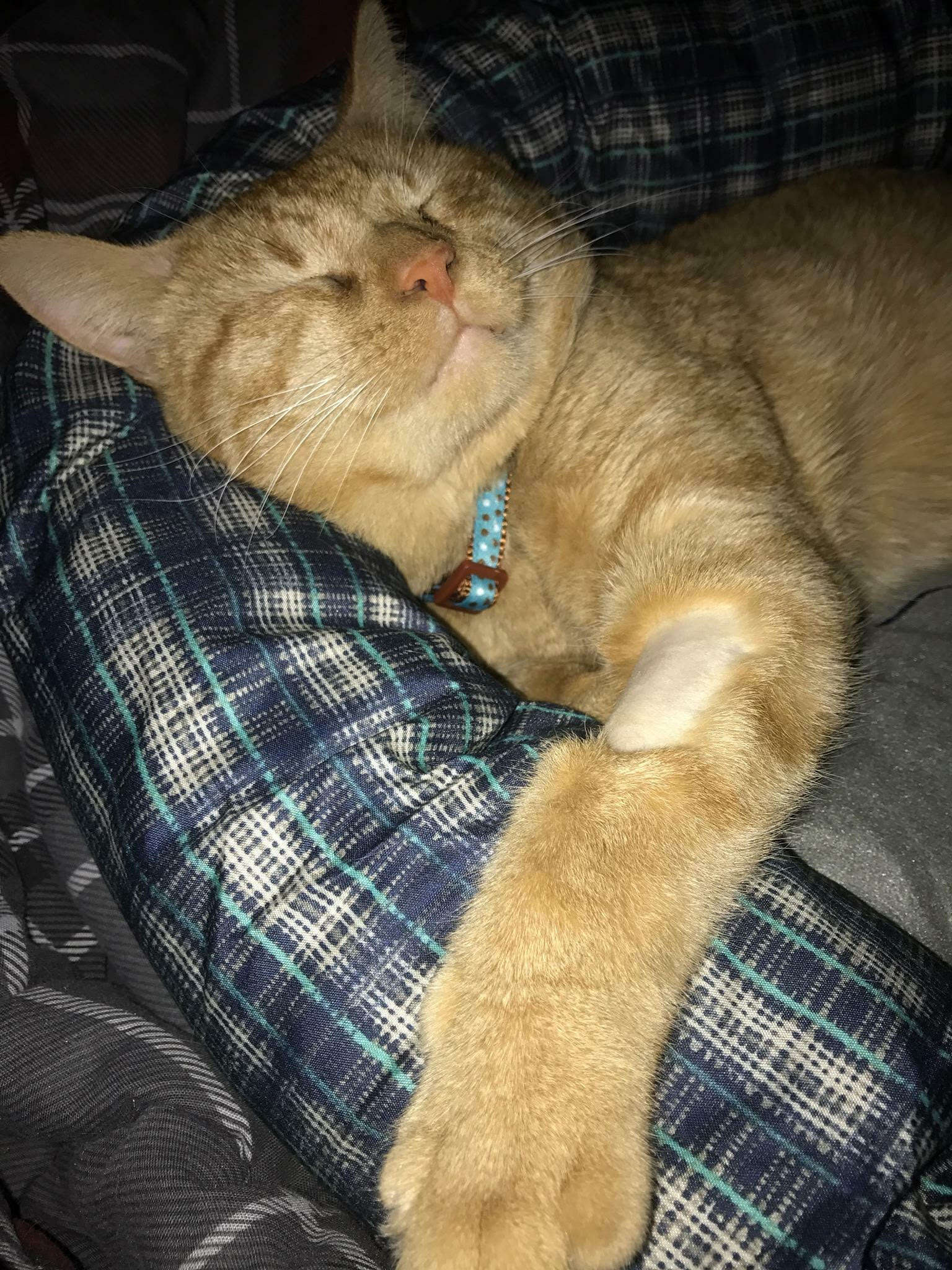 Pitcher already had another pet — a dog named Ariel whom she adopted from the Mohawk Hudson Humane Society 10 years ago. Like Ollie, Pitcher remembers instantly connecting with her.
"I went to the shelter with my parents because I was still in high school at the time to just take a peek at the dogs," Pitcher said. "The first thing I noticed was her different-colored eyes. And she was sitting quietly in the back, so I leaned in and stuck my hand in there, and she crawled over and just stared at me. I knew right then."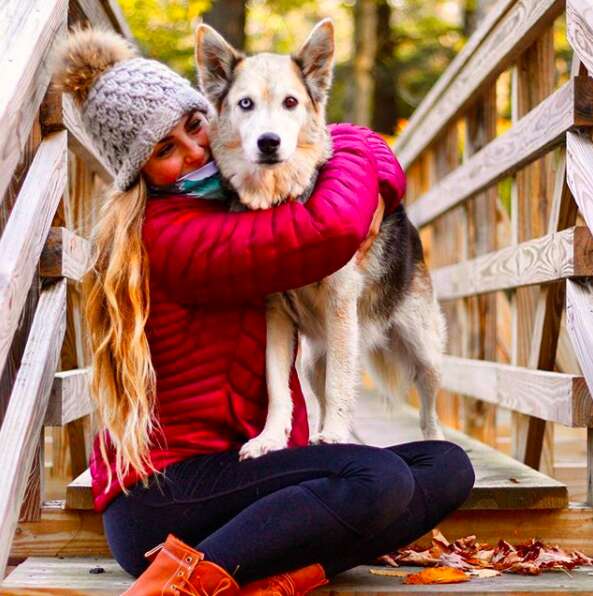 "We actually took her home that day," Pitcher added. "She was definitely the one who spoke to me, and she's been my best friend ever since."
When both Pitcher and Ariel got a little older, they started hiking together in New York state. In fact, they eventually ticked off every hike in the Catskill and Adirondack Mountains.
"We finished the Catskills first," Pitcher said. "Then we eventually finished all the Adirondacks. It's a big accomplishment, especially for a dog. Some of the hikes are over 20 miles in a day."
Pitcher couldn't wait to make new memories with Ollie, too, though she didn't imagine he'd be into hiking like Ariel.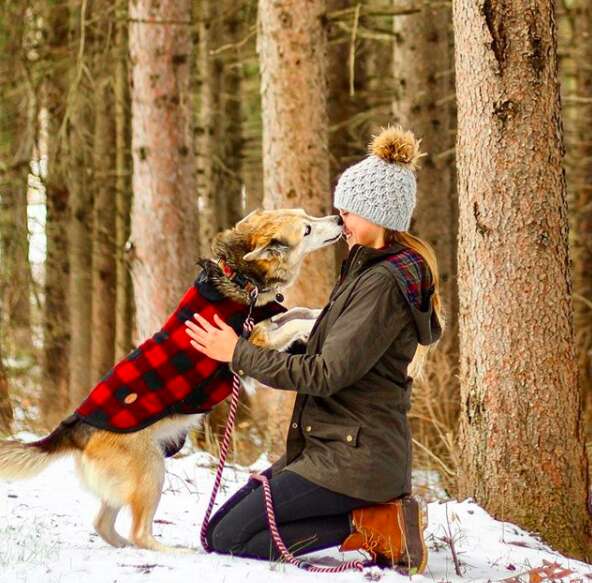 Either way, there was a problem — a big one. Ollie had surgery on his leg, and while in recovery, the vet staff noticed something concerning.
"I grabbed some stuff for him and when I actually came to get him, my coworker said, 'We might have an issue. He really hates dogs,'" Pitcher said. "He was so frightened by them, he actually started urinating blood at the clinic."
Ollie was suffering from something called cystitis, a urinary tract disorder. While the cystitis itself was treatable, Ollie's fear of dogs might not have been.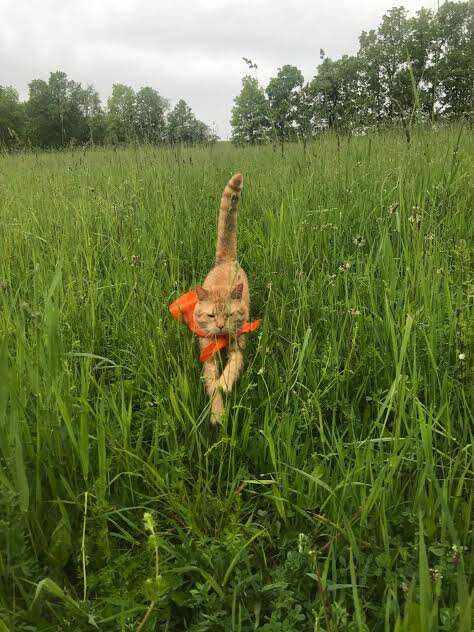 Even so, Pitcher didn't want to back out of her adoption promise to Ollie. "I was a little nervous," she said. "I didn't want him to be in a house where he was stressed out about that, but I figured I'd give him a chance. I thought, 'I've never met anyone who doesn't like Ariel — dog, cat or human.'"
When Pitcher brought Ollie home, something magical happened. "He just plopped down on his new bed next to Ariel's bed, and they've been great friends ever since," Pitcher said. "[Ariel's] such a calming presence, and I think she really just helped him out."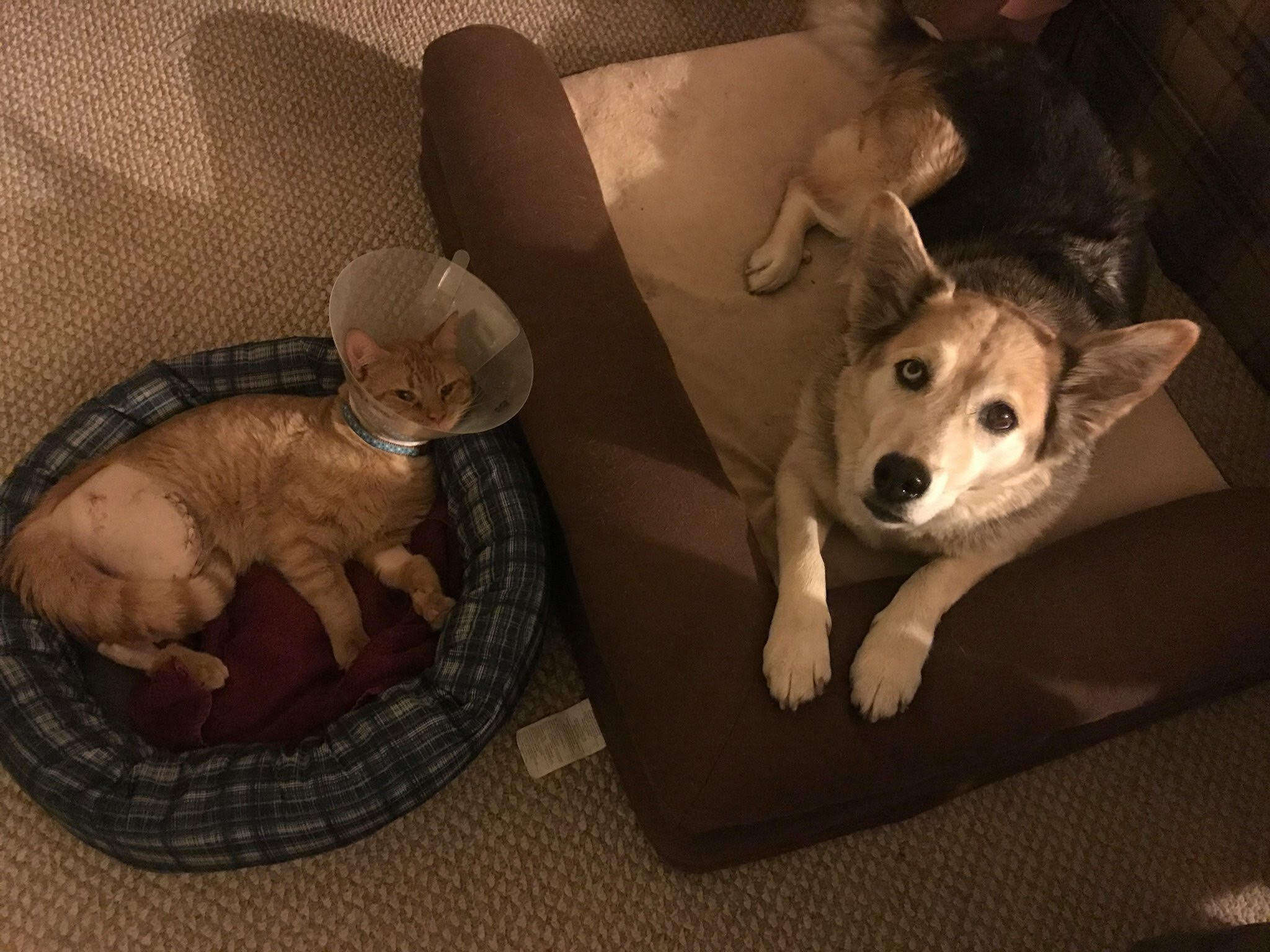 At first, Ollie had to spend most of his time inside as his leg healed. But when he got better, he let Pitcher know that he wanted to go hiking with her and Ariel.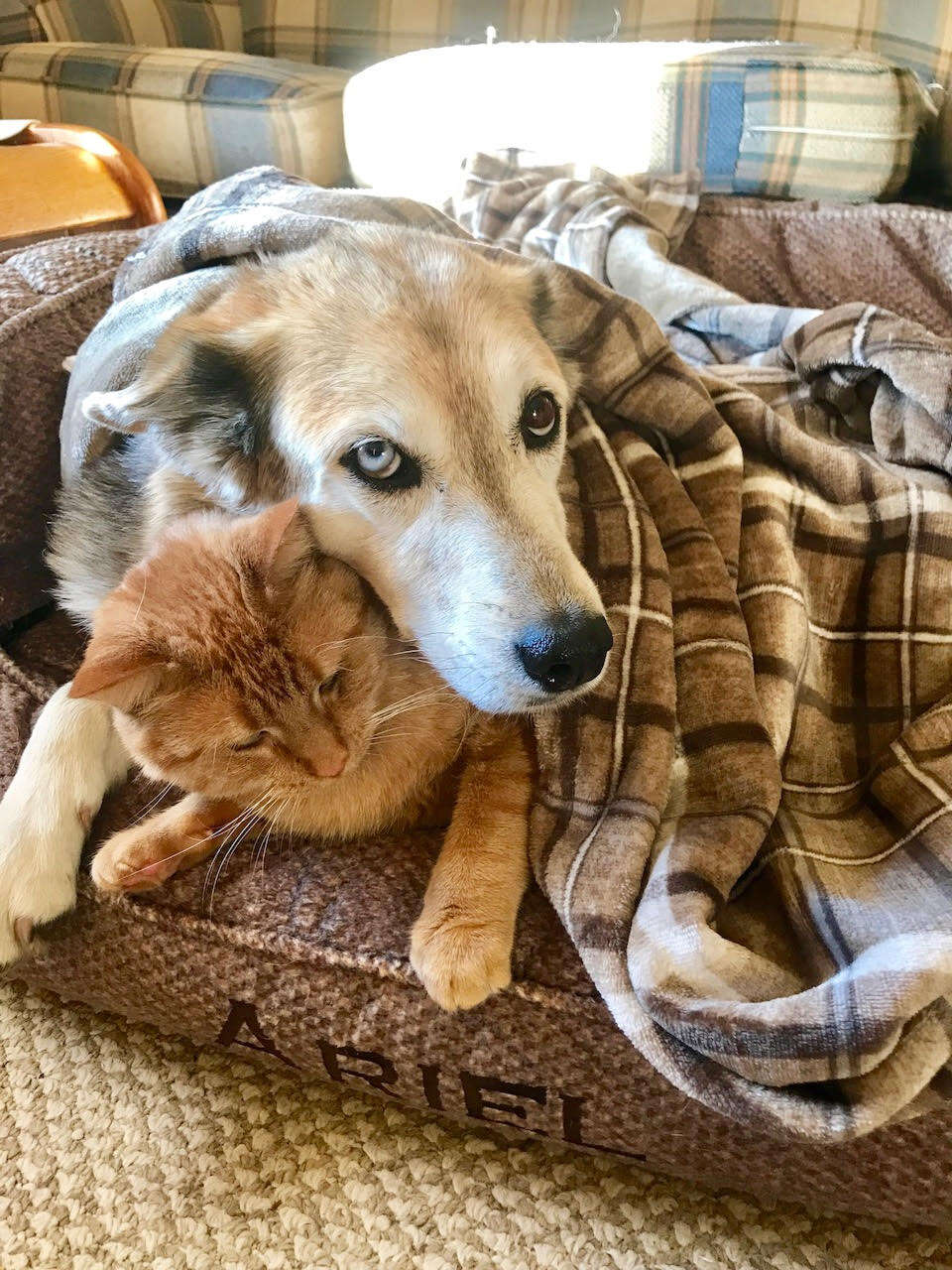 "He just seemed really mad every time we would leave," Pitcher said. "He'd run to the door, and when we went outside, he'd go to the window that overlooks where I park my car, and you'd see him in the window just staring down at us."
So Pitcher got Ollie a harness and leash, and took him on his first adventures.
"Last spring, I was going to take Ariel camping, and I thought, 'Why don't we try bringing Ollie?'" Pitcher said. "So we brought him and he had the best time."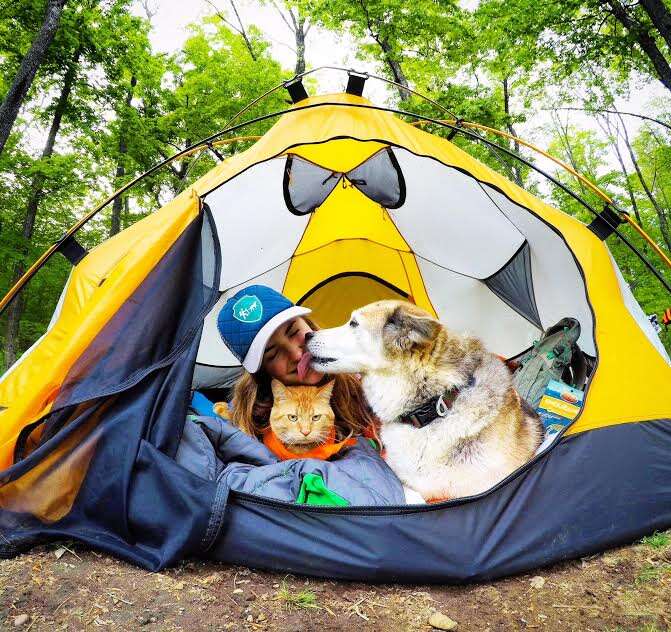 "Then we decided to try kayaking," Pitcher added. "Ariel will ride at the top of my kayak and Ollie will ride on the back. He's been paddleboarding and canoeing."
Now the three of them go on all kinds of outdoor adventures together. If Ollie ever gets tired, he rides inside of a special backpack Pitcher carries for him.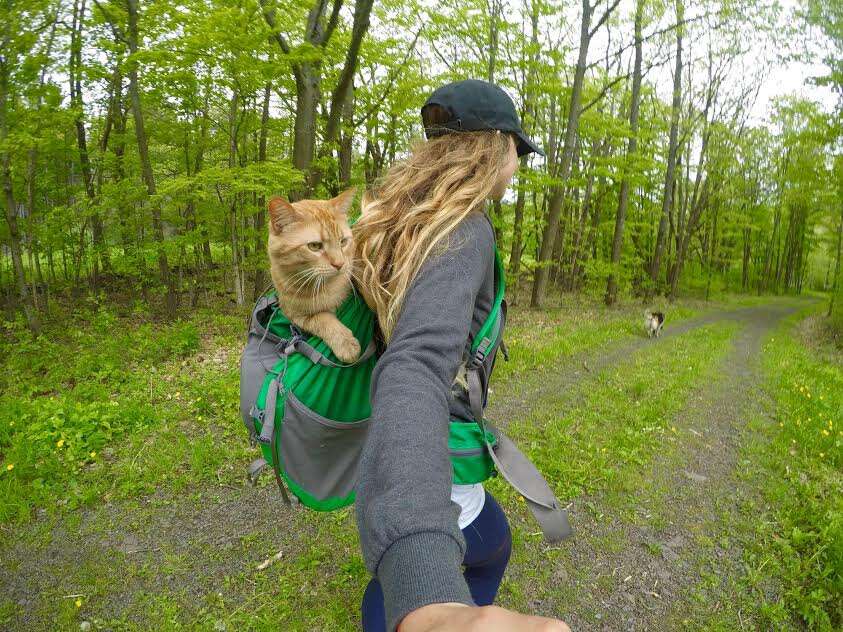 "He never tried running away," Pitcher said. "He literally just chases after [Ariel]. As long as she's there, he's pretty cool and just wants to be involved."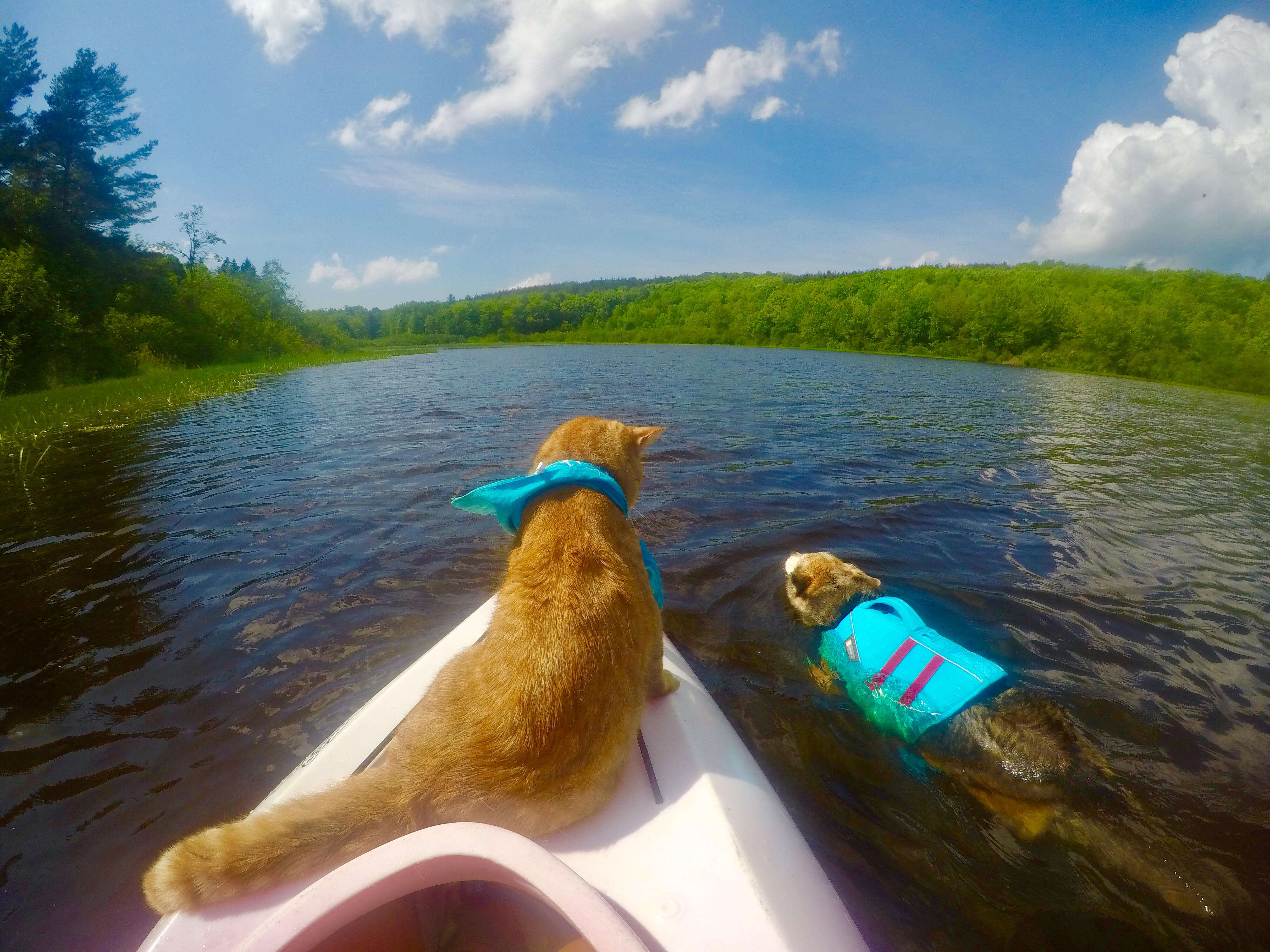 Now Pitcher couldn't imagine her life without both Ariel and Ollie — and she counts her blessings every day that she adopted them both.
"Life wouldn't be nearly as entertaining or full of love without the two of them," she added. "They definitely make every day better."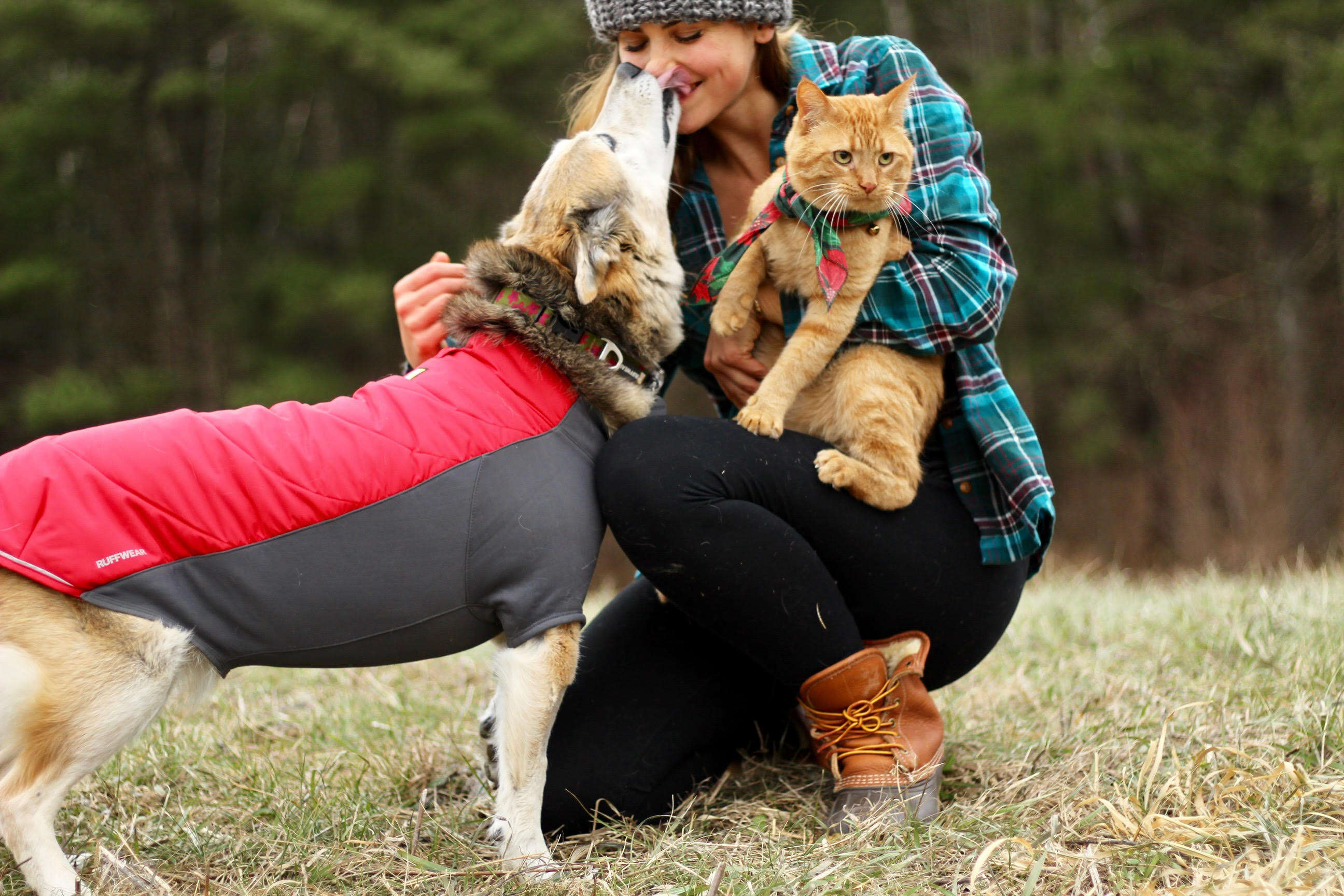 To see more photos of Ariel and Ollie sharing outdoor adventures, you can follow their
Instagram page
.