Chubby Orange Rescue Cat Gets The Perfect Costume For Halloween
He was NOT impressed.
When Kiah Berkeley and her husband adopted Vito from the Humane Rescue Alliance's shelter last June, he weighed a whopping 35 pounds. His scale-tipping weight had grabbed headlines, shooting Vito (previously known as Symba) to fame.
Since then, his parents have tried to help Vito trim down.
Kiah Berkeley
"We know as of August that he had lost about 4.5 pounds, and we feel like — given his saggy belly — he is continuing to lose weight," Berkeley said. "His paws are massive, so we sort of think he's just a big cat to begin with, but he is definitely so much healthier and happier than when we first got him."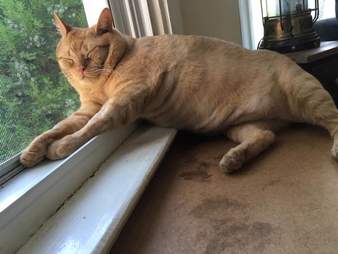 Kiah Berkeley
But Vito will probably always be a big cat — and to celebrate his size, Berkeley got him a very special Halloween outfit.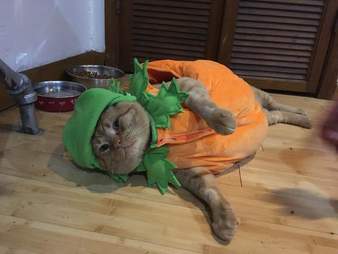 Kiah Berkeley
"I got the costume at Marshalls and it's meant for an infant," Berkeley said. "It was obviously a good choice given that Vito is already a big orange blob."
Vito wasn't as excited about his costume.
Kiah Berkeley
"He was not impressed about having the costume put on, but eventually he resigned himself to it," Berkeley said. "He looked so tragically miffed that we took it off after five minutes."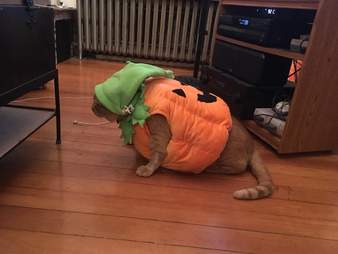 Kiah Berkeley
"We thought it was adorable and hilarious, and the other cats were all freaked out about their brother looking even fatter and oranger than usual," she added. "We may wrangle him into it again on Halloween night to greet trick-or-treaters, but it depends on how much he resists it."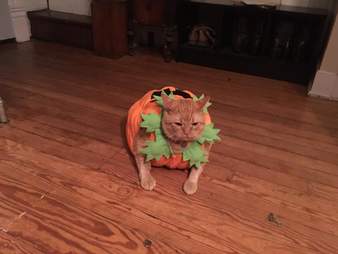 Kiah Berkeley
Previously, Vito starred in his parents' wedding photos, and he wasn't thrilled about that either. But his parents love everything about him — even his occasional bad moods.
Kiah Berkeley
"I love how he cuddles up at night in the crook of my arm, how he snores, and how he gets so dead asleep he's catatonic," Berkeley said. "We also love the leg kick he does when he gets a belly rub. I love how he waddles excitedly down the stairs after me every morning when I tell him it's time for 'dindins' (his wet food). He's just such a lovable, personable, hilarious cat and we love him to bits."
Vito and Berkeley snuggling in bed

| Kiah Berkeley
To see more modeling shots of Vito, you can visit his
Facebook page
.