Cat With Missing Paws Loves To Snuggle With His Foster Mom
"As soon as I saw him, I knew I wanted to be his foster."

Not everyone believes in love at first sight, but that's the only thing that could describe the immediate bond between this cat and the woman who saved him.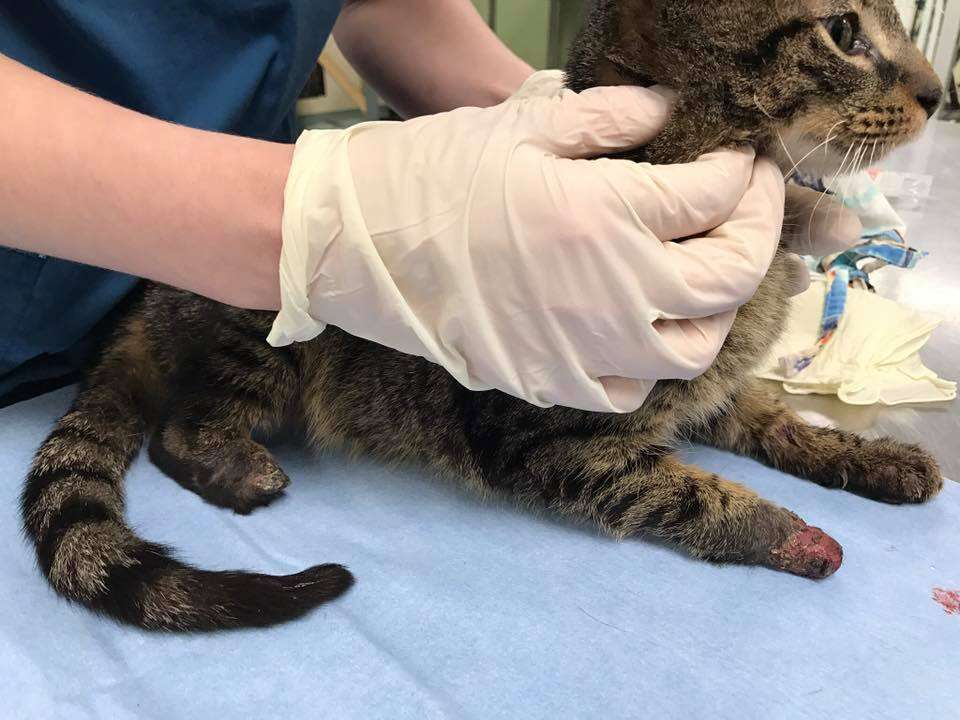 Sara Rivers, a 25-year-old counselor at Animal Care & Control Team of Philadelphia (ACCT Philly), the Philadelphia region's largest animal shelter service organization, came into work as usual a couple months ago, when her boss informed her of a 6-month-old cat in surgery who would need urgent promotion (i.e. calls for support from rescue organizations to take animals into their no-kill shelters).
She still remembers her first encounter with the cat who would later come to be known, lovingly, as Nubbies. "I walked back to surgery and, as soon as I saw him, I knew I wanted to be his foster," Rivers told The Dodo. "I immediately reached out to my friends at The Philly Kitty to tell them about this poor sight and, without hesitation, they told me I could bring him home with me from work that day."
Nubbies was in poor shape upon arriving at the shelter. Even Rivers, who admits to having seen many animals in tragic shape, found Nubbies' condition striking. "He was missing both of his paws on his two right legs. I had never seen anything like it."
The shelter's veterinary staff suspected that Nubbies had suffered some sort of trauma and was having trouble healing on his own, though it's unclear exactly what had happened to the cat. Medical staff quickly put Nubbies on pain medicine and antibiotics, but he had a long road ahead of him. From there, Rivers stepped up, not only as Nubbies' foster, but as his strongest advocate.
Nubbies' condition would be hard on most animals, but it was especially difficult for Nubbies because of his energetic and attention-loving personality. It was hard for him to stay still while he was recovering — he loves to crawl and throw himself onto people's laps, according to Rivers.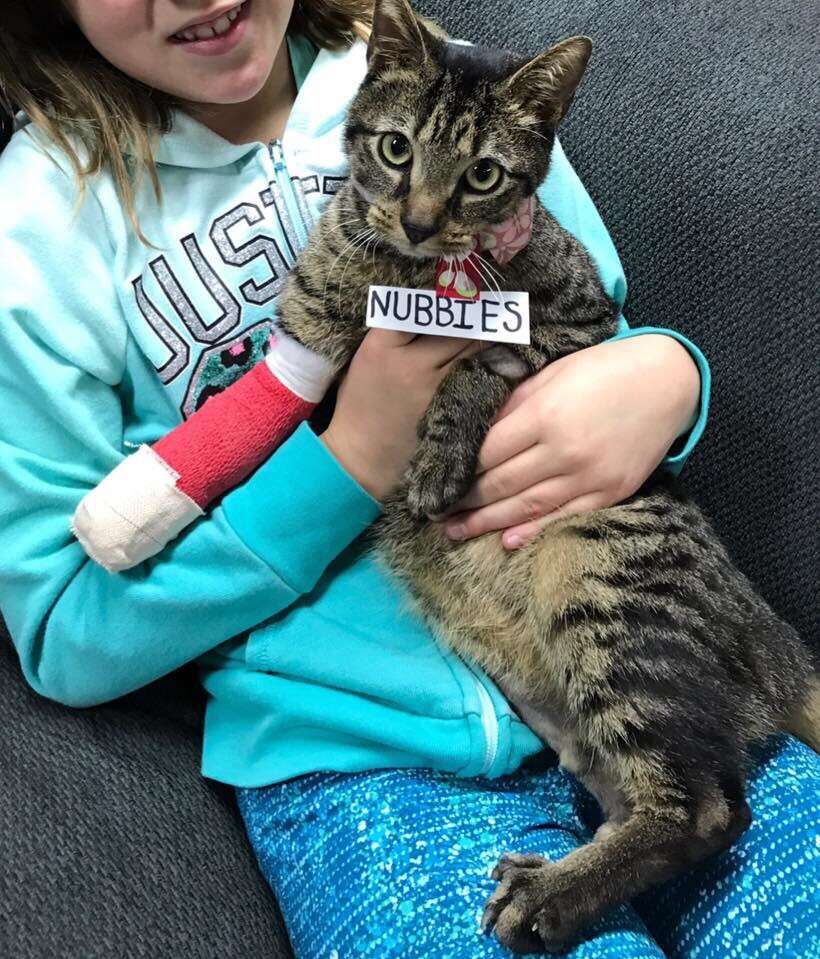 But he's resilient, and able to remain affectionate, even when he's uncomfortable. "Another cute thing I love about Nubbies is the time we spend with him after he gets his 'dips' [medical baths]," Rivers said. "We have to dip his nubbies in a small basin and then let him air dry before putting him back in his crate, which means we have hold him for about 5-10 minutes. Even while he has his paws in the dip, or when they're soaking wet, which I'm sure can't be very pleasant, we still hear him purring like a machine."
"Right now, his front right leg is wrapped in a bandage and his hind right leg has been amputated, so he is learning how to walk on three legs," Rivers said. "Once we are able to remove the bandage, we'll be able to see how he adjusts."
If Nubbies can't walk or function properly with three legs, she said, The Philly Kitty would consider having him fit for a prosthetic leg.
However, he hasn't let this stop him from getting around. "When I woke up from a nap, I had a text on my phone from Nubbies' doctor with a picture of Nubbies in a little green cast, along with a video of him walking across the room."
While Nubbies is unable to do much because of his cast and injuries, he LOVES to eat, said Rivers. "He also loves being spoiled with cuddles and snuggles," she said.
In spite of his injuries, Rivers has fallen fast for Nubbies. "I've been saying that I will never foster fail another cat, but if Nubbies keeps proving what a perfect addition he would be to our family, I might have to go against my word," Rivers laughed.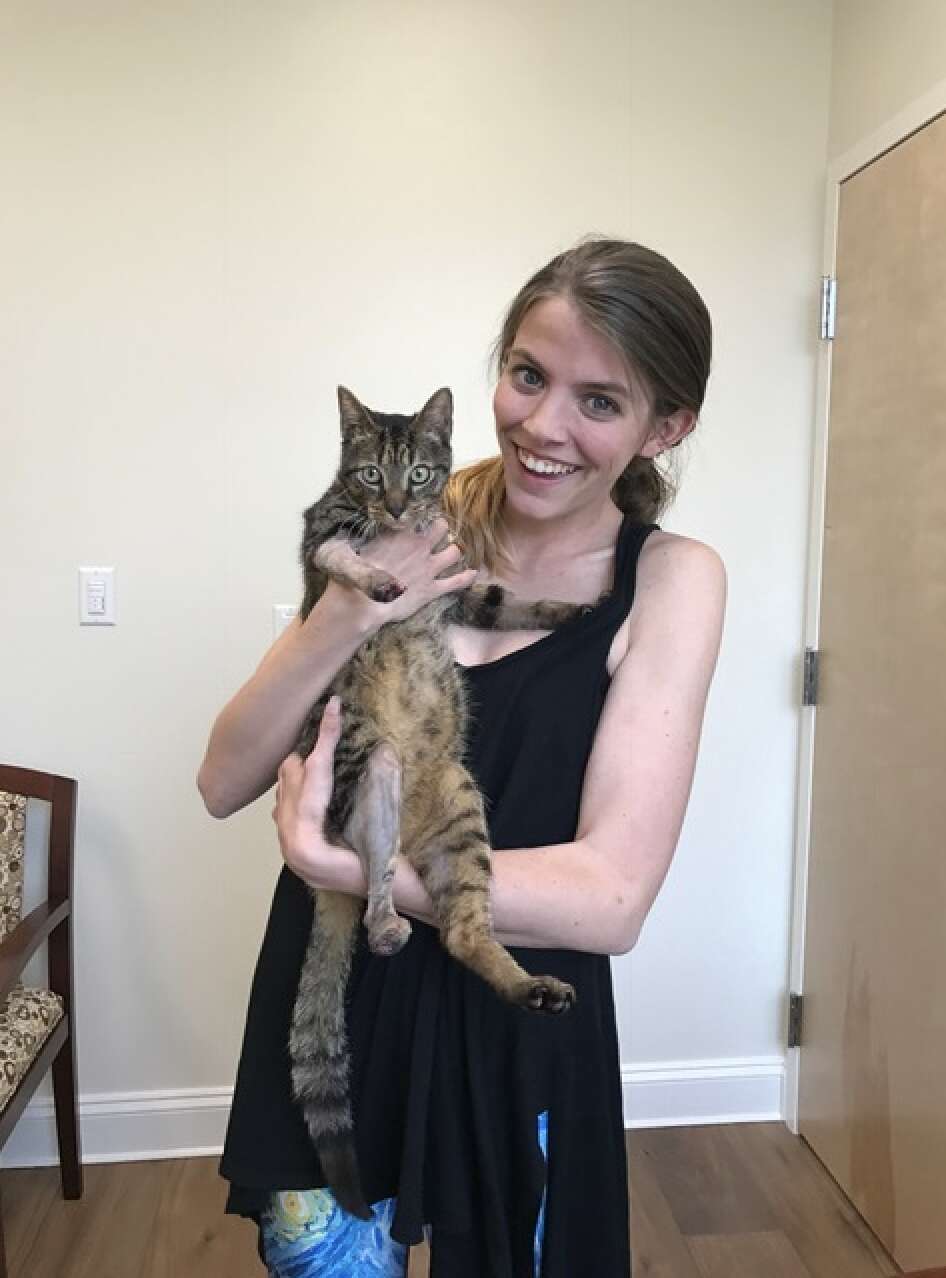 Nubbies is just one among many special needs cats all over the world, many of whom are passed over for adoption because they are viewed as "expensive," according to Rivers. "A lot of people think that medically needy cats aren't worth saving because there is an increasingly large population of cats," Rivers said. "That does not mean that cats with special needs aren't deserving of good, loving homes."
"There's a silly stigma around cats that make them seem like these independent, ungrateful animals," she said. "But if you ever save a cat with special needs, you'll learn very quickly that cats are actually some of the most empathic, loving, and gentle animals."