Cat Accidentally Gets Trapped Inside Abandoned House After It's Boarded Up
His dad was so happy when they were reunited.
TJ escaped his house and was exploring in his neighborhood one day when he came across an abandoned house. The cat crawled through an open window to hang out for a while — right before a crew came to board up the house.
Because nobody knew he was inside, TJ was accidentally boarded into the abandoned house, and was trapped there for an entire week. Finally, someone in the neighborhood noticed TJ sitting in one of the windows inside the house, and immediately contacted the RSPCA for help.
RSPCA inspector Gemma Lynch responded to the call about TJ, but wasn't able to get inside on her own. While she waited for more help to arrive, she fed TJ some cat food she'd brought with her through the mail slot in the front door, as she figured the poor cat must have been starving.
"It's lucky that a neighbor spotted him at the window and called us," Lynch said in a press release. "I couldn't gain access to the house right away and we didn't know who the owner of the property was. Firefighters lent a hand and unbolted the boarded-up window and I had to coax poor TJ out, but he was very scared."
After being trapped in the abandoned home for a week, TJ was disoriented and scared, and was a little reluctant to come to Lynch at first. After a while, though, he realized Lynch was there to help him, and she was finally able to free the poor cat from the house.
Unfortunately, TJ wasn't microchipped, so the lost cat would have ended up at the shelter once he was rescued — but luckily, his dad heard about the rescue and realized it was for TJ.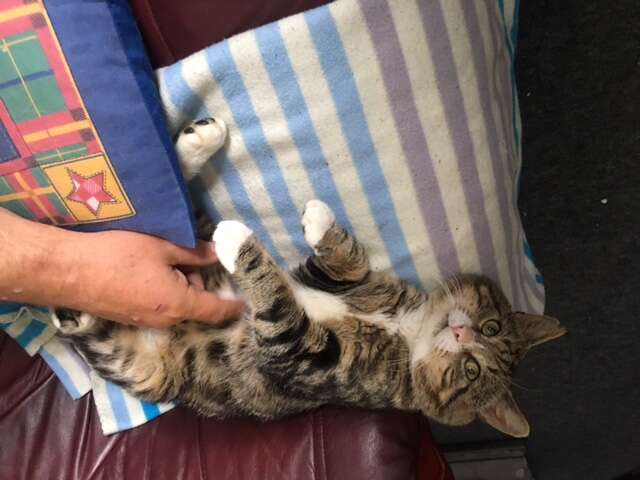 "Thankfully his owner only lived around the corner so when he was told by a neighbor that there was a cat being rescued down the street, he soon realized it was his missing cat," Lynch said. "He was delighted to be reunited with TJ, as was his other cat. They had both really missed him."
TJ's dad now plans to have him microchipped, just in case the mischievous cat ever gets himself lost like that again. For now, though, his adventure days are behind him, and he's back safe and sound with his family where he belongs.