Cat Decides To Go Up On The Roof — Then Realizes She Can't Get Back Down
She ran straight over to the firefighter who came up to get her ❤️
Tinkerbell was exploring around her family's home one day when she suddenly noticed the roof, and decided she desperately wanted to go up there and investigate. She managed to get up to the roof just fine — but after a while, realized she had absolutely no idea how to get back down again.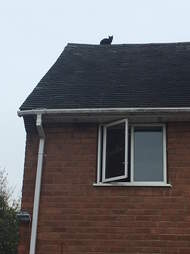 RSPCA
Once her family realized she was stuck, they contacted the RSPCA, hoping that someone would be able to come out and help. Animal collection officer Shaun Howden immediately rushed over to the family's home, but quickly realized he wouldn't be able to rescue Tinkerbell on his own, and contacted Shropshire Fire and Rescue Services to see if it could help. 
As soon as rescuers arrived on the scene, they set up a ladder to the roof, and firefighter Andy Keen climbed up, secured to the ladder with a harness. Keen assumed Tinkerbell would be a little nervous and scared, and might not come to him right away — but as it turns out, Tinkerbell was VERY tired of being stuck on the roof …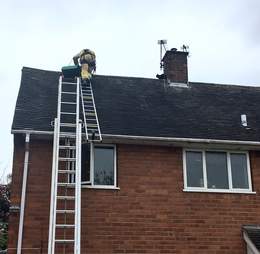 RSPCA
… and came right over to Keen and climbed into the cat carrier he'd brought up with him.
"We have started calling Andy the 'cat whisperer' now, as the cat came straight into the box and didn't need much persuading," Craig Jackson, manager at the fire station, said in a press release.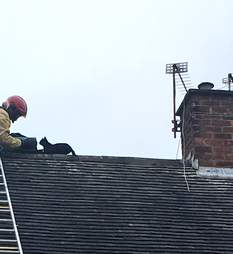 RSPCA
Keen then carefully brought Tinkerbell back down to safety, and reunited her with her family, completely unharmed. Maybe she was just feeling adventurous that day, or maybe she was trying to fly off to Neverland, but needless to say, Tinkerbell probably won't be journeying back up to the roof anytime soon.
If your cat ever gets stuck somewhere and needs help, you can contact the RSPCA or your local rescue to help get them back down.