Plumber Shows Up To Fix Toilet — And Is Supervised By A Cat The Whole Time
He stared at him for a solid hour and a half.
Jax was adopted when he was just a kitten, and ever since then, he's always loved hanging out in his family's bathroom. He's especially into water, and always has to supervise anyone who's anywhere near the shower or the toilet, just in case. 
Megan Russell
"During showers, he will stand or lay outside and wait for you to be done, then he hops in and tries to catch the residual drops of water from the showerhead as they fall," Megan Russell, Jax's mom, told The Dodo. "If you take a bath, he will hop up on the ledge and stare at the water, sometimes reaching his paw down to touch the water. He is especially amused by the bath draining. He has to watch it drain all the way before he will leave."
Jax generally only hangs out in the bathroom when there are other people in there and interesting things are happening — so when the plumber stopped by his house to fix the toilet, Jax was VERY excited to help oversee the process.
Megan Russell
While the plumber fixed the toilet, Jax parked himself in the sink, fixed his eyes on the plumber, and refused to leave until the job was done …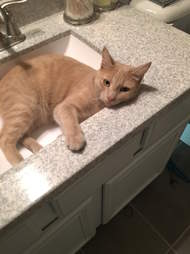 Megan Russell
… an entire hour and a half later.
As the plumber worked, Jax stared at him, and while he did switch positions a few times to get more comfortable, he still never took his eyes off the plumber, and took his job very seriously.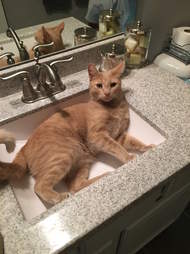 Megan Russell
"He stayed in the sink the whole time," Russell said. "The plumber was very nice about Jax watching him the whole time! He said he has to deal with pets being around him on a lot of jobs. He said usually the cats ran away or hid, though, and dogs were usually the more social pets."
Jax proved this stereotype wrong, even though he wasn't really trying to be social. He was just trying to perform his duties as house bathroom supervisor — always around to make sure no one falls in.