Cat Gets Leg Stuck In Collar — And Stays That Way For Weeks
"As soon as I cut the collar off she was absolutely lovely."
Nugget the cat was spotted limping around the streets all by herself. A concerned passerby immediately contacted the RSPCA to come and get the cat before really knowing what was wrong, and when an animal collection officer arrived, she was shocked at the condition she found poor Nugget in. 
Somehow, Nugget had gotten her leg through her collar and then became stuck like that, with absolutely no way to free herself. It seemed like she'd been stuck for weeks, as she had a horrible wound in her armpit from the embedded collar. 
RSPCA
"It was pretty nasty," Lucy Green, an animal collection officer with the RSPCA, said in a press release. "Nugget was in a lot of pain. She was lashing out and hissing when I first found her but it must have been because she was in so much pain — as soon as I cut the collar off she was absolutely lovely."
RSPCA
Nugget is very lucky that she was found when she was, because if she'd had to suffer on the streets with that wound for very much longer, she might not have made it through. She is now being treated at the RSPCA Hull and East Riding Animal Center, and still has a ways to go in terms of recovery.
RSPCA
"Staff at the Hull Center said that this is the worst embedded collar injury they have ever seen," Green said. "Her wound was so large vets worried it would keep reopening every time she moved if they stitched it up, so staff have been working round the clock to keep cleaning and dressing her wound and giving her pain relief and antibiotics. Now it has healed a little bit more they can stitch her up."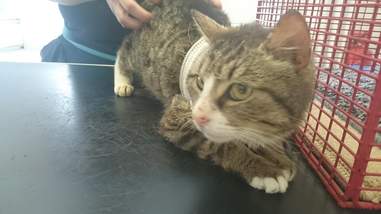 RSPCA
Nugget's insane injury probably could have been avoided simply by wearing a different type of collar. Quick-release collars are designed to snap open when tugged with enough force, to help avoid injuries if an animal becomes stuck. Collars that are designed not to release without human help can lead to struggle and panic, and eventually, horrible injuries like the one Nugget endured.
"All too often we get called to cats that have become injured due to a collar, as there are too many dangerous collars on sale," Alice Potter, a cat welfare expert with the RSPCA, said in a press release. "We would strongly advise against purchasing a collar with buckles that don't snap open, or collars made from elastic. If the collar gets caught on something, the cat may try to free itself by using its foot. The most reliable way to identify your cat is to have them microchipped rather than having a collar and tag which may fade over time, or hinder them when they explore."
RSPCA
Luckily, Nugget seems to be doing well now, and is expected to make a full recovery. No one has come forward to claim her yet, and if no one does, the sweet cat will eventually be up for adoption.