Family Drives 80 Miles Before Realizing There's A Cat Stuck Under Their Car
"I have no idea where we picked up our little hitchhiker, it could have been anywhere."
Steven Kane and his family were in the middle of a road trip when, during a moment of relaxation, he glanced back at his car — and noticed a pair of eyes peeking out at him from the grille of the car. He soon realized it was a cat, who had somehow gotten himself stuck underneath Kane's car. The family had been traveling for two days and had driven nearly 80 miles, and had no idea how long the cat had been trapped there for. 
"We'd pulled up at the seafront near the green and I was playing on the green with my brother's little girl when I looked up and spotted him," Kane said in a press release. "He is lucky that I saw him. I have no idea where we picked up our little hitchhiker, it could have been anywhere."
RSPCA
Kane quickly contacted the RSPCA, and inspector Lucy Brennan got the call and quickly came out to help. After assessing the situation, she determined that they were going to need a little extra help for this one and contacted the Automobile Association (AA) to come out and carefully dismantle the car in order to free the furry traveler. They removed the headlights and the bumper, and were finally able to reach the cat, who was named Ford after the model of the car. 
RSPCA
"He was very smelly and very hungry," Brennan said in a press release. "The AA explained that even if the cat had been trapped when the motorist was driving the car, luckily the area he was in has no moving parts and doesn't get hot when the engine is on. Having said that, it must have been quite an ordeal for poor Ford."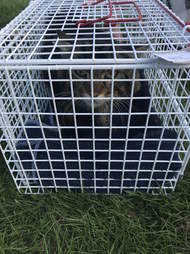 RSPCA
As soon as Ford was free, Brennan rushed him to the vet to get checked over. While he was mostly OK, he did appear to have a problem with his tail, though his rescuers are unsure if it's from being trapped in the car or from a previous injury. Regardless, he will most likely need to have his tail amputated.
For now, Ford is relaxing and getting some much-needed love and attention at the RSPCA's Danaher branch. Unfortunately, he was not microchipped, so no one can be sure if he's a lost cat or a stray who was trying to find himself a new family to go home with. Ford will spend some time recovering with the RSPCA, and if no one comes forward to claim him, he will be put up for adoption.
RSPCA
The family who found Ford is incredibly happy they eventually spotted him, and they're thankful he's now getting the care he needs.
"I think we were all relieved he was rescued and my brother really wants to adopt him now," Kane said.