Cat Takes Shelter From Rain In Hotel And Ends Up In Unexpected Place
"That cat was in a bit of a pickle."
Lenny the cat was living all alone on the streets of Luton, England, and whenever the weather was bad, he struggled to find places to take shelter. When it started to downpour one day, he went to a nearby hotel to see if he could stay dry in there for a bit — and accidentally ended up getting himself a little stuck.
"I was on the morning shift at [the] front desk getting ready for guests to start filing down to breakfast when I spotted a small cat outside the sliding doors," Phoebe Nyatsambo, assistant operations manager at the Premier Inn, said in a press release. "It was raining quite heavily and he looked a bit cold and wet, huddling to take shelter in the covered area outside."
Wanting to help the poor lost cat, Nyatsambo went to call the RSPCA to see if it could come and collect him. When she came back, Lenny was no longer sitting outside …
RSPCA
… and had instead taken shelter between the automatic glass doors.
"Immediately, I went to take a closer look and thankfully I could clearly see that while the cat was in a bit of a pickle, there was plenty of room for him to move and he wasn't in too much distress," Nyatsambo said.
RSPCA
While they waited for the RSPCA to arrive, guests couldn't help but go over to look at the stuck cat, joking that he had just been trying to check into the hotel so he could curl up on one of their warm, dry beds. Finally, animal collection officer Kate Wright arrived at the hotel, and quickly set about freeing Lenny from his predicament.
"He was soaking wet and freezing cold and had been trying to find somewhere warm and dry to curl up — unfortunately he chose a rather hazardous spot," Wright said in a press release.
RSPCA
Thankfully, Lenny wasn't as wedged in between the doors as he could have been, just a little too stuck and confused to make his way out on his own, and it didn't take long for Wright to slowly and carefully pull him out of his hiding spot. She took him to the vet as soon as he was free to make sure he was doing OK, but besides a few cuts, he seemed to be in pretty good shape.
"It's not clear whether he's a stray or a lost pet and, unfortunately, he isn't microchipped so I've put up posters in the area to see if we can find an owner for him," Wright said. "He's a lovely cat and, thankfully, appears to be in fairly good health."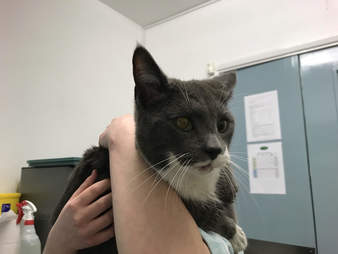 RSPCA
If no one comes forward to claim him, Lenny will soon be put up for adoption with the RSPCA, and he'll no doubt find a wonderful home where he'll never have to worry about being cold and wet ever again.
"It's certainly been the talk of the hotel — we welcome hundreds of thousands of visitors from all over the world and you think you've seen everything but this is definitely a first for us," Nyatsambo said. "We want to say a massive thank you to the RSPCA — they were absolute superstars."