No One Can Figure Out What Kind Of Cat This Is
"He looked like a hodgepodge of different cat parts."
It was Pepé's "weird" appearance that made Shea Daspin and Joshua Tucker fall in love with the 1-year-old shelter cat. Pepé is partly hairless like a sphynx cat, but also has wispy fur on different parts of his body, including his face, back and tail.
"He was listed as part sphynx and looked like a total weirdo, just like us," Daspin told The Dodo. "It was love at first sight."
Shea Daspin and Joshua Tucker
In February, someone found Pepé and his two sisters, Tulip and Iris, wandering around the streets in Denton, Texas, and brought them to the City of Denton Animal Shelter.
"They were found covered in fleas and dirt, and had been eating garbage to sustain themselves," Nicole Lopez, animal control officer for the City of Denton, told The Dodo. "After vetting them and putting them up for adoption, all three of them spent a month here."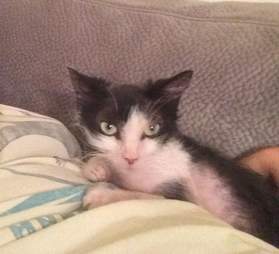 City of Denton Animal Shelter
Pepé was already very timid compared to Tulip and Iris, according to Lopez. But when his sisters were adopted in late March, leaving Pepé alone, he became even more reserved. "[He] was always the most shy of the three, hence why no one really ever visited him or showed interest," Lopez said.
Pepé may not have gotten local interest, but he did catch the eye of Daspin and Tucker, who live over 1,500 miles away in New York City.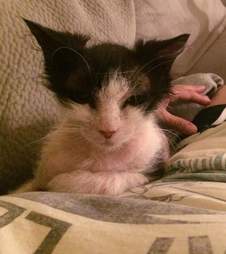 City of Denton Animal Shelter
Daspin and Tucker are the proud parents to two other cats — Iggy, a 5-year-old sphynx, and Spud, an orange tabby. However, they'd recently lost their cat Elsa, and they were looking to add to their feline family.
"The search started out pretty casually," Tucker told The Dodo. "We would just browse PetFinder or local rescue sites every few days on the couch after work. We definitely weren't in a rush. We wanted to find the perfect fit."
Shea Daspin and Joshua Tucker
Then their eyes landed on Pepé's photo. "He looked like a hodgepodge of different cat parts," Tucker said. "After we looked through his photos, and read that he was good with other cats, it wasn't even a question."
They didn't waste a minute. The very next day, Daspin and Tucker were on a flight to Texas.
Daspin and Tucker right after they decided to adopt Pepé

| Shea Daspin and Joshua Tucker
"When we got there and met him, we fell in love," Tucker said. "After just a few minutes ... he pushed his head into our hands and started to purr. From that moment, we knew he was coming home with us."
Pepé did remarkably well on the flight to New York, and he quickly settled into his new home. "It's been so amazing to see him start as a shy, scared shelter cat, and blossom into the outgoing guy he is now," Tucker said. "I also love how much he's bonded with us. I've rarely seen a cat who's so trusting and sweet."
Shea Daspin and Joshua Tucker
Pepé also gets along well with his new siblings, Iggy in particular.
"Iggy's really taken Pepé under his wing as a little brother and loves to chase him around the house and groom him while he's sleeping," Daspin said. "Pepé is constantly following him around and seeing what he's up to. We like to refer to Spud as their wise elder — he's a more relaxed cat and [would] rather watch the other two play. Pepé respects his space but likes to join him while he sunbathes."
Pepé cuddling with Iggy

| Shea Daspin and Joshua Tucker
"He [Pepé] just loves everyone and everything," Tucker said. "I've really never seen a rescue cat embrace new siblings so quickly."
However, Daspin and Tucker remain uncertain about what kind of cat Pepé is. While the shelter labelled him as a sphynx mix, others have suggested that he's part Donskoy or a Peterbald mix.
Shea Daspin and Joshua Tucker
"Most likely, he is a cross mix of a couple different cats and possibly older generations of sphynx cats," Daspin said. "He might be some sort of genetic mutation, but ... we can't find a conclusive answer."
"It has become pretty clear ... that no one has seen anything quite like him," Tucker said.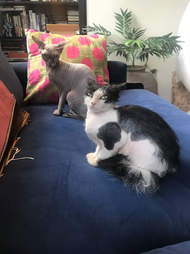 Shea Daspin and Joshua Tucker
Strangely enough, Pepé also appears to have gotten "fluffier," according to Tucker. "Not more fur necessarily, but almost like the hair he has just sticks out in every direction," he said. "My guess is that his hair will continue to change with the seasons, and as he gets older. We heard a story about a somewhat similar cat who would lose and regrow hair in different patterns every time."
However much fur Pepé grows or doesn't grow, Daspin and Tucker are certain about one thing — he is perfect for their family, and rescuing him was one of the best things they did.
Shea Daspin and Joshua Tucker
"Pepé has made our family whole again," Tucker said. "Of course, no one ever really 'moves on' after the loss of a pet, but what better way to honor her memory than to give a home and a chance to another animal in need."