Woman Discovers Someone's Kind Of Obsessed With Her Digital Scale
"The app shows that she weighs herself pretty consistently" 😂
Ever since she was adopted into her family about a year ago, Rue has always been a very curious cat. She loves running all over the house and exploring with her brother Trevor, and her mom, Arden McSwain, isn't always sure what the mischievous cat is getting into throughout the day.
Arden McSwain
McSwain has an app on her phone that's connected to her scale, and whenever she weighs herself, the scale sends that data to the app. One day, she was scrolling through the app — and suddenly realized she wasn't the only one who had been weighing herself on the scale.
Apparently, Rue had been weighing herself, too.
Arden McSwain
"I just realized she was weighing herself last week, when I opened the app," McSwain told The Dodo. "I've seen her walk over the scale sometimes in the morning when I'm getting ready. I've tried to put her on it in the past but she never stays so it doesn't work, it takes like five seconds for it to register and store the weight."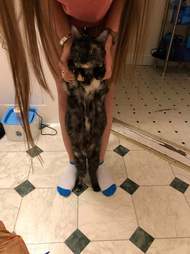 Arden McSwain
Based on the weights that were showing up in the app, McSwain was able to determine that it was Rue and not Trevor who had become a bit obsessed with the scale. Even though she wouldn't sit still on the scale for her mom, Rue was apparently curious and decided to explore it on her own — and has been spending a LOT of time weighing herself throughout the day.
"The app shows that she weighs herself pretty consistently, sometimes in the morning around 7 a.m., or in the afternoon around 3 p.m. or before bed at 9 p.m.," McSwain said.
Arden McSwain
After several days of this, McSwain was finally able to catch Rue in the act — and Rue seemed a bit bewildered when her mom discovered that she was, in fact, the secret scale user.
Of course, McSwain definitely doesn't want Rue to become obsessed with her weight and likes her just the way she is: a soft, cuddly, slightly chubby, absolutely perfect cat. 
Arden McSwain
"The vet said she was a little round at her one-year checkup but still in the healthy zone," McSwain said.
Even if Rue does continue to weigh herself a lot, it's kind of fun for her mom to see what she's up to throughout the day, and maybe soon her brother Trevor will start to get in on the scale action, too.