Family Loses Everything — But Won't Stop Saving Cats
"Our cats are the only thing saving us" ❤️️
When a man found two tiny orange tabby kittens hiding in some bushes just a couple of weeks ago, he realized that his feline family would grow a little bit larger.
He brought them home, named them Popy and Popina, and found a bottle that still had some eye drops left in it, to treat what appeared to be a slight infection.
But this was no ordinary kitten rescue.
That's because the man is Javier Reinoso, and he lives in Venezuela, a country that has been undergoing a worsening political and humanitarian crisis for the past several years. Recently, such severe economic instability has meant that many Venezuelans have had to flee their homes just to find food and water to survive.
It's a crisis of an almost unimaginable scale. So why does Reinoso keep rescuing cats and kittens, in light of such danger and turmoil?
"Amid this nightmare, our cats are the only thing saving us," Reinoso told The Dodo.
Reinoso runs Reinoso Cat Sanctuary with his parents. The family of longtime cat lovers has been helping felines for years, by bringing sardines for the cats in shelters in Caracas and helping to feed some colonies of feral street cats.
Then the family stepped up their feline commitments in 1998 when Reinoso's father lost his job.
"We had to move to a house a good friend of mine borrowed to us in a poor neighborhood, but with a big backyard, [and] we finally had a place were we could have cats with us," Reinoso said.
The family was feeding two colonies of friendly strays in different parts of Valencia, in the Carabobo region, when they realized that one cat they were used to seeing had disappeared. A few days later, when he returned, he was missing a leg.
"We couldn't leave him there like that," Reinoso said. But they also couldn't leave behind his three female companions, either. "We loaded them all in the car and took them home. Sadly we couldn't save the male's life."
But there was new life on the way: "One of the females was pregnant," Reinoso said.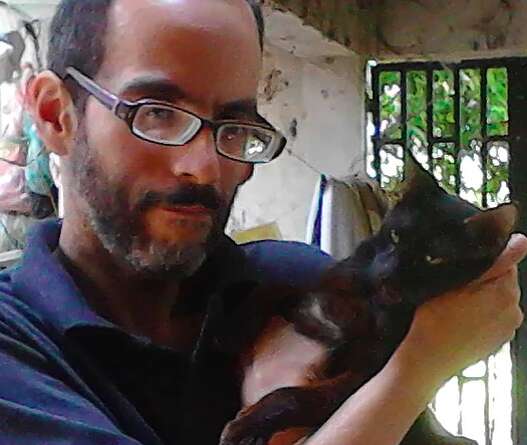 Around the same period, when the family was feeding the other colony, which lived in a parking lot, something kind of amazing happened: "Another female, VERY pregnant, decided to invite herself home to give birth safely — and jumped into the car."
That's how the Reinoso family ended up with 11 rescue cats and kittens. And the sanctuary properly began at that time.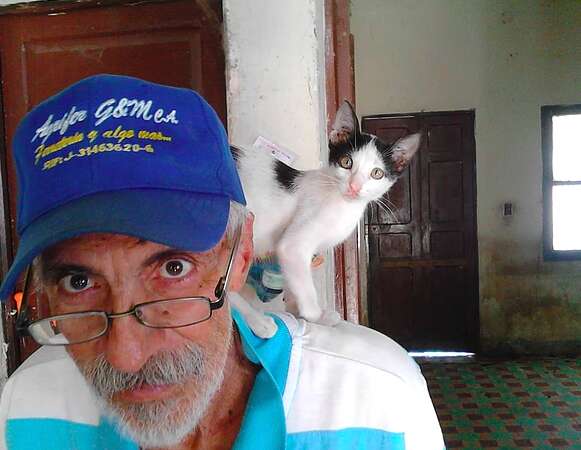 But like many things in Venezuela, there was much instability — in 2008, the Reinoso family had to relocate yet again. By then they had 14 rescue cats — and they obviously brought them all along.
"We had to move to an old house in a small town in another state, El Tocuyo, Lara," Reinoso said. "This house was property of my grandparents, and though it was hardly inhabitable for humans after restoring basic services and cleaning, it had a big and nice backyard too where our 14 cats seemed to be very happy."
For the next decade, as the comforts of the country continued to dwindle, the family never stopped helping cats. They now care for nearly 60 rescue cats. Sometimes they would take in a stray cat on the street who was obviously in need. Other times people would leave cats and kittens at their doorstep.
The family has managed to get veterinary care from veterinarians who donate their time to help. With so few resources, the sanctuary can function only on the basis of donated time and resources.
"We do this 24/7, every day of the year with no break," said Reinoso, who manages to find some occasional work as a translator, which helps sustain the family. "My dad, 71, has asthma and my mom, 69, has hip arthritis, both untreated, but they give their all every day for these cats."
Through Twitter, Reinoso taps into an online community of animal lovers across the world for advice and help. An animal rescuer in Pakistan has helped advise him on issues as they arise. And a small U.S.-based nonprofit, Animal Shelter Crisis Aid (ASCA), has assisted Reinoso by arranging for resources to get to him in Venezuela to help keep his family's sanctuary afloat.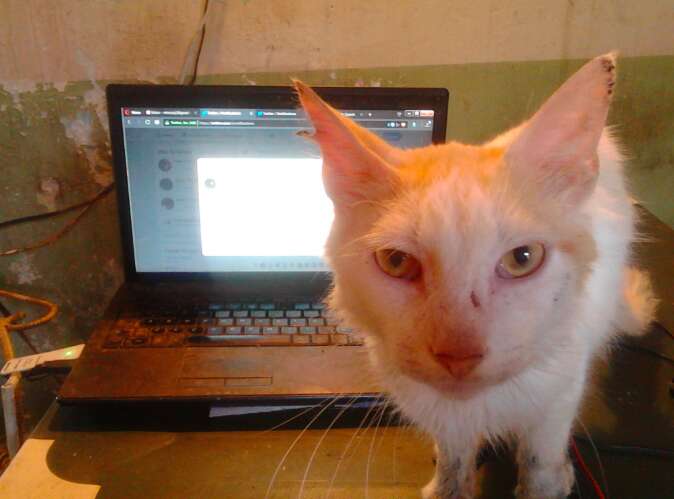 Every day in Venezuela is rife with uncertainty. But the playful exuberance of his rescue cats helps Reinoso remember the beautiful things in life, however small.
"Our cats are the only reason we have to keep going day after day. And there's not a single day they don't warm our hearts and make us smile despite all the hardships and indignities around us," Reinoso, who never misses the opportunity to celebrate the weekly Saturday hashtag #Caturday on social media, said. "Humans can make a hell on earth for themselves, that is painfully more apparent in destroyed countries like Venezuela."
Reinoso believes that animals "are angels of purity and innocence everywhere. They are exactly the same in Venezuela as they are in Switzerland, and deserve to be loved and protected equally all around the globe," he said. "Animals don't deserve to pay for the errors of humans."