Cat Who Survived Wildfire Never Thought He'd See His Mom Again
Once he realized it was her, he curled right up onto her chest ❤️
It was a pet parent's worst nightmare.
As the Camp Fire neared Laci Ping's home in northern California last week, she and her husband Curtis Mullins scrambled to pack up their beloved pets and any belongings they could before evacuating.
Fire was creeping into the neighborhood, and just as they were ready to leave, the flames engulfed a nearby propane tank, causing it to explode. The family's newly-adopted cat, Mayson, was so terrified by the loud noise that he broke out of his carrier and disappeared down the street. Ping frantically ran after him, but a team of firefighters rushed the family out of the neighborhood.
"He took off running and my heart was just racing," Ping told The Dodo. "I couldn't get to him. I had no idea how he squeezed himself out but he did. My mind went straight to the thought that I'd never see him again."
The couple was heartbroken. Now they questioned not only what might happen to their home among the flames, but also what might happen to Mayson. Ping began posting his photo everywhere on social media, desperate to find him.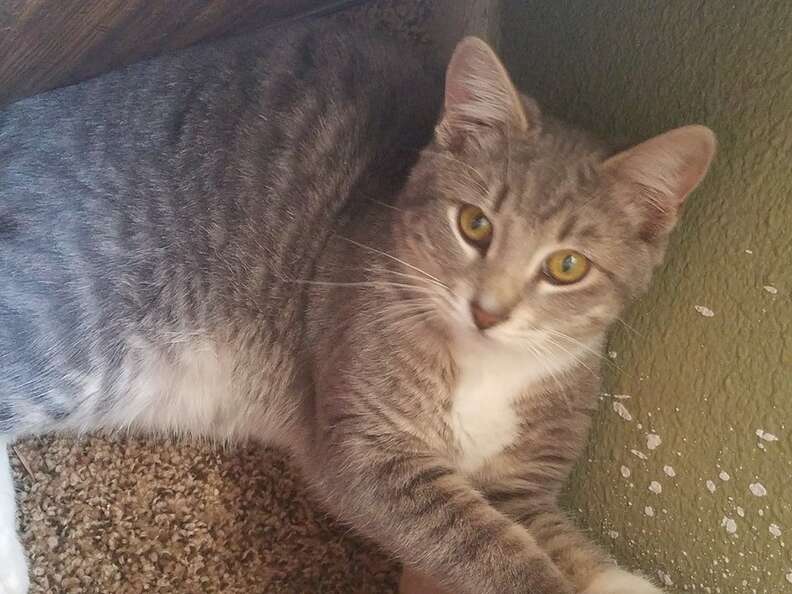 "I was searching relentlessly online, trying to see if anyone might have picked him up," Ping said. "And then, after a couple of days, UC Davis [School of Veterinary Medicine] posted a lineup of found cats."
Ping couldn't believe her eyes. In one of the photos was a gray tabby, with a patch of white fur near his mouth.
"I recognized his photo immediately," Ping said. "I thought, 'That's my baby Mayson.' I knew it."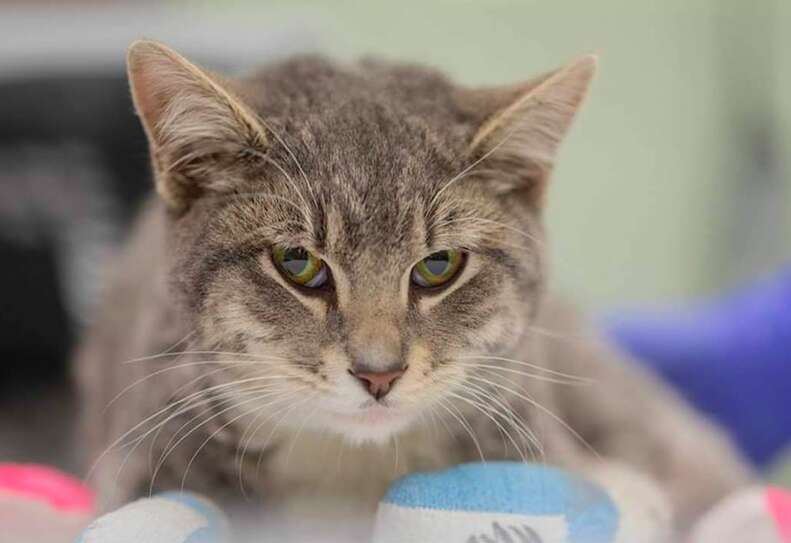 Ping and her husband, who are staying safe at a friend's house with the rest of their pets, got in touch with the vet's office right away and headed over to hopefully find their boy. As they eagerly waited inside a room at the clinic, a vet tech entered with a box.
Sure enough, Mayson was inside — safe and sound.
"Up until the moment we saw him, I kept beating myself up for having to leave," Ping said. "I was in tears. I thought I would never see him again."
Ping was so glad to have her cat back — and Mayson was just as happy. He'd been through so much, but when he realized his mom was there, he buried his face into her neck as she held him.
"He just gave me a big hug around my neck," Ping said. "He was so happy. I missed him so much. It was terrifying to think of what could have happened."
While Mayson did burn all four of his paws in the fire, he's expected to make a full recovery. He'll be staying at the vet's office for at least a few more days to make sure everything is healing. Then, he'll be reunited again with his family.
Unfortunately, the couple's entire home has been leveled by the fire and they aren't sure when they might be able to return to the neighborhood. Fire crews around the state are still battling the blaze, which has destroyed nearly 11,000 homes. Around 77 people have lost their lives, and an estimated 1,000 people are still missing or unaccounted for.
Among the flames, firefighters are also recovering countless animals just like Mayson, in hopes of one day reuniting them back with their families. Ping wants her miracle to encourage other families to just keep searching for their lost pets — because they would do the same for their parents.
"I want people to keep hope and not give up," Ping said. "Keep searching and make sure you check every page out there that's posting about lost pets. It might take a lot longer to get your baby back than you think, but it is so worth it. They are waiting for you just as much as you are for them."