Cat Jumps Into His Mom's Arms After Being Lost For 536 Days
"He nudged that little piece of my broken heart back in place."
When Mindy Criner and her husband Luke first adopted Cat from the Peninsula Regional Animal Shelter in Virginia, he was very shy. His default was to sit off to the side while all the other kittens played, but Criner had a feeling he just needed a family to help bring out his confidence.
"You could see in his eyes he just needed love," Criner told The Dodo.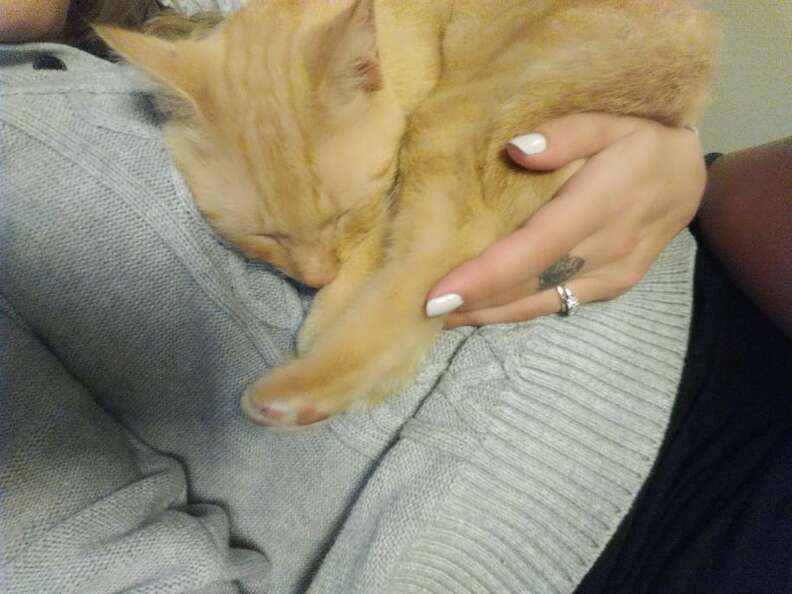 It took a little work, but before long, Cat was all settled into his new home and so in love with every member of his new family. When his parents had a baby, he loved him immediately too, and there was never any doubt that the couple had made the right choice in taking a chance on that shy little kitten.
Cat gained so much confidence after joining his family, and often liked to wander around his yard and explore a bit. One day, Criner went to call him inside after another round of exploration — but Cat was nowhere to be found.
Frantic, Criner immediately contacted the woman who runs the Lost & Found Pets - Hampton Roads, VA, Facebook page to have her help spread the word, and then she and her husband did everything they could to bring Cat home. They put a litter box and food outside in hopes that familiar smells would help lead him home. They set up little housing stations all over the neighborhood and had friends check them whenever they could. They put up countless posters. Every night, they walked all around the neighborhood calling his name — but eventually, they started to lose hope.
"Weeks turned to a year, then a little more and every day that crack in my broken heart got a little bigger," Criner said.
Then, 536 days after Cat went missing, Criner got the call she never thought would come. Someone had found him.
"I thought it had to be a mistake," Criner said. "The voicemail from animal control said to get in touch with Peninsula Regional Animal Shelter to find him. I drove to that shelter as fast as the law allowed and walked through the door already fighting back tears."
When Criner arrived at the shelter, they told her that a man had actually been feeding Cat, who the man thought was a stray, for about a year. After Cat was hit by a car and survived, the man contacted animal control, who scanned for a microchip and discovered who Cat really was.
Criner quickly got in contact with the man who had found Cat and drove over to his house. Cat was sitting on the porch having a snack when she arrived, and as soon as they saw each other, it was as if no time had passed at all.
"I sat on the steps and let him come over to me in case he was scared, and he got right in my lap and purred," Criner said. "I started walking towards the car where my husband (who has an incredibly distinctive voice), Luke, was talking to the guy that had been feeding him and Cat purred louder than I knew possible and gave me that first super long head boop. It's like he nudged that little piece of my broken heart back in place."
As soon as he saw his family, Cat knew he was finally going home, and he couldn't have been happier about it.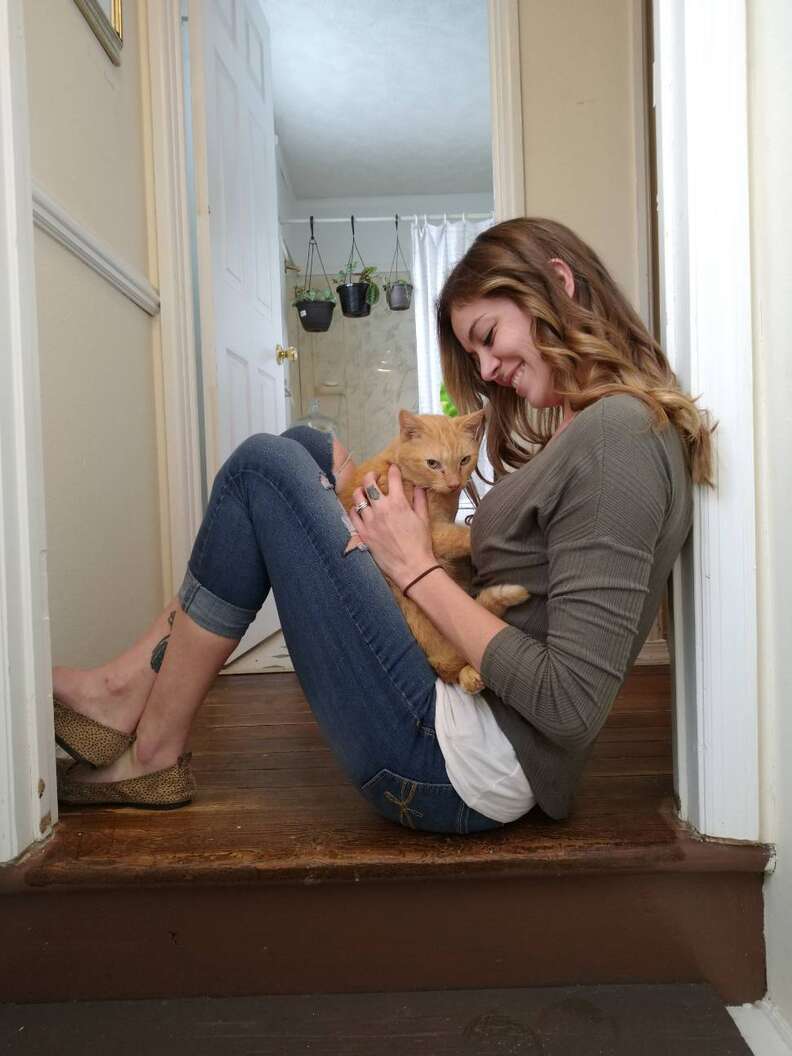 Once they got back home, Cat settled in almost instantly, greeting his furry siblings and claiming back all of his old spots as if he'd never left at all. He and his parents have been spending as much time as possible cuddling and getting reacquainted, and the entire family is so grateful to finally have Cat back where he belongs.
"I hope that our story will give others missing their pets hope, and maybe those who have unknowingly taken in someone else's pet will check to see if they're scanned so that pet can have their happy reunion with their family, and someone else can feel the overwhelming joy we're experiencing," Criner said.