Rescuers In Ruins Of Wildfire Hear Cries For Help Under Burned-Out Truck
"They've been through hell."
Cinematographer Douglas Thron is no stranger to the destructive force of wildfires; he's spent decades capturing the aftermath such infernos leave behind. But nothing could prepare him for the scenes resulting from the California's deadly Camp Fire.
"I have never witnessed anything like it," Thron told The Dodo. "This is the most devastating fire I've ever seen."
Amid the apocalyptic landscape, however, hope is not lost.
Recently, Thron paired up with volunteer animal rescuer Shannon Jay to scour the ruins of Paradise, a town leveled by the Camp Fire, in search of any pets who may have survived. Jay has rescued countless cats from disaster zones over the years, and Thron came to learn what a labor of love that really is.
"The cats are very skittish," he said. "They've been through hell."
Last week, Thron's camera was rolling as he and Jay heard a cat's faint cries for help emanating from beneath a burned-out truck. Terrified, her fur and paws seared by the flames, the cat had taken refuge under the vehicle — and needed to be coaxed to safety.
Here's video of what happened next (be advised that the clip contains some strong language):
After an hour of trying, Jay was able to get the cat into a carrier — a happy conclusion, and an emotional one as well. An exhausted Jay was moved to tears following the ordeal.
He'd saved another life.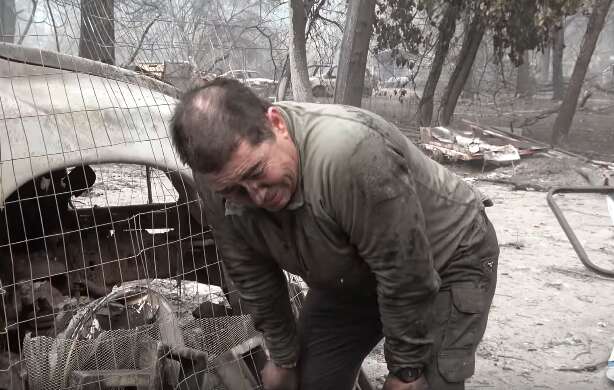 Thanks to Jay, the cat at the center of this rescue is now safe.
"She's at a vet center, getting taken care of," Thron said. "Her paws were burned, but she should be doing quite well."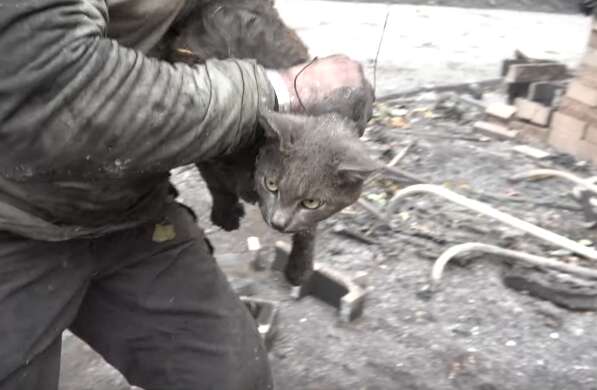 This survivor cat is likely just one of many still clinging to life in the ruins of the Camp Fire, so Jay doesn't linger on victories like this one too long. Instead, he keeps looking for more lives to be saved.
For Thron, Jay's passion for helping animals is a bright spot in a place where so much has been lost.
"It's beautiful to see. Compassion like his is uncommon nowadays," Thron said. "It's wonderful to be with him."
And the cat Jay saved that day would certainly agree.
"She's healing and of the sweetest disposition — even purred for me," Jay wrote after a visit with the recovering kitty. "A giant potato sack full of thanks and gratitude to all the love and care shown to this little miracle. And a huge thank you to all the outpouring and support for me in this unprecedented rescue effort."