Cat Who Looks Different Finds Dad Who Loves Her Just The Way She Is
"I fell in love with her from the moment I held her ... I could not have asked for a better cat."
Shireen was only a few months old when someone abandoned her on the streets of Massachusetts — in the middle of a brutally cold, snowy winter. The poor cat wandered in the snow all by herself, and by the time she was found, her ears were completely frostbitten. She was in such terrible shape when she was finally rescued and taken in by The Odd Cat Sanctuary, but everyone there was determined to help her.
After examining Shireen, a vet determined that while her ears had been severely affected by frostbite, she would still make a full recovery and the damage to her ears wouldn't result in any hearing loss. She was also diagnosed with eyelid agenesis, a condition where the eyelids never fully form.
Shireen's condition was definitely rough, but staff at the shelter knew that with a little love and care she could make a full recovery …
… and after a month of rest and relaxation at the rescue, Shireen was completely healed and ready to find her forever home.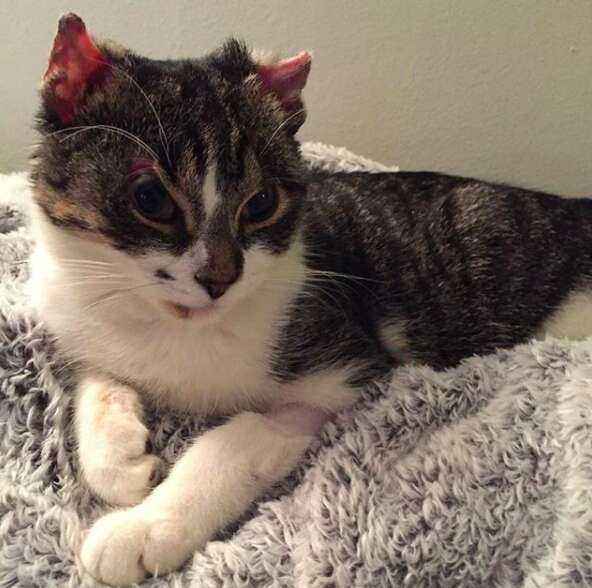 Even though she was able to make a full recovery, Shireen still looks a lot different from most cats. Her ears are misshapen from the frostbite, and her eyelids are odd-looking due to her condition. Her rescuers were unsure if her unique appearance might deter potential adopters — but before long, the perfect person noticed her, and fell in love with her for exactly who she is.
"I found out about Shireen by following The Odd Cat Sanctuary on Instagram," Bill Coggeshall, Shireen's new dad, told The Dodo. "They posted her progress, I followed her recovery and her story really moved me. When she was ready for adoption I contacted The Odd Cat Sanctuary about adopting her. I fell in love with her from the moment I held her."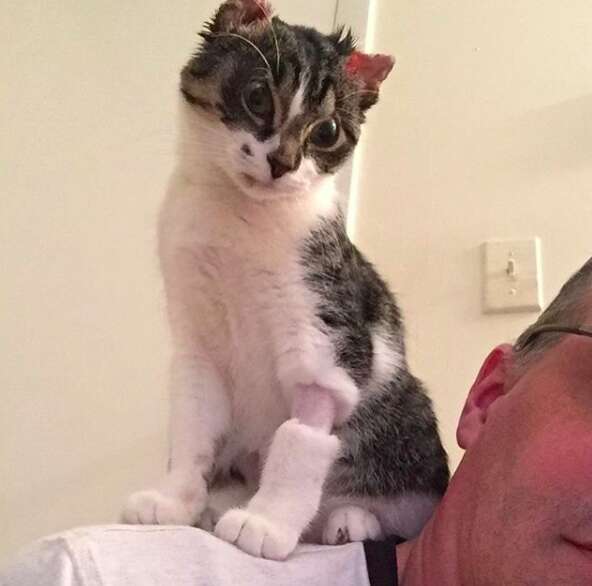 From the moment he met her, Coggeshall knew there was something special about Shireen. She had already been through so much, and he knew she deserved a home where she'd never have to worry about anything ever again — and decided he could give her exactly that.
Coggeshall adopted Shireen in February, and welcomed her into his little family made up of three other cats: Lady Sansa, Lil Becca and Lord Stannis. Shireen bonded with her new siblings immediately, and seemed to know that she was finally home where she belonged.
"Shireen has such a happy and warm personality and loves everyone she meets," Coggeshall said. "This surprised me given all she had been through."
Despite her unique appearance, Shireen seems to have no idea that she's any different from her siblings, and they in turn accept her for exactly who she is. She may have had a rough start to life, but she's now happy and well-adjusted, thanks to everyone who came together to help save her life.
"I could not have asked for a better cat; she's a total sweetheart and she's going to live a great life here," Coggeshall said. "I am so grateful to The Odd Cat Sanctuary for saving her and all the odd cats they save."