Cat Sneaks Out Of House At Night — Then Realizes He's Made A Huge Mistake
"This is my life now."
No, curiosity didn't kill Henry the cat — but it sure did make him pretty miserable for a bit.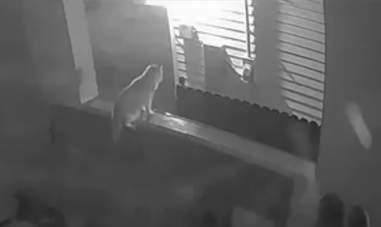 Katherine Fogg
Last weekend, Henry's human Katherine Fogg ordered a pizza to the house. And with that, the sneaky kitty evidently saw his chance for a little adventure.
While Fogg paid the delivery driver at the door, Henry slipped outside unnoticed. It was a decision he'd come to sorely regret.
Turns out, rain was in the forecast that chilly evening, and unfamiliar figures were lurking in the darkness. Henry had messed up — and he knew it.
Fogg's home security cameras captured this footage of her cat's rough night:
Fortunately, after several unpleasant hours outside, Henry's owner finally became aware of his predicament and came to the rescue.
It's much cozier indoors, isn't it, Henry?
There's no telling if Henry the cat learned his lesson from that little misadventure, but he certainly was reminded that the comforts of home are hard to beat.