Cat Marked As 'Bait' For Dogfights Is So Relieved He Escaped
He was colored purple so people could place bets on him.
As a cat rescue worker, Megan Sorbara considers herself pretty hardened to a lot of terrible things — she's helped severely emaciated cats, maimed cats and victims of animal abuse. So she never expected to feel as upset as she did when a cat with purple paws arrived at her shelter.
This week, animal control picked up a cat who'd been wandering around the streets. He wasn't injured, and he generally was in good health. But his paws told a different story — they'd been colored purple with a permanent marker, which is what abusers do to animals who will be used as bait in dogfights.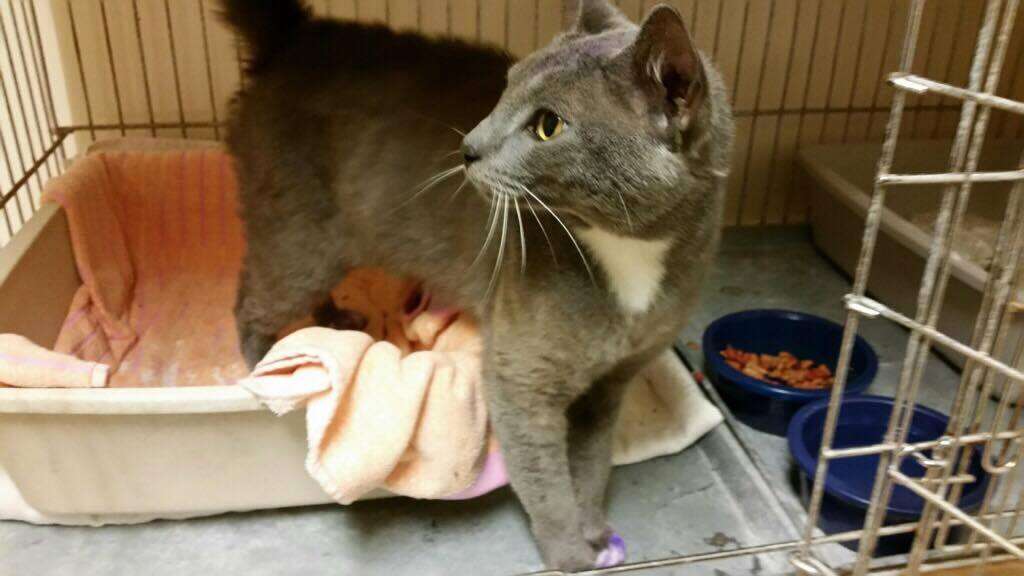 "Dogfighters use markers to color the white parts of cats and kittens so they can bet on which color will die first," Sorbara, the founder of Naples Cat Alliance in Florida, wrote on Facebook. "They are 'color coded' and then thrown to packs of dogs, while these sick barbarians place their bets. This is cruelty at its worst."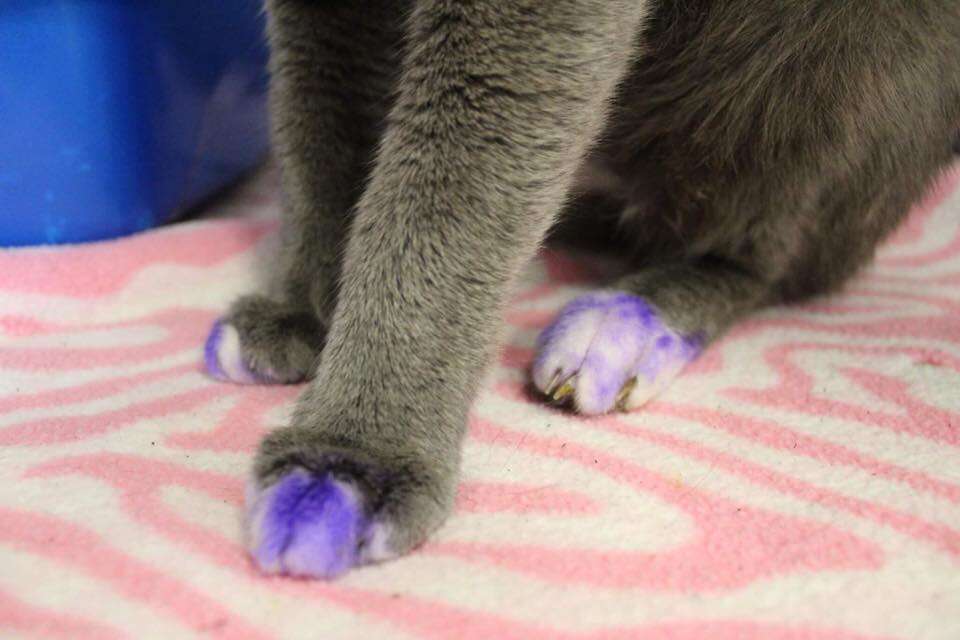 All four paws had been colored purple, and the cat also also had a smudge of purple on his head.
How did the dogfighters get the cat in the first place? No one will ever know, although Sorbara said she wouldn't be surprised if the dogfighters picked up someone's pet.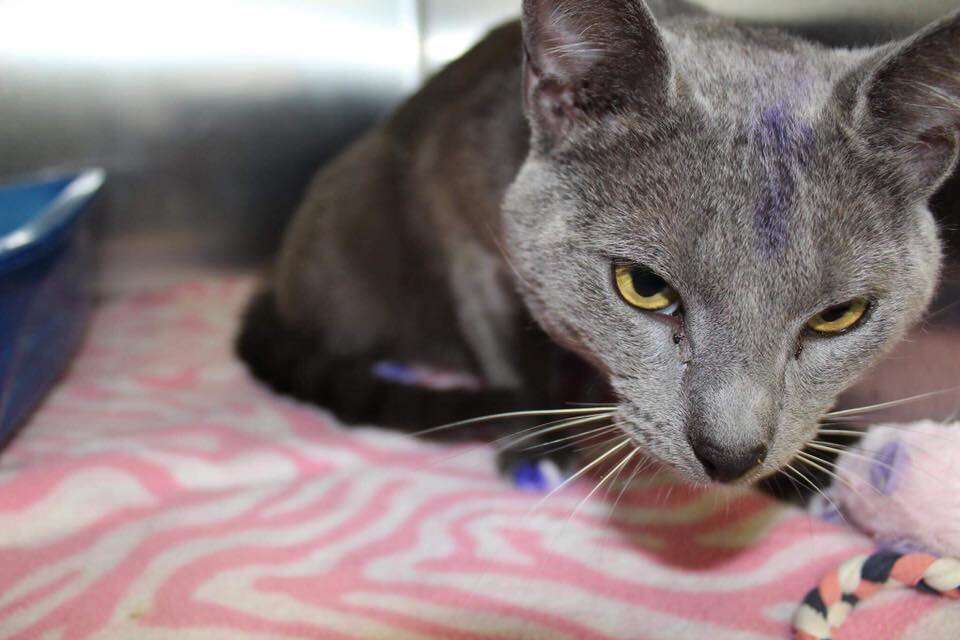 "He could have been a cat who was owned, but they were just letting him free-roam," she explained to The Dodo.
Once the dogfighters had the cat, Sorbara said, they probably didn't treat him that well.
"I can't imagine he was handled too nicely by these people when they were marking him, but I don't really know what he was subjected to prior," Sorbara said.
Thankfully the cat, whom Sorbara has been calling Mr. Purple Paws, managed to escape from the dogfighters.
"Somebody must have left a door open, or maybe he got away during transport while they're going wherever they go to have these fights in the middle of the night," Sorbara said.
Now Mr. Purple Paws is safe and sound at the Naples Cat Alliance shelter, where he'll stay until he finds his forever home. Sorbara doesn't think he'll need to wait long — his sweet personality has already made him a favorite among the shelter workers.
"He's just so sweet, rolling over on his back and giving head butts — just adorable," Sorbara said. "He doesn't have a care in the world. He's Mr. Happy. He was playing with toys in his cage last night. You can just pick him up, carry him around on your shoulder — he likes to be held."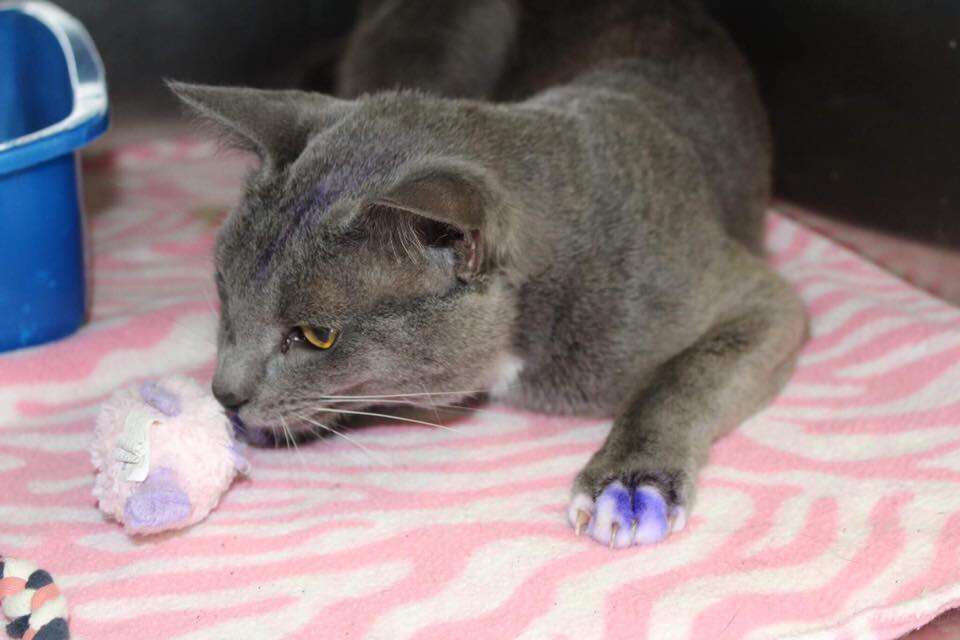 Mr. Purple Paws will be up for adoption this coming weekend, and Sorbara can't wait to find him the perfect family.
"This cat has no idea what he escaped, which is basically death," Sorbara said. "After what he's been through, and what he could potentially could have ended up [as], I can't wait to give him a chance to give him a good home."