Cat Who Loves Warmth Finds The Perfect Place To Take A Nap
"His eyes opened a slight crack as if I had rudely awoken him from an amazing slumber and then he closed them again."
Ruga was surrendered to Little Legs Dog and Cat Rescue in Queensland, Australia, when he was 8 years old and was immediately taken in as a foster by Angela Ellen and her then-fiancé, Chris Morris. They were only planning on fostering the sweet senior cat, but the more time Ellen spent with Ruga, the more she fell in love with him, and she kept hinting to Morris that she really wanted to keep him.
"I wanted to adopt Ruga but he [Morris] wasn't as keen as I was," Ellen told The Dodo. "Finally, on our wedding day, he placed a bow around Ruga's neck and said I could keep him as a wedding gift."
From the moment he arrived in his new home, Ruga has adored his new family and anyone else who happens to be passing through. He loves getting attention and cuddles — but his main goal in life is to find the warmest place he possibly can and nap there forever.
"His life goal is to get warmer and warmer," Ellen said. "I had a sore neck recently so I would heat up my microwavable heat pack, place it on the couch and honestly turn away for two seconds and Ruga would be curled up comfortable on it!"
By now, Ruga is an expert at finding the warmest possible places in the house — laps, the tops of appliances, sun-soaked windowsills — and yet is still always looking for new warm places he hasn't conquered yet.
On Saturday, Ellen was just finishing up baking some brownies when she realized it was time to collect her car from the mechanic who had been working on it. Since the mechanic was only 10 minutes away, she took the brownies out of the oven, put them on top of the oven to cool and then headed out the door with her husband.
As soon as they were out the door, Ruga emerged and spotted the cooling brownies, and had the most fabulous idea.
Ellen walked back in the door excited to try her freshly baked brownies — and instead found Ruga, napping peacefully right on top of them.
"When I saw him on the oven I gasped," Ellen said. "His eyes opened a slight crack as if I had rudely awoken him from an amazing slumber and then he closed them again."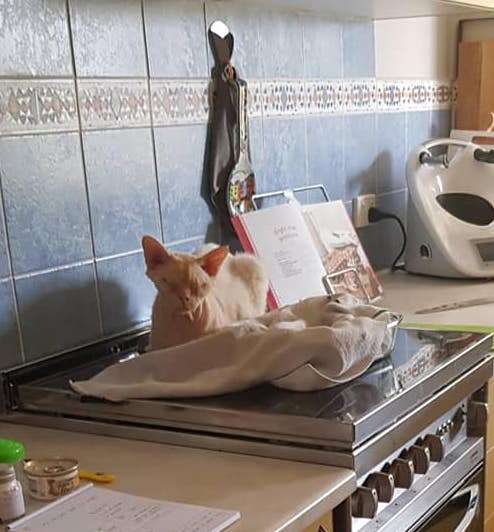 Between the warmth of the oven and the brownies, Ruga saw a perfect napping opportunity and had to take advantage of it, despite the fact that his entire house is essentially just one gigantic, very warm napping spot.
"Keep in mind here that it's currently SUMMER here in Australia," Ellen said. "It was roughly 82 Fahrenheit on Saturday when he remodelled the brownie."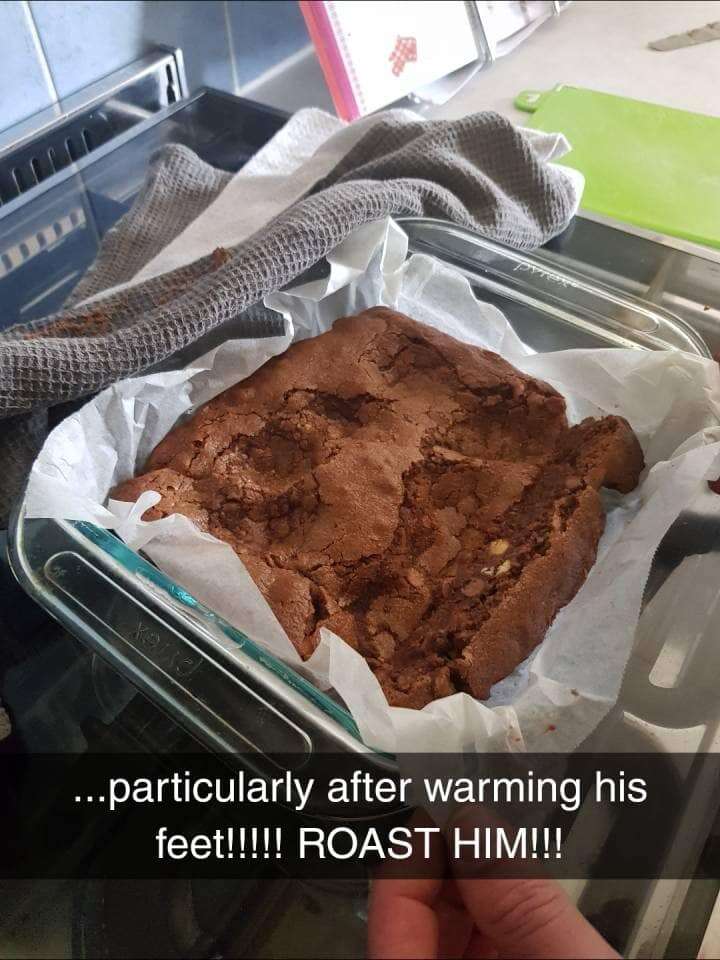 Luckily, the brownies were covered up with a towel during Ruga's napping extravaganza, so despite being a little squished, they were still edible. Ruga got to enjoy a fantastic nap and the couple still got to enjoy their brownies, but you can bet they won't be leaving any food out to cool unsupervised ever again.
"The brownies had been kneaded [by him] … had the tray been bigger, I reckon he would have been sleeping on top of the brownie itself," Ellen said.