Shelter Cat Missing Part Of His Nose Is So Grateful Someone Saved Him
"He kind of just went in to give the little head butt and the little rub against my grandson. It was almost like he knew that his savior had come."
The cat was an absolute mess. He was emaciated, his fur was matted into dreadlocks, his ears were torn up and he was missing half his nose.
Shar Khan, who is estimated to be 9 years old, was picked up as a stray last week in Southern California, and taken to the Baldwin Park Animal Shelter. When the shelter staff had a look at him, they assumed he had some kind of terminal illness, and they immediately put him on the euthanasia list — that is, until they discovered he had a microchip.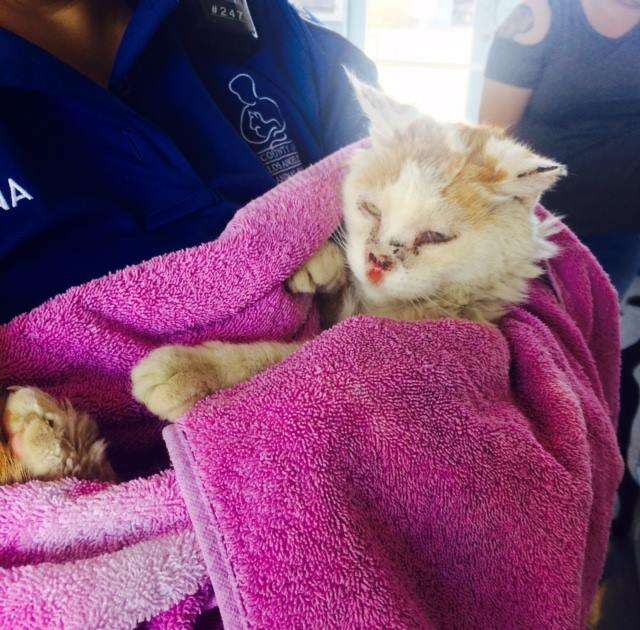 "Legally, they have to place them on a 10-day hold while they try to contact the owner or the name that's on the chip," Toby Wisneski, founder and CEO of Leave No Paws Behind, a group that rescues senior and sick animals, told The Dodo. "Several days had passed by, and nobody was stepping up."
The shelter tried to contact several rescue groups, seeing if they'd help the cat, although they hadn't yet gotten in touch with Leave No Paws Behind. But Wisneski eventually learned about Shar Khan through a Facebook post.
"I had noticed that somebody had tagged me on a post," Wisneski said. "So I went to the post … and I saw Shar Khan, and I thought, 'My goodness. Look at that poor kitty.' I asked my son to go over to Baldwin Park that day and to take a look at him."
Wisneski already knew she was going to rescue him, but the way Shar Khan bonded with Wisneski's son and grandson, who'd gone to the shelter to meet the cat, sealed the deal.
"He kind of just went in to give the little head butt and the little rub against my grandson," Wisneski said. "It was almost like he knew that his savior had come, and that he was going to be okay."
As soon as Shar Khan's stray hold was up, Wisneski picked him up and took him to the vet. It turned out that Shar Khan had early kidney disease, a problem with his blood and a few other medical issues. Then there was the problem with the cat's nose.
"The doctor said it could be a major infection that just took over and ate away at his nose," Wisneski said. "He could have been abused, or it could be cancer. But until we get him strong and stable enough to do a biopsy on his nose, we're not going to really know."
But all of these issues are fixable, according to Wisneski.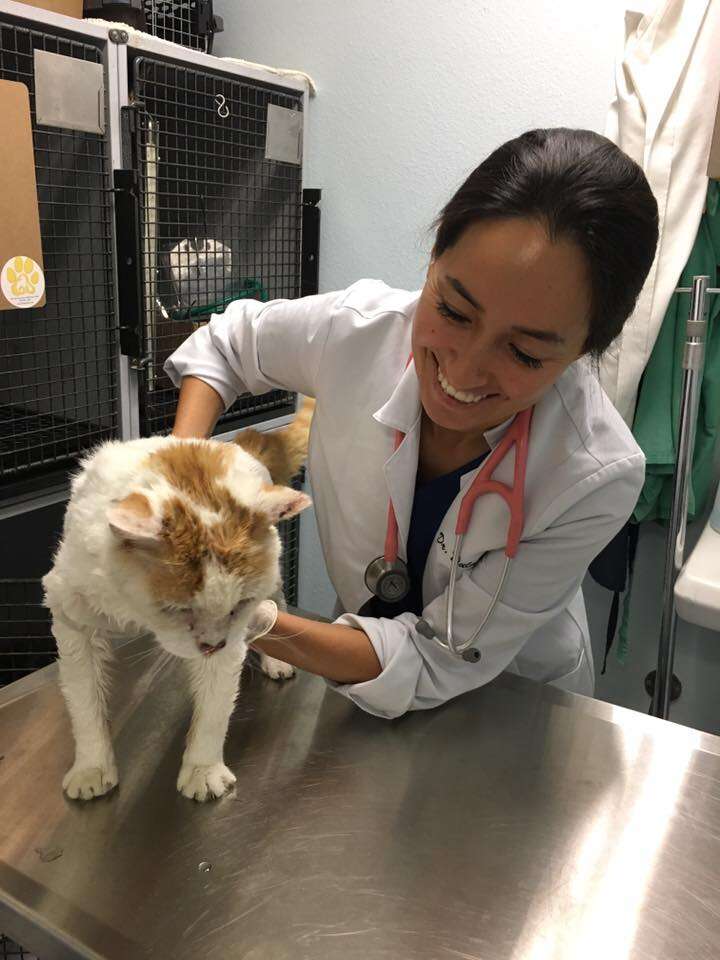 "He does have some medical issues, but it was nothing to warrant him being put to sleep," Wisneski said.
The most important thing is that Shar Khan isn't in any pain, Wisneski explained. If anything, he seems delighted to be alive.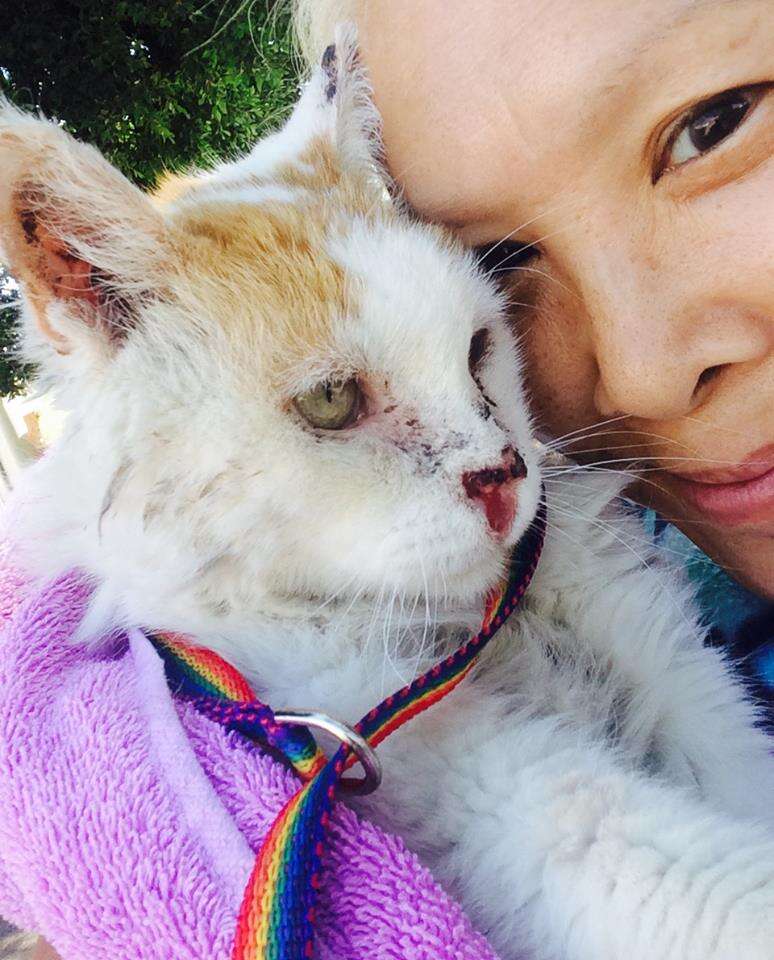 "He's very happy and he wants to live — he's shown us that he wants to live," Wisneski said. "He's the sweetest little cat."
"My favorite thing about him is the way he purrs, the way he loves to be touched and the way he'll just come into you and start rubbing up against your face and your hands," she added. "He just steals your heart away. In his own little way, he's saying, 'thank you, thank you, thank you,' and he's so grateful to be alive."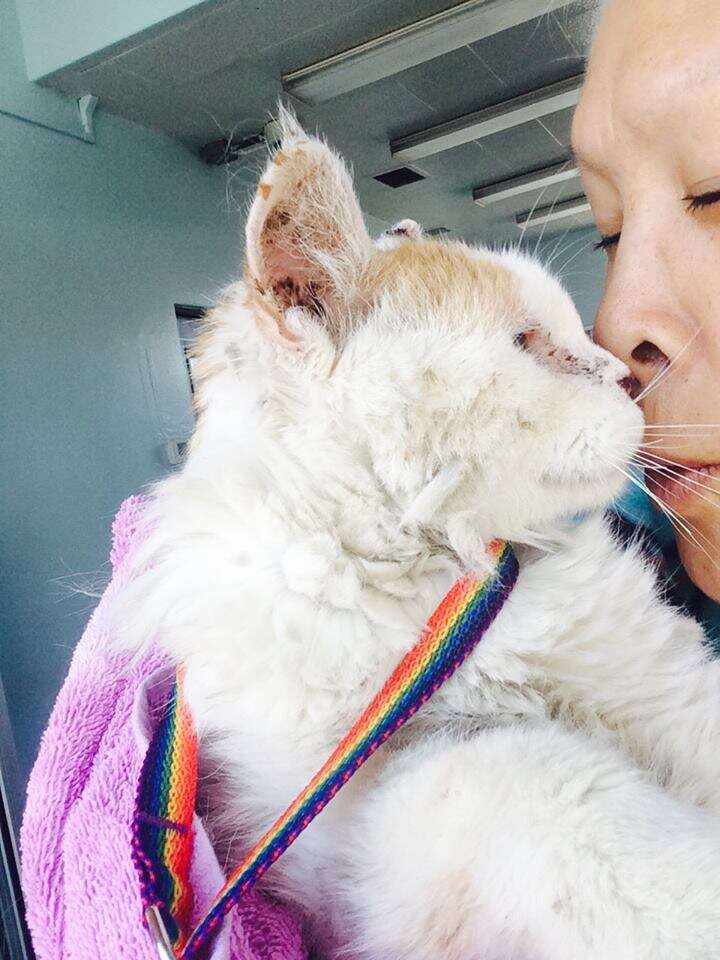 If you're like to help support Shar Khan's recovery, you can make a donation to
Leave No Paws Behind
. You can also follow Shar Khan's story on the organization's
Facebook page
.