At age 17, Darwin the cat may be older than most, but all those years behind him have done little to dampen his sweet and loving spirit.
Instead, the passing of time has only made his love grow stronger — and the world is a more joyful place because of it.
Darwin always enjoyed being outdoors in his younger days, so to celebrate his recent birthday, his owner, Kellen, decided to take him for a walk in the park. Although he doesn't get around as well as he used to, she thought it would be a nice gift for him to stroll through the grass and feel the sunshine on his fur.
Little did Kellen know at the time, Darwin would be a gift all his own to someone they had never met before.
During their walk, Darwin and his owner happened upon an older woman in the park. As Kellen told The Dodo, she seemed withdrawn, sitting all by herself near a pond. But as they approached her, that suddenly all seemed to change.
"She saw Darwin and lit right up," Kellen said. "I told her she could come over and pet him, so she got up, just about as steady as Darwin is (which is sometimes not at all), came over and sat with him. Right away, she was his friend."
Kellen learned that the 85-year-old woman's name was Lida, and that she was from Uzbekistan. She struggled a little to speak in English, but soon began to talk about a beloved pet of her own whom she had lost.
"She told me about her cat that died at 12, how beautiful he had been and how she missed him," Kellen said.
What happened next was something truly beautiful. Kellen watched in awe as Lida and Darwin joyfully played and nuzzled together like old friends — each seeming, in that moment, to transform into their younger selves again.
"I was trying to choke back a lump in my throat the entire time she was with us," said Kellen. "Interacting with Darwin, she really shone."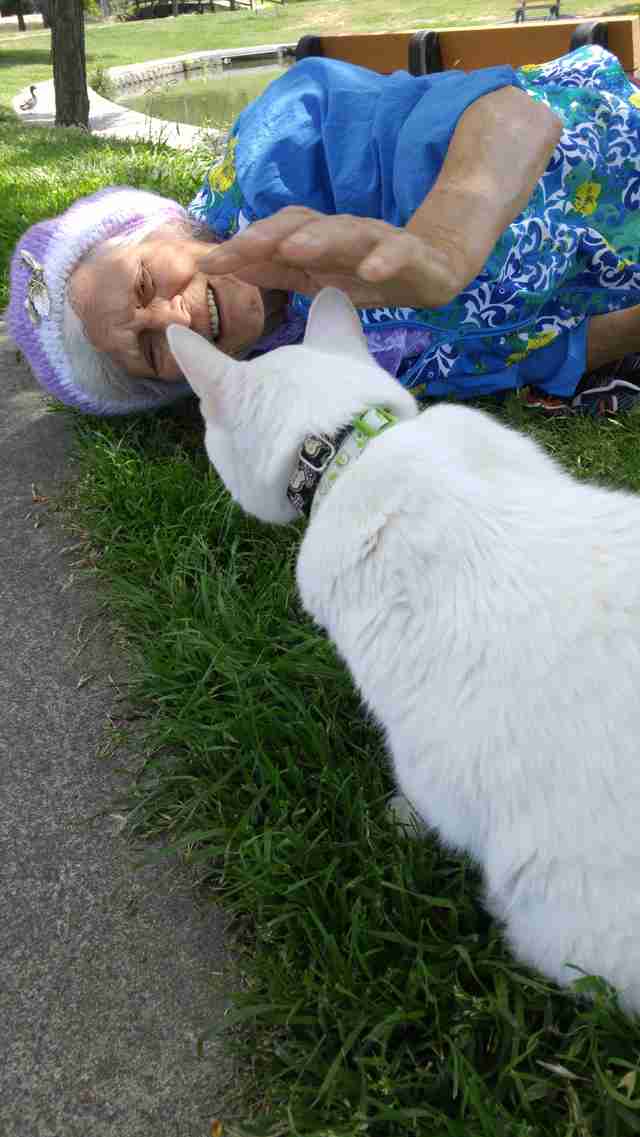 From a distance, the moments Darwin and Lida spent together might not have seemed so remarkable, but Kellen sensed that her cat had arrived in that kind stranger's life at the perfect time.
"I feel like I truly have an angel in fur," she said. "He seems to have been there right when he needed to be."
With that came the greatest gift of all: Lida was a stranger to them no longer — all thanks to Darwin.
"She gave me her address and I do plan to stop by with Darwin to see her again," Kellen said. "There is something truly magical about him. I hope others get to know Darwin and know there is truly good in the world — sometimes it just happens to wear fur and not flesh."