Cat Didn't Like Toys — Until He Got A Little Jeep
"Can't get him out of it" 😹
When Ben Vroomans first adopted Frank two years ago, he could tell that he was a quirky little cat. He initially didn't like to be touched or held, but he came out of his shell as he got to know his new dad, and now he's one of the sweetest, funniest cats Vroomans has ever met.
"Over the last couple of years we learnt to know each other, and he's now got the biggest personality," Vroomans told The Dodo. "Still can't pick the bloke up, but he's otherwise super affectionate now. Follows me everywhere. He's my noisy little shadow, and a bit of a celebrity amongst my social group."
For some reason, Frank has never really had any interest in toys, but does love cardboard couches. When his most recent couch started looking a little worn, his parents looked into getting him a new one — and instead came across a cardboard jeep. At first they were worried he may not like it because it looked kind of like a toy, but they decided to give it a shot anyway.
"He's not a 'toy' cat," Vroomans said. "He acts like he's beyond childish things like that."
Frank's parents nervously presented him with the jeep …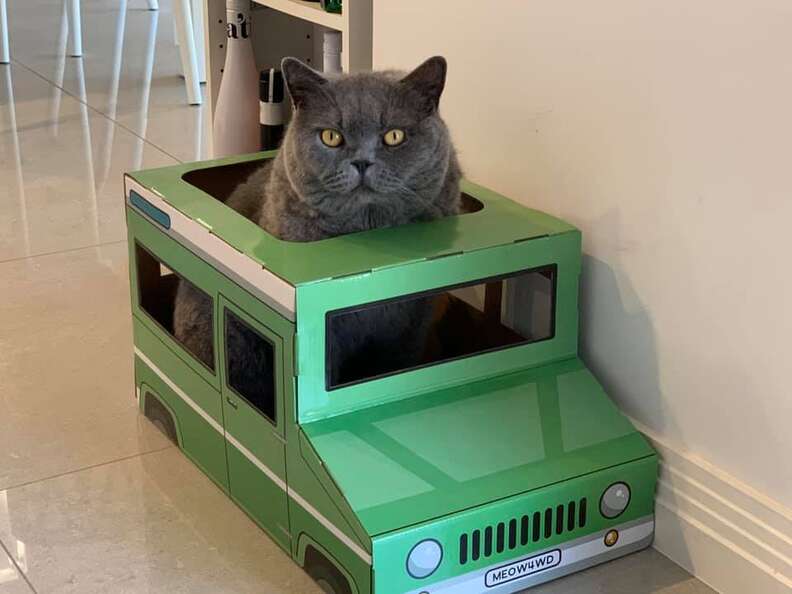 … and he instantly fell in love with it.
"He loves the crap out of this thing," Vroomans said. "Can't get him out of it."
For some reason, Frank loves his jeep more than anything else, and now spends all day just hanging out in it. He's so obsessed with it, and his parents can't help but laugh that a cardboard jeep that only cost them $8 has brought him so much joy.
Frank may not be into toys, but his parents have found other gifts he loves, and he couldn't be happier about it.