Cat Loves Being A 'Dad' To Every Foster Kitten He Meets
"They were shy at first, but because they loved Charlie and Charlie loved me, they began trusting me."
Charlie and his three siblings were found abandoned in a sealed box at a campground when they were just a few days old. It was one of the hottest days of the summer and the poor newborn kittens had no way to escape. Luckily, a woman discovered them before it was too late, and after seeing no mama cat in sight, brought them to a local fosterer.
The kittens had to be bottle-fed around the clock, and even though they had a rough start to life, they slowly began to grow and regain strength. Once they were old enough to be adopted, they went off to their forever families one by one — except for Charlie.

When no one seemed interested in adopting Charlie, the woman fostering the kittens asked her daughter if she wanted to adopt him as her own. She immediately said yes, and the pair have been together ever since.
"He's the most loving, trusting, affectionate cat I've ever been around," Chandler Alteri, Charlie's mom, told The Dodo. "The second I get home from work, he runs to the door and stands on his back legs for me to pick him up and hug him. He LOVES to be held and snuggled. He's excellent with children, dogs, strangers and, most of all, other kittens and cats."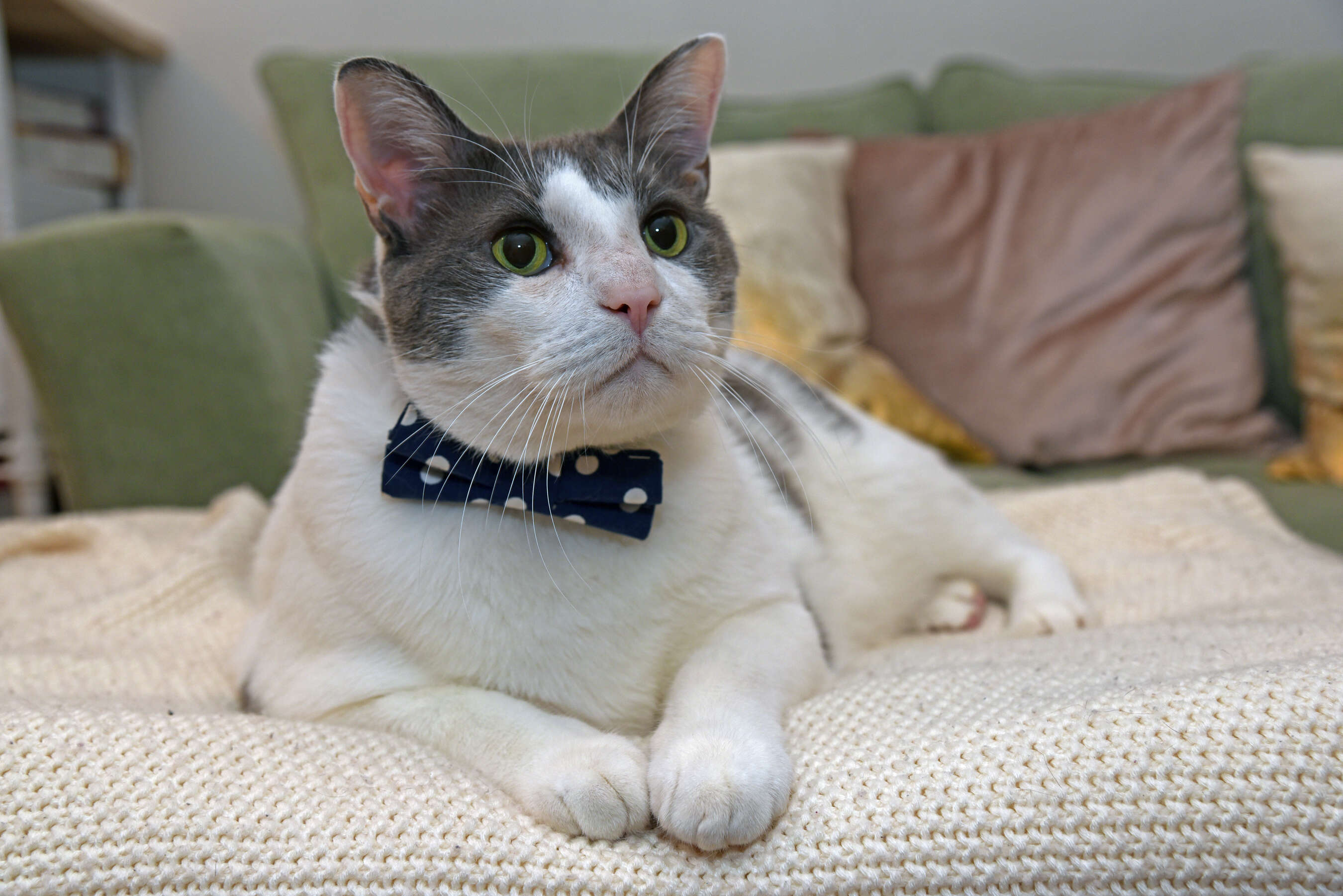 Soon, Alteri decided to try fostering, just like her mom, as it was something she'd always wanted to do. She contacted the ASPCA and brought home her first two foster kittens, Bitsy and Jitterbug. At first, she kept the kittens in the bathroom, as she wasn't sure how Charlie would react to sharing his home with them. As it turned out, though, she had absolutely nothing to worry about.
"He was dying to get inside and see them," Alteri said. "When I finally let him into the bathroom, he immediately started bathing the kittens. I watched for weeks as he cared for them and helped bring them out of their shell. I had never seen anything like it. They were shy at first, but because they loved Charlie and Charlie loved me, they began trusting me."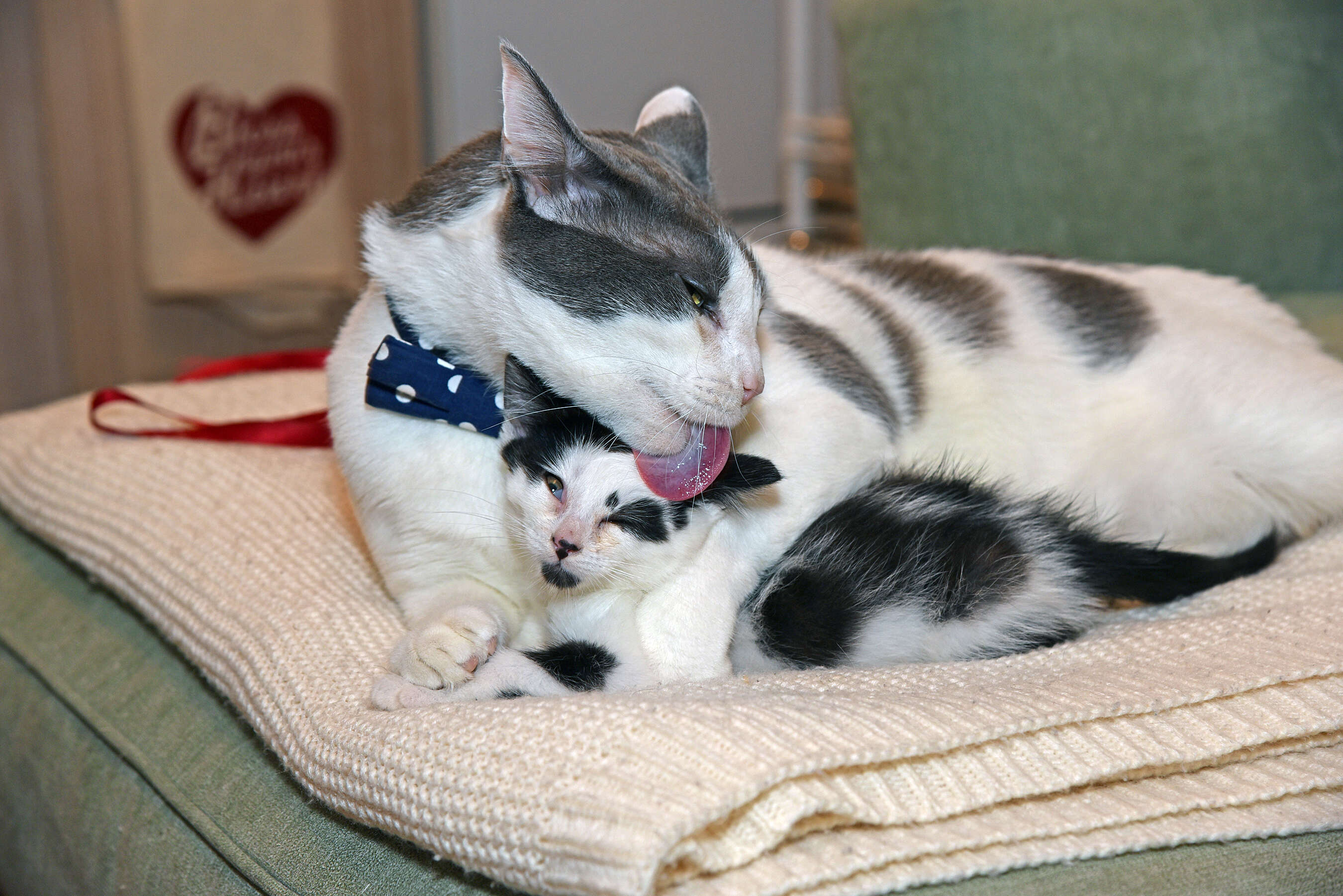 With Charlie's help and guidance, Bitsy and Jitterbug were ready to find their forever homes, and Alteri realized that she and Charlie had found their calling. They have now fostered around 25 different kittens, and Charlie has loved and cared for each and every one as if they were his own babies.
"Charlie loves giving the kittens baths and cuddling with them," Alteri said. "He even lets them fake nurse! He also likes to play hide-and-seek with them. He'll go hide somewhere in the apartment, meow, and then when he hears them coming, he jumps out of his hiding spot and leaps over them! It's hilarious!"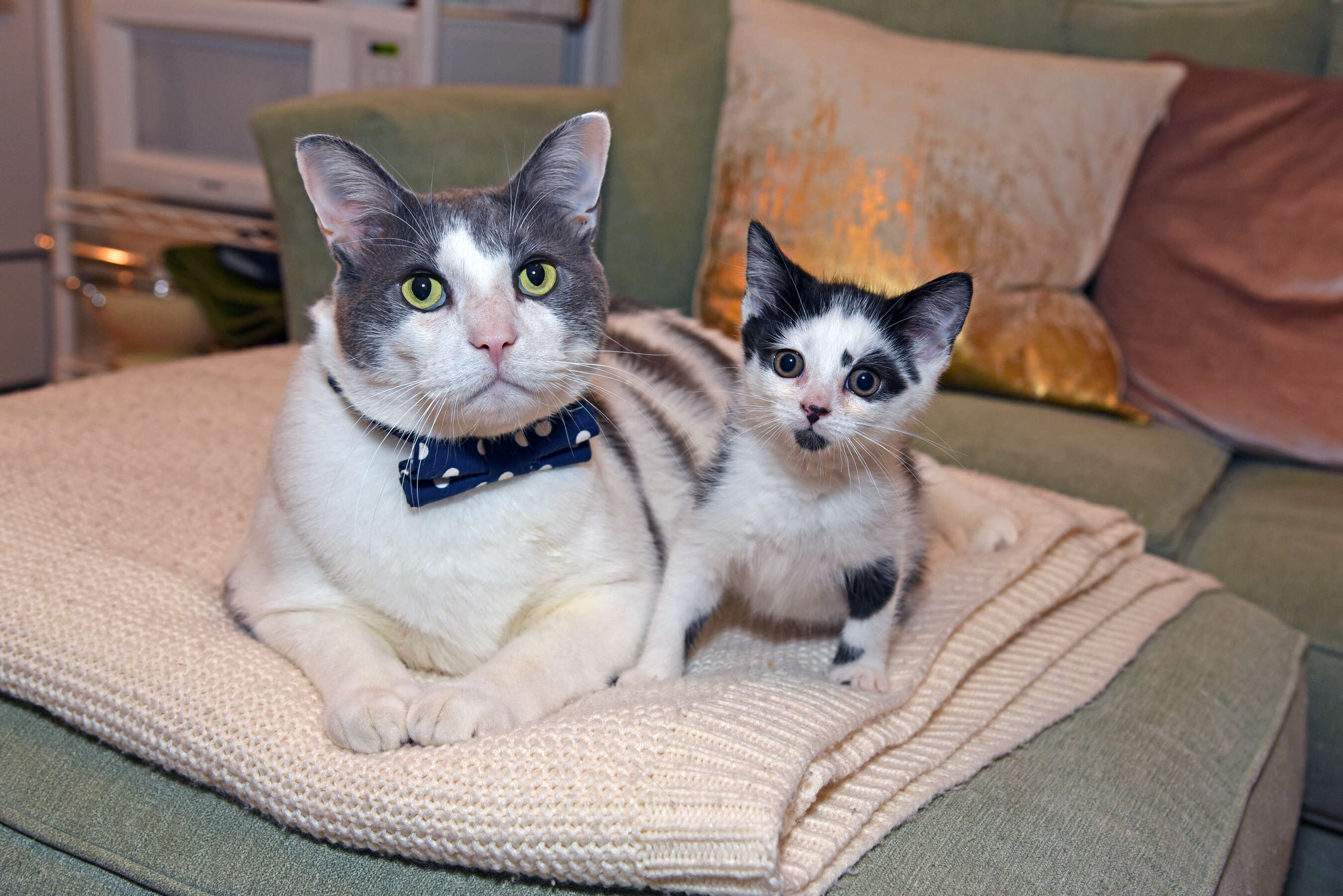 Many people may be surprised by Charlie's behavior because he's a male cat, but every time he sees a new little foster kitten in need of love and attention, his parental instincts kick in, and he becomes the best adoptive dad anyone has ever seen. Having Charlie around to help them learn and grow is a great asset to the foster kittens — and definitely helps make them more adoptable.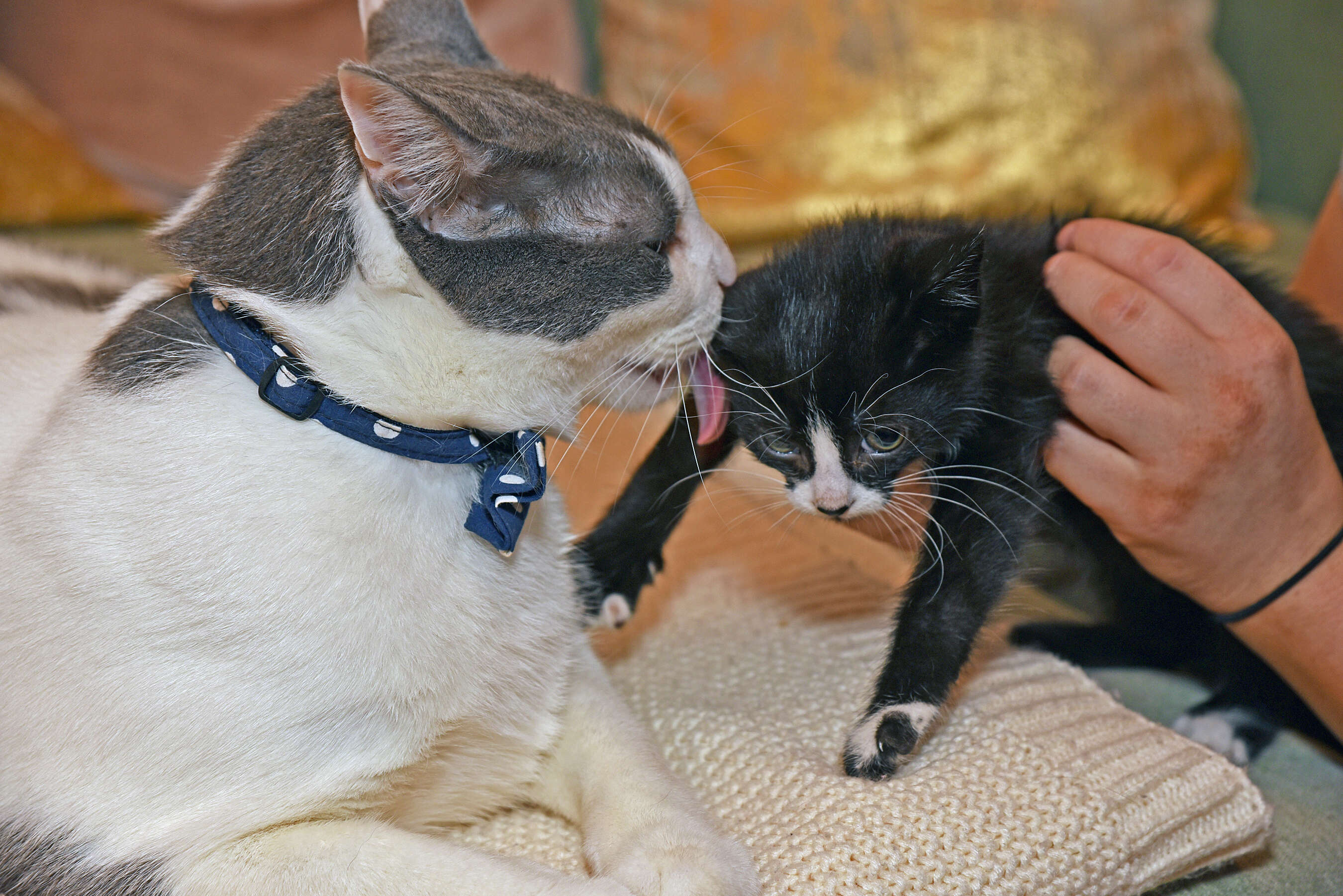 "The foster kittens benefit from a calm, friendly cat that provides the kind of social support and connection that humans can't offer, especially when humans are still pretty scary," Adi Hovav, senior behavior counselor at the ASPCA Adoption Center, told The Dodo. "Charlie's connection to the kittens creates a bridge between kitten and human. While kittens can be effectively socialized without the presence of a helper cat, having Charlie there definitely aids the socialization process."
Charlie had a rough start to life, and that might be why he's so into helping and caring for the foster kittens. Fostering saved his life, and now he's spending every day repaying the favor.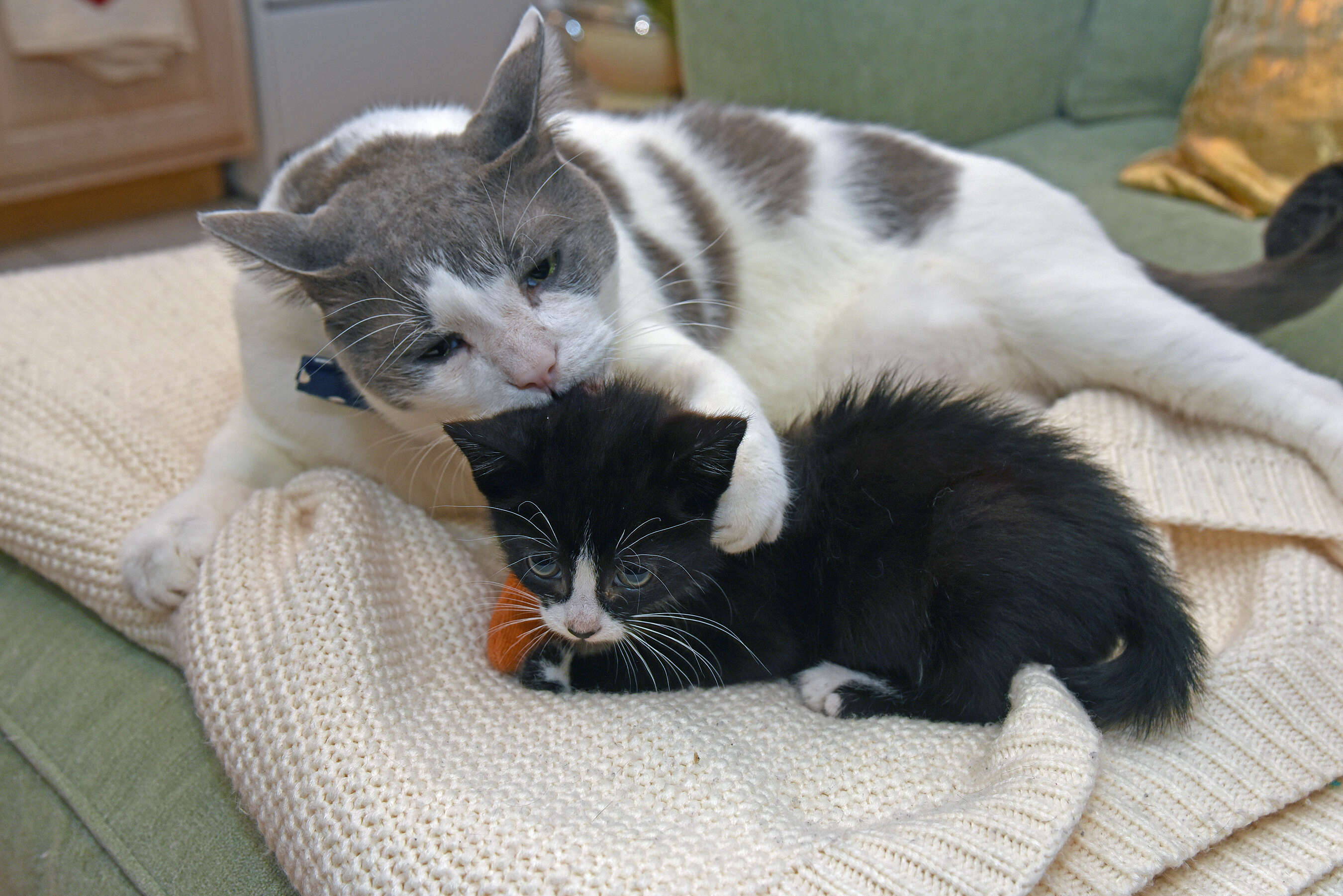 "He's extremely protective of our fosters," Alteri said. "Sometimes he'll sit up high on my dresser or bathroom sink and just observe them. Once a foster got his toy stuck under the ottoman, and Charlie helped fish it out for him."
Charlie brings joy and love to each foster kitten he meets, and also to his mom, who is so grateful to have found such a loving and understanding best friend.
"He is an absolute treasure," Alteri said, "and I don't think there's another cat in the world as precious as he is."