Cat Interrupts Ballet Lesson To Get A Little Extra Love From Mom
"She was getting really into it!" 💃😺
Amelia Love Clearheart was recording a ballet lesson for her class when an unusual dance partner made a surprise appearance.
Clearheart's cat, Aurora, heard the music start and ran to join the fun. Aurora knows that whenever her mom starts dancing, it's the perfect opportunity to get a little extra attention. That, however, is not always ideal in her mom's new work-from-home lifestyle.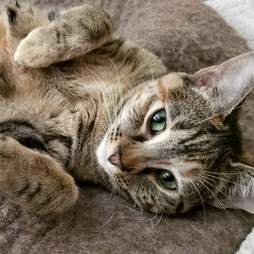 Amelia Love Clearheart
"Aurora is accustomed to moving between my legs as I move around the house," Clearheart told The Dodo. "She's especially attracted to dance movement, music and the positive energy that comes off of it."
As Clearheart demonstrated a dance sequence, Aurora started weaving between her mom's legs, getting a pet each time her mom lowered her pointed toes. "I remember thinking, 'They're gonna love this' when Aurora was doing the weaving dance," Clearheart said.
"Don't worry, she likes to be kicked between my legs," Clearheart explained to her class in the video. "She's doing this on purpose."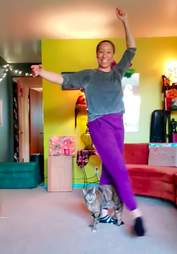 Amelia Love Clearheart
Then, the little kitty did something that her mom could not have predicted — she took a flying leap.

"She was getting really into it and really wanted more interaction with my movement and me," Clearheart said. "That's when she jumped into my arms — and beautifully timed with the music! It was a total surprise, seeing as she had never done anything like it before."
Amelia Love Clearheart
You can watch Clearheart and Aurora's adorable dance lesson here:
Now that Aurora knows her mom will catch her, the kitty won't stop jumping into her mom's arms whenever she sees her dance. And while it might not always be the move that Clearheart is trying to teach, it's the one she likes the best.
"I was overwhelmed with a sense of warmth, love and delight when she jumped into my arms," Clearheart said. "I probably always hoped a cat would do something like that! She's such a sweet, loving being."