Cat Helps Her Parents Prepare For New Baby Sibling
"She's used to being held and cradled, so she really didn't fuss too much."
They say nothing can prepare a person for parenthood — but adopting a pet can certainly help.
Just ask Jordan and Chenoa Gale.
The Salt Lake City, Utah, couple have two cats, Sophie and Eevee, and will soon be welcoming their first human child into the world. They love their two kitties more than anything, and the cats return their affection tenfold — especially Sophie.
Jordan and Chenoa Gale
Rescued from the Salt Lake County Animal Shelter in 2015, Sophie and Chenoa have always had a special relationship. Upon meeting the affectionate tabby, Chenoa felt an instant and powerful connection.
"When Chenoa was holding Sophie against her chest, Sophie rubbed herself on Chenoa's cheek and neck. She purred right away," Jordan Gale told The Dodo. "There were some people also looking for a cat at the same time, so before anyone else had a chance, Chenoa talked to the people at the front desk and started the paperwork to adopt Sophie."
Chenoa and Jordan Gale
Sickly as a young cat, Sophie was dependent on her mom and dad for everything. Today, she loves hanging out with her parents, sometimes even more than playing with her little cat sister.
"Sophie mostly likes being around people. She likes being involved in stuff when we are doing things around the house — especially when it comes to Chenoa," Gale said. "It reminds me of Ash and Pikachu from the Pokemon TV series."
"We often joke that 'The Little Mermaid' song is her song, because she wants 'to be where the people are,'" Gale added.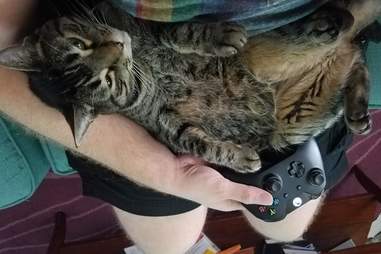 Chenoa and Jordan Gale
Now in her third trimester, Chenoa is taking advantage of every moment she has to prepare for the baby, and even Sophie is doing her part to help.
When the couple received a swaddle blanket for Christmas, they decided to practice their skills, and that's when inspiration hit. "Chenoa wanted to show [me] how to swaddle, so she grabbed Sophie when she was least expecting it, and started to swaddle her," Gale explained. "We'll probably do it a few more times so I can get more practice."
Chenoa and Jordan Gale
Other than a few confused meows, Sophie handled the swaddling like a pro, making her parents very proud. "She's used to being held and cradled, so she really didn't fuss too much," Gale said. "She was a champ and took it pretty well." Jordan snapped a quick photo of Sophie and posted it to Reddit. Commenters were both perplexed and impressed by the swaddling technique of the parents-to-be.
What's even more impressive is that Sophie's goodwill toward her future sibling hasn't stopped there.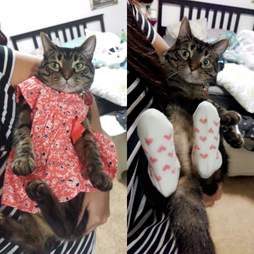 Chenoa and Jordan Gale
"Sophie has tried on some of her little human's clothes, also Chenoa's doing," Gale said. "Chenoa has a baby app that says later on in pregnancy our little one will be the size of an American shorthair cat. That gave her the idea to dress her up in baby's clothes and use her as a model."
Adjusting to a new sibling can be tough, and only time will tell how Sophie and Eevee will react to having another human in the house. Sophie has already had to make some adjustments during the pregnancy, especially when it comes to sleeping arrangements.
Chenoa and Jordan Gale
"She definitely senses something is different," Gale noted. "Before we moved to our new apartment, Sophie would snuggle right up to Chenoa's face or fit herself snugly up against Chenoa's chest or stomach." Since Chenoa is using body pillows during pregnancy, blocking Sophie's access to her face, the intrepid kitty has decided to sleep directly between her mom and dad.
Not only will the cats have to learn how to share space, but they will also have to adjust to dividing their parents' affection. But until their little one arrives, Jordan and Chenoa are doing everything possible to prepare Sophie for the change, including keeping her out of the baby's room and helping her understand that she can't have all of their attention all of the time, Gale said.
Chenoa and Jordan Gale
"Chenoa is hoping that because Sophie and her have a very strong bond, she'll be able to bond just as well with the baby," Gale added.
Hopefully, their newborn baby will be equally easy when it comes to getting wrapped up snugly in a blanket. If Sophie has any issues, at least her parents know they can always calm her down with a good swaddle.