Shelter Worker Finds An Empty Bucket — Then She Looks Inside
She almost got taken away with the recycling 😱
On a cold Saturday morning earlier this month, a kennel attendant arrived for her morning shift at Animal Haven Shelter in New York City and began her work. She leashed up one of the dogs for a walk and left the building, but once outside the pup seemed more concerned with sniffing the trash than getting his exercise.
The dog's keen sense of smell pointed to something that had easily been missed — a white plastic bucket discarded on the sidewalk near the back door.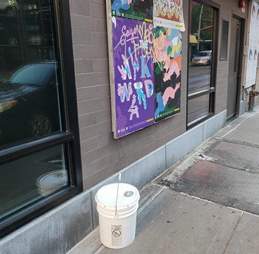 Animal Haven
The white bucket resembled the containers of cleanser that the shelter used and blended in with its surroundings. "It was right next to our pile of recycling and garbage," Moira Connelly, an animal care specialist at the shelter, told The Dodo. "Luckily, it was put far enough away that it didn't get grabbed [during the trash pick-up]."
When the kennel worker went to move the bucket, she was shocked to see a little green eye looking back at her. A small tabby had been left in the container overnight, waiting for someone to notice him.
Animal Haven
The staffer immediately brought the shivering tabby inside and a quick exam revealed the cat was approximately 3 years old and healthy. However, the ordeal had left its mark. The cat wanted nothing to do with the humans trying to help her, Connelly said, explaining she was "traumatized and shut down, shying away from us handling her."
"She's not hissy or anything like that, she just kind of stares horrified at people," Connelly added.
Animal Haven
While upsetting, the cat's abandonment wasn't unheard of to the shelter workers. A couple times each year, the staff at Animal Haven will find a box or bag outside the door when they come in, Connelly explained, and with temperatures dropping, this can be even more dangerous for the animals left to fend for themselves.
Though the shelter was well over capacity, they found a spot for the cat, placing her in a pop-up crate in the staff kitchen. With the holiday season fast approaching, shelter staffers decided to give the tabby a festive, uplifting name: Sage.
"It being close to Thanksgiving, we were going over different spices, and we already had a Turkey and a Drumstick from another litter that came in," Connelly said. The staff is hopeful that the scared cat will grow into her new moniker after she has more time to decompress in her new surroundings.
Animal Haven
"You can kinda tell that there is a sweet cat underneath all this, there is just a lot of trauma going on at the moment," Connelly said. "I think as she settles in, she'll realize that we're friendly and we're going to take care of her."
Staffers are working on gaining Sage's trust so that the little cat will be ready to find a forever home before the New Year.
"I've seen this before where they're really shell-shocked and then they start to open up as they feel more comfortable," Connelly noted, "and I can already see the potential."
"She is very sweet," Connelly added. "[She] would be a great addition to a quiet home where she can receive lots of love."