Neighbor Hears Tiny Meows Coming From Wall In Abandoned House
"We were not leaving them behind!"
When residents of a neighborhood in Fort Worth, Texas, heard tiny meows coming from behind an abandoned house, they knew just what to do.
Judy Obregon, founder of a local animal rescue called The Abandoned Ones (TAO), routinely rescues abandoned dogs and needy strays in the area. The people who heard the meows called Obregon for help. 
TAO
Obregon rushed to the scene and discovered with a flashlight that there were several kittens stuck inside a wall of the house.
At first, there was no mother cat around at all. And Obregon became concerned that the tiny kittens might not survive if she didn't find their mom.
Luckily, that worry didn't last long — when the mother cat came back to check on her kittens, Obregon could take the whole family to a safe place to recover.
TAO
TAO
No one is sure how the family got inside the wall of the house, but rescuers suppose that they might have been trying to seek shelter from the rain.
"What we do know is we were not leaving them behind!" TAO wrote on Facebook.
TAO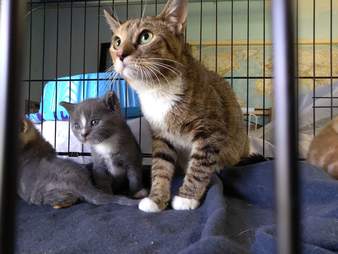 TAO
TAO
"Momma and kittens are safe and currently decompressing," Emily Walker, a volunteer with TAO, told The Dodo.
But the family will need a foster home where the kittens can nurse and be with their mom before they're old enough to find forever homes.
TAO
It's impossible to determine just how many homeless cats there are in the U.S., but some estimates say there could be as many 70 million cats and kittens needing homes. 
Hopefully these four won't be homeless for long.
"Her babies would have not survived," TAO wrote on Facebook once the whole family was safe. "Now they have a chance."
TAO
If you or someone you know lives in the Fort Worth, Texas, area and can offer this lucky family a foster home, contact TAO at taoanimalrescue@yahoo.com.