Cat Invents The Strangest Way To Open Doors
Kitty backflip 😂
Charlie was adopted into his family when he was just a kitten. From the very beginning, he absolutely loved getting attention from his family and just being around people in general. He's now 6 years old and hasn't changed at all, and his desire to be around his family has only gotten stronger.
"Charlie loves humans and loves to sit on them and sometimes nips your legs if you don't pat him," Chantel Barry, Charlie's mom, told The Dodo. "He has to be around people at all times."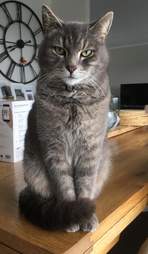 Chantel Barry
Whenever a member of his family is in a different room with the door closed, Charlie gets a bit upset and becomes determined to somehow get inside the room. At first, he wasn't sure how to go about opening doors — and so he came up with his own very unique method. 
Chantel Barry
Each time Charlie encounters a closed door, he assesses the situation, puts one paw through the crack in the door …
Chantel Barry
… and then rolls his entire body into the door until it's open.
Chantel Barry
Charlie essentially does backflips in order to get doors open and be reunited with his family again, and his family has no idea why.
Chantel Barry
"He opens doors that way every time it's shut and he can't fit through," Barry said. "He thinks that's the best way to get it open."
Chantel Barry
Charlie's way of opening doors is incredibly strange and definitely creative, to say the least …
Chantel Barry
… but it's also so adorable and hilarious to watch, so his family doesn't question it much anymore. All they know is that Charlie loves them so much, and will do absolutely anything to make sure he's always near them.