Camera Catches Cat Comforting Anxious Dog While Owner Is Away
"This happens literally every weekday for the full eight hours we're gone."
The support of a friend can be a powerful tool when battling anxiety — someone who gently lets you know that you're not alone and that everything will be OK.
No one knows this better than Joule — a sweet-natured dog who hates to be left to her own devices.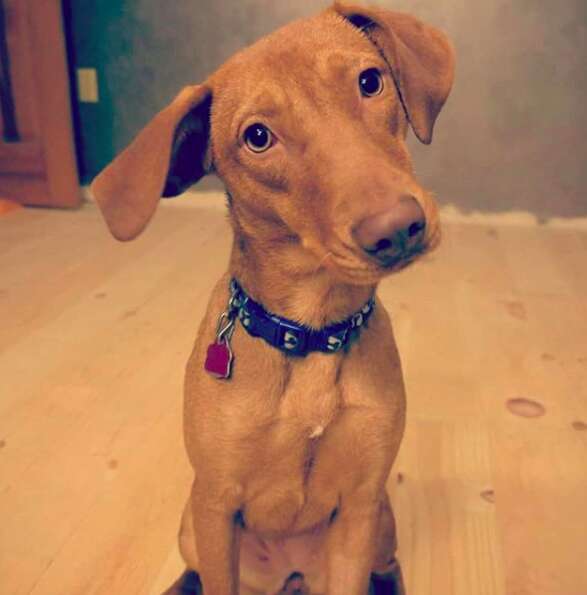 Joule has come a long way since she was rescued four years ago by Brenna Eckert.
"Joule had a lot of anxiety when we first adopted her," Eckert told The Dodo. "We worked one-on-one with a dog behaviorist to help work through some of her issues."
"She is certainly a velcro dog," Eckert said. "When we are home she always needs to be close to us."
Shortly after Joule joined the family, Eckert adopted another pet: an orange tabby kitten whom she named Kelvin. Joule and Kelvin got along great from the beginning — which seemed meant to be.
"The animal shelters had given each of them a temporary name before we adopted them," Eckert said. "Kelvin's shelter name was Socks and Joule's shelter name was Sandals. How ironic that Socks and Sandals make such a great pair!"
But Eckert could never have predicted just how deep a bond the dog and cat would form — until one day when she decided to set up security cameras around her house to monitor things while she was at work.
When Eckert watched the footage, she couldn't believe what she saw. Her easygoing cat was sweetly comforting her high-strung dog. Not just for a moment — but for the entire length of the day.
"We noticed that Kelvin and Joule were laying on the couch together almost every day," Eckert said. "I moved the camera to get a closer view of the couch and was amazed to see that they weren't just sharing the couch, but they were snuggling up against each other."
Eckert was so touched that she posted one of the videos to Reddit with the comment: "This happens literally every weekday for the full 8 hours we're gone."
But Joule isn't the only one benefiting from this cuddle arrangement. Kelvin, too, can get lonely when Eckert is away — and Joule fills that gap perfectly.
"Kelvin's personality is very mellow and sweet," Eckert explained. "He loves sleeping and being warm, both of which he gets by snuggling up to Joule during the day."
Had Eckert never installed the cameras, this special relationship would have remained solely between Joule and Kelvin. But Eckert is glad to know someone is caring for the anxious pup while she's away — even if Joule doesn't always seem grateful to Kelvin.
"They only snuggle with each other like this when we are not around," Eckert said. "If we are home, Joule wants to be with us, so she basically ignores the cat."
The only exception being if Eckert lies down on the couch — then the whole family cuddles up together.