Nasher is an incredibly friendly, adventurous cat who loves to meet new people and try new things. He often roams around his neighborhood, visiting his neighbors, and he's very well-known and loved. Occasionally, Nasher has been known to get into a bit of mischief — and recently, after being a little too adventurous, he found himself very, very stuck.
While out and about, Nasher discovered a 25-foot telephone pole that looked VERY interesting — so he climbed up to the very top, and couldn't seem to find his way back down.
"The residents in the street contacted us as they were really worried about Nasher and it was raining heavily," Gary Lucas, an animal collection officer with the RSPCA, said in a press release.
After assessing the situation, the RSPCA contacted the Roath Red Watch crew from South Wales Fire and Rescue Service, which came out to help get Nasher out of his predicament.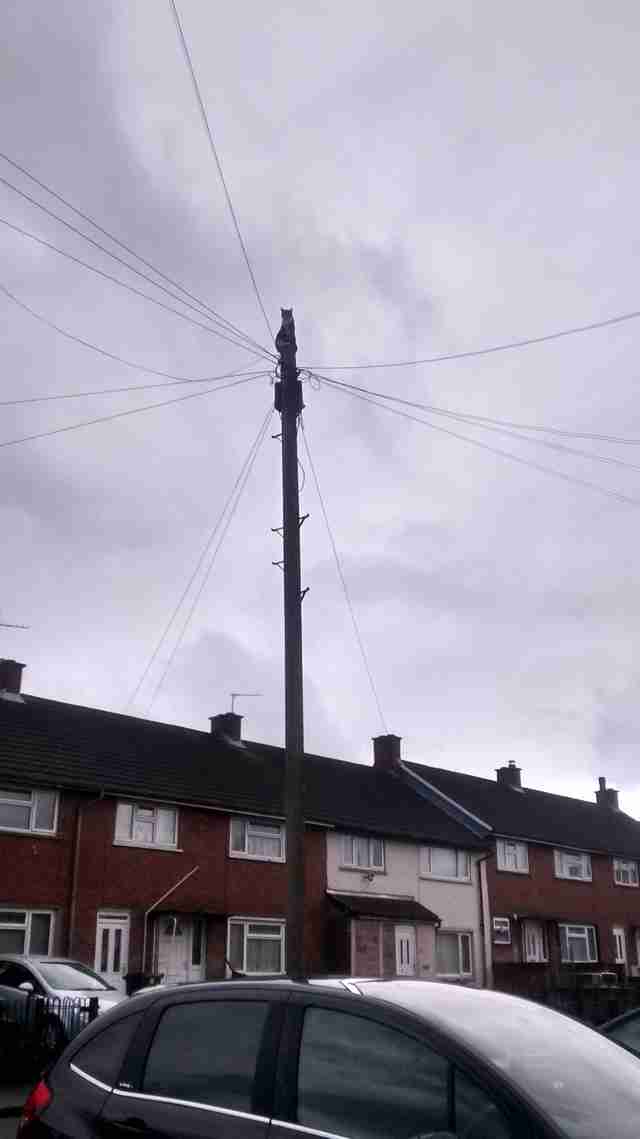 Despite everyone else's panic over the situation, Nasher didn't seem fazed even a little bit, and seemed to be quite enjoying being up so high, looking down on everyone below him. Cats love being up in high places, and Nasher definitely took that love to the absolute extreme.
Using a special ladder, rescuers were able to climb up to where Nasher was and carefully bring him back down to safety. Nasher was totally fine, and probably a little confused about why getting him down was such a big deal.
"Luckily he was OK, and he was reunited with his owner who was delighted," Lucas said. "Nasher certainly is a bit of a daredevil and likes to climb up poles! Luckily he has been rescued, but there is a concern of people putting themselves at risk if he gets into danger again. Following this incident, the owner is going to … see if there are preventative measures to help stop Nasher from doing this again!"