Woman Discovers Cat Has Been Breaking Into Her House Every Single Night
"From the first time I caught him on camera, he was confident and knew the layout of the house. He was walking around like he owned the place!
"
The first night Johanna King realized there was an intruder breaking into her house in Long Island, New York, no one actually saw him. Her husband heard a commotion in the kitchen around midnight on March 30, and went to check it out, but by the time he got down there, the intruder was already retreating through the dog door. King's husband thought it may have been a fox, as strange as that seemed, and headed back up to bed.
King didn't believe her husband's story at first — but then she remembered that she'd been going through a lot more cat food than usual lately, which was weird because her only cat didn't eat all that much to begin with. Wondering if there may actually be some merit to her husband's intruder story, King decided to set up a camera in the kitchen so they could keep track of what was going on downstairs while they slept, just in case.
And that's how the couple discovered there was a cat breaking into their home every night.
King was absolutely baffled by this discovery. She thought her dogs and cat would have a stronger, more vocal reaction to a strange animal roaming around their home, but besides one initial scuffle, they eventually just seemed to accept that the intruder cat lived there now, too. The cat also looked almost identical to the Kings' own cat, so really, he blended right in.
"My dogs were useless in this process," King told The Dodo. "I'm not sure if it's because this cat looks so like my own cat, or because this cat entered like he owned the place. You could tell from the first time I caught him on camera, he was confident and knew the layout of the house. He was walking around like he owned the place! "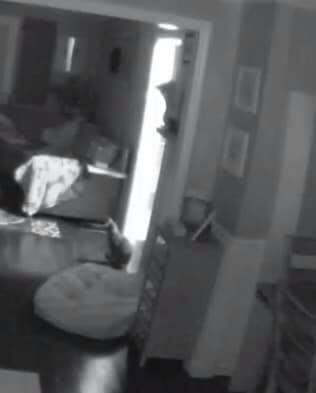 King starting noticing the intruder cat on the camera every single night, and was frankly impressed by how ballsy he was. He didn't seem to care about the fact that this wasn't his home — he made himself quite comfortable every time he stopped by, thoroughly enjoying each and every one of his stays.
"When I first saw him on camera, he slept on my dining room table for about 20 minutes," King said. "My cat walked right under him and didn't even notice! He would enter the dog door, stroll around a little bit and walk over to my laundry room where the cat food is. Then end with a nap on the table! I've also caught him playing in my sink, knocking over dishes and walking all over my couch!"
As time went on, the intruder cat only got more brazen, and even started stopping by the house while the couple was still awake.
"A few times, I'd be sitting on the couch with the lights out (and my dogs at my feet) and I'd see two huge glowing eyes staring at me from the kitchen," King said. "Then he would turn around and stroll back outside. I also watched the camera while I was at work or out of the house. It was so hard to tell if I was watching the Cat Burglar (as my husband called him) or my cat!"
King and her husband finally decided it was time to start trying to catch the intruder cat in the act. They set up a trap inside the house — and then watched on the camera as the cat just walked straight around it. They then tried setting up the trap outside, but it seemed the cat was too smart to fall for any of their tricks. The couple eventually resigned themselves to the fact that they were never going to catch the cat, and that he lived in their home now, too.
"I even put a towel on my dining room table where he liked to nap," King said. "I figured if he was going to break in, he might as well enjoy himself."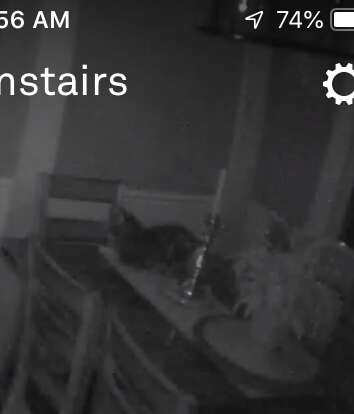 The couple kept the trap set up outside, though, just in case — and somehow, one night, they finally caught their little trespasser.
"I let my dogs outside … My dog was OBSESSED with the cat trap," King said. "It's been there for almost a week, why suddenly? So, I walked over and noticed the trap door was shut. It was pitch-black out so I went inside and got a flashlight. I uncovered the trap and saw a cat!"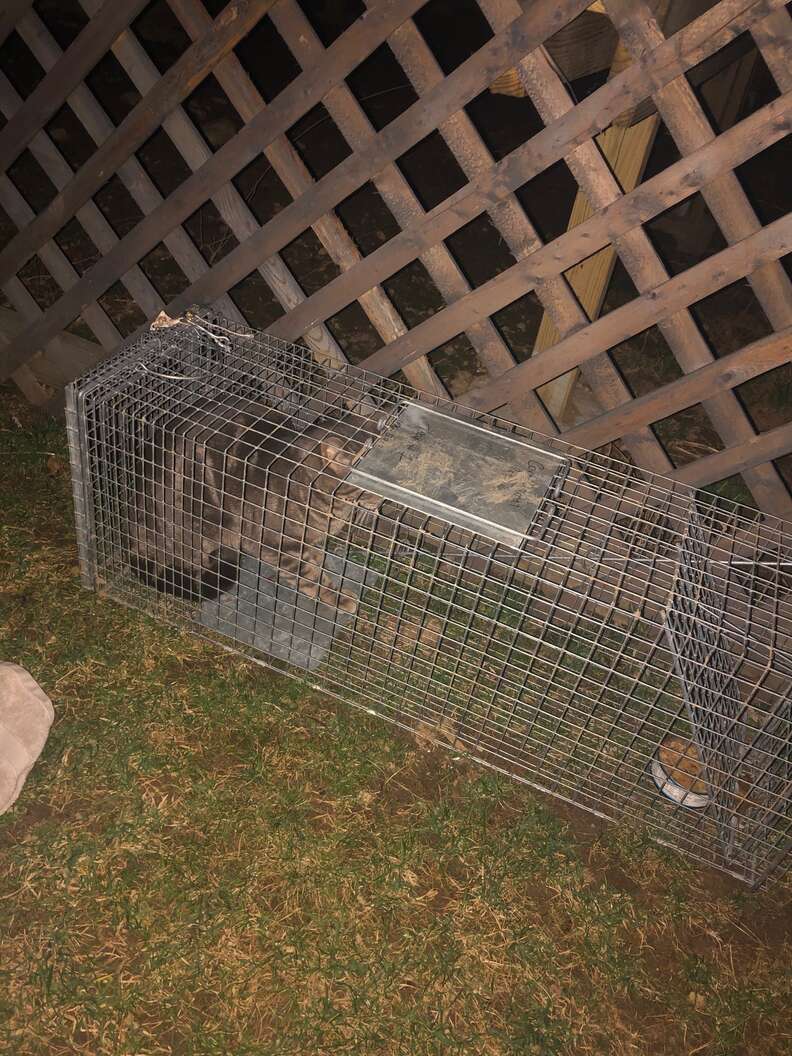 At first, King was convinced that the couple had caught their own cat in the trap, but after finding their cat sound asleep inside, they realized that the intruder cat had finally been brought to justice.
King already had a big dog crate set up inside her house on the off chance that they were able to catch the cat eventually, and she put him inside there so he couldn't run away. He was bewildered and probably a little shocked that he had actually been caught, but after a while he began to warm up to his new friend, and even let her pet him.
Throughout the whole ordeal, King had been posting about the intruder cat on Facebook, and everyone was absolutely loving her stories. She was hoping that through all the posts and updates, someone would eventually step forward as the cat's family, and she could get him back to them and out of his habit of breaking into other people's homes.
"My initial intentions were to find this cat's owner and make them aware their pet was a felon," King said.
But after interacting with him and seeing the condition he was in, King had a sneaking suspicion that the intruder cat was a stray or had been abandoned, and had been breaking into her home in order to find a little comfort and love. She decided to name him Hunter, and hoped that she could help him find the loving home he deserved.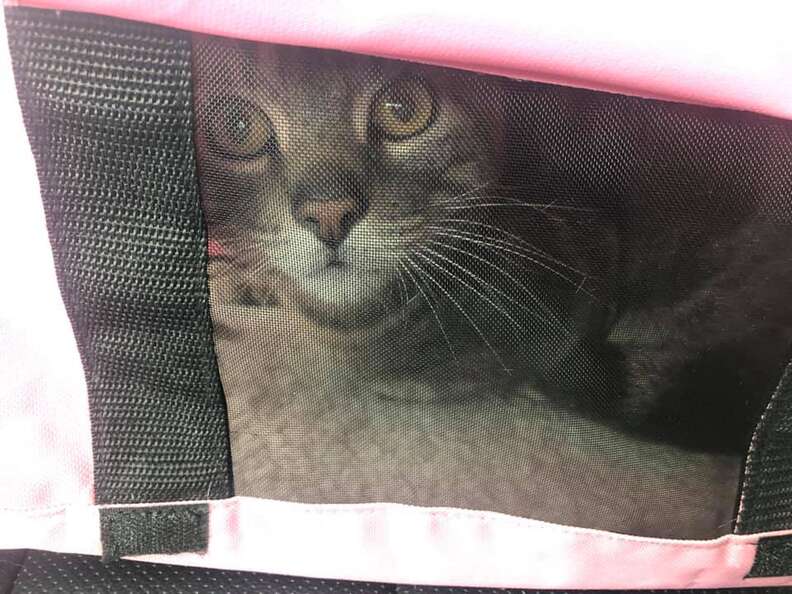 While she had initially been thinking about adopting him herself, after taking him to the vet, they discovered that Hunter has FIV and therefore can't live with King's current cat. King is now working with the rescue she volunteers and fosters for, For Our Friends, to help him find the perfect home — so that hopefully, he won't feel the need to break into them anymore.
"I think he broke into the right home," King said. "Maybe someone else wouldn't have been so willing to help him! I can't change the world, but hopefully I helped make his world a little better!"