Cat Decides To Be Friends With A Halloween Skeleton
"One of her signs of affection is holding paws ... It wasn't an accident that she lay her paw and head on his hand" 🎃🐱💀
Halloween may be the spookiest holiday, but one cat is proving she's not scared of anything — be it a ghoul, goblin or even a skeleton.
In fact, the young tortoiseshell cat named Onyx has decided Halloween is the perfect time to make new friends.
It all started last week, when Onyx's mom Charley Murphey brought home a decorative skeleton and set up the life-size prop in a comfortable armchair in the living room. It was Onyx's first Halloween, and she'd never seen anything like it before — so she decided to investigate.
Charley Murphey
Before Onyx came to live with Murphey and her husband a year ago, her life had not been easy. "Onyx survived being separated from her mother too early and [living in] filthy conditions in the house where she was found with a lot of other cats," Murphey told The Dodo. "Her ears were black with dirt and we had to have them cleaned."
When Murphey and her husband first saw Onyx, they were immediately smitten by how well the little kitten got along with their dog Captain, chattering at him through the bars of her cage. And when she fell asleep in Murphey's lap, curled into a little ball, they knew she was coming home with them.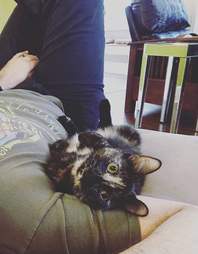 Charley Murphey
Murphey watched as Onyx grew into a sweet, snuggly cat — always eager to curl up with her parents and lay a comforting paw on top of their hands. "I think she is sweet by nature and is grateful for her home with us after what she went through," Murphey said. "She does not hold hands with anyone but us."
But that was not necessarily true, as Murphey would soon find out.
While the cat's affections are usually directed at her family, a few days ago Murphey walked into the living room and spotted Onyx climbing into a strange lap — an inanimate one at that.
Charley Murphey
The touching sight prompted her to grab her phone and snap a few photos, which she then posted to Reddit.
"My cat decided to befriend our prop skeleton by getting in its lap and the innocence of this moment is making my head explode," Murphey wrote.
"One of her signs of affection is holding paws ... It wasn't an accident that she lay her paw and head on his hand," Murphey added.
Charley Murphey
Whether it was the holiday spirit that possessed the little cat to make a new friend, or perhaps she sensed the man of bones needed a little warming up, Onyx seemed happy to snuggle between the skeleton's femurs and pelvis.
Though the moment was fleeting, for Murphey, watching Onyx snuggle the skeleton was sweeter than an entire jack-o'-lantern full of candy.
Charley Murphey
"She, like her brother, is a big personality and has given us many moments of joy," Murphey said.
"I don't really know how to express how lucky I feel to have been entrusted with these two little souls that contain so much in such small packages," Murphey added. "Our family simply wouldn't be complete without them. That's all I can think to say."
With costumes, odd noises and strangers coming to your door, Halloween can be a difficult time for
cats and dogs
— be sure to keep your pets out of the fray so they can enjoy a stress-free holiday.