Dog Found Cowering In Muddy Cage At Meat Farm Looks So Different Now
"He'd definitely been someone's companion ... he kept looking at me like he wanted to trust me."
Adam Parascandola will never forget the moment he first laid eyes on Camo, a 4-year-old Maltese mix.
"He was in a pen in a very dark corner," Parascandola, director for animal cruelty issues for the Humane Society of the United States (HSUS), told The Dodo. "And he was by himself."
Camo was one of 55 dogs living at an indoor dog meat farm in the suburbs of Seoul in South Korea. All of the dogs were in poor physical condition at the farm, but Camo was one of the worst, according to Parascandola. His fur was matted and covered in feces, and, as he cowered in his filthy pen, he looked absolutely terrified.
While dog meat farms are unfortunately common in South Korea, this particular facility was unusual, according to Wendy Higgins, director of international media for Humane Society International (HSI).
"This farm was ... a cross between a dog meat farm and an animal hoarding case," Higgins said in a statement. "That's because the elderly farmer, who had been farming dogs for 20 years, had had a change of heart and couldn't bring himself to send his dogs to slaughter any more. He couldn't bring himself to eat dog meat any more either."
The farmer reached out to HSI for help, and a team arrived in March to rescue the dogs and transport them to the U.S.
When Parascandola went to get Camo out of his pen, the dog didn't come across as friendly.
"He was growling and very, very scared," Parascandola said.
But there was something about Camo that made Parascandola wonder how he got here in the first place.
"I felt that he'd definitely been someone's companion," Parascandola said. "I don't know how to explain why. But he kept looking at me like he wanted to trust me. He didn't seem so much unsocialized — just confused as to why he was there."
When Parascandola eventually lifted Camo out of his pen, the dog immediately calmed down.
"He just sat in my arms," Parascandola said. "He didn't try to bite. He didn't growl."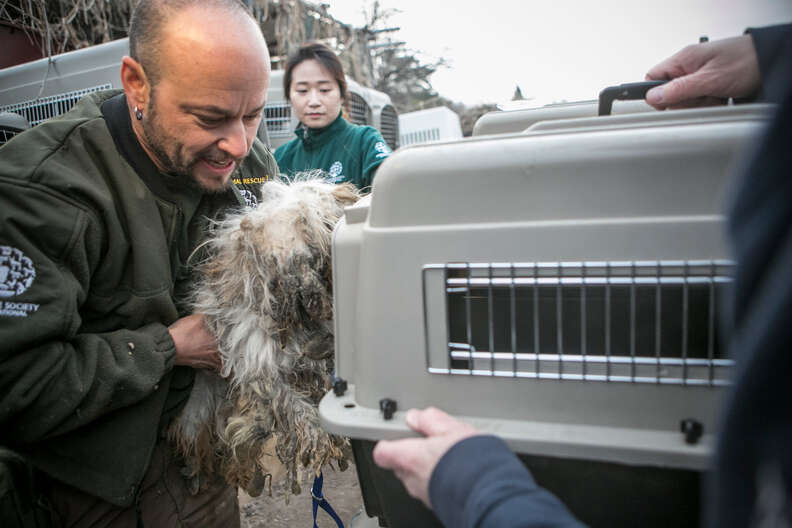 Parascandola managed to speak to the former dog meat farmer, who confirmed Parascandola's suspicions about Camo being a former pet.
"When I checked with the farmer, he said, 'Yes indeed, he had been somebody's companion,'" Parascandola said. "Somebody couldn't keep him anymore."
"A lot of times, this is what happens in Korea when people don't want their animals anymore," Parascandola added. "Shelters are hard to find, and if the guy down the road has a dog meat farm, they just drop them off with that person."
After arriving in the U.S., Camo and many of the other dogs briefly went into a shelter run by ROFF Rescue in Pennsylvania. Then Camo went into foster care with a woman who also happened to be a dog groomer.
"She was able to groom him and send me the photos," Parascandola said. "I knew he'd been underweight, but I couldn't really see it until she'd shaved him — he was completely emaciated underneath all of that fur."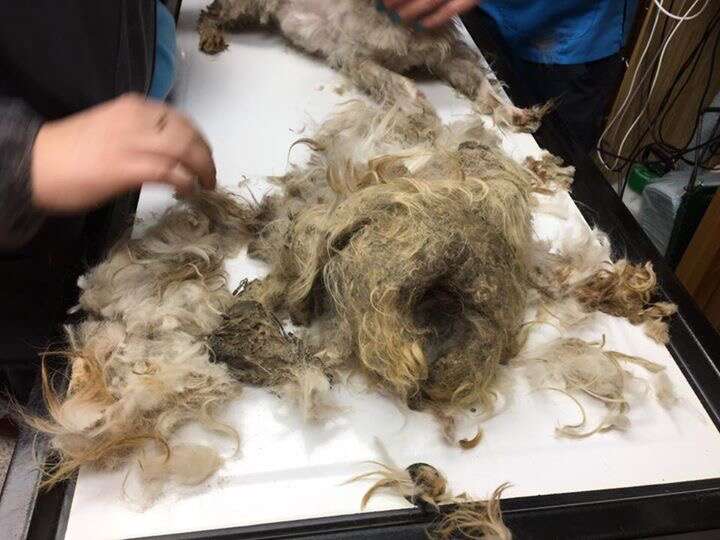 But with love, care and attention, Camo gained weight and grew in a fresh coat of shiny white fur. Not long after that, Camo found his forever home.
"He's doing great," Parascandola said. "He's fluffy and happy and bouncy and it sounds like he's doing really, really well."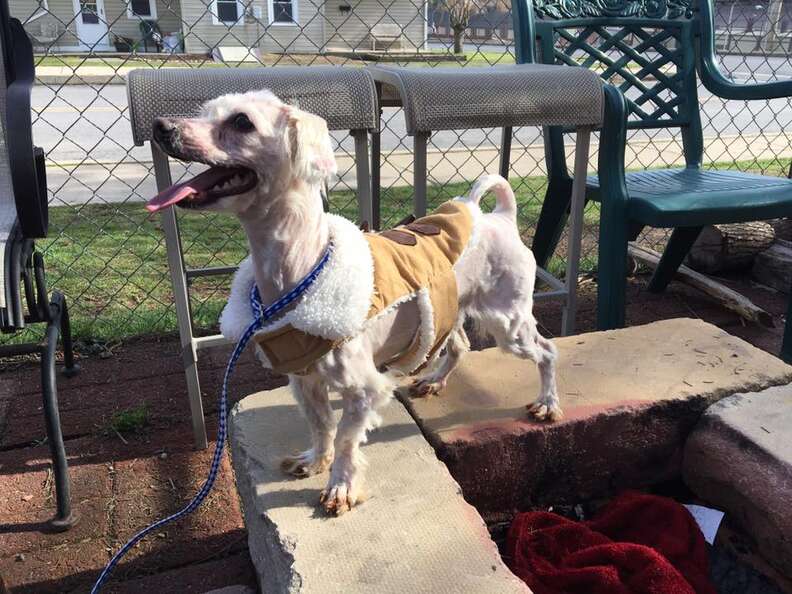 "He quickly became very people-focused and very friendly," Parascandola added. "He also gets along with other dogs. But he's definitely a people dog. He loves getting up on your lap."
To help HSI rescue other dogs like Camo from South Korea, you can
make a donation
.