Dog Was Left At Worst 'Farm' By Owner Who Didn't Want Him
"He kept looking at me like he wanted to trust me" ❤️
When Sally Markley and her husband first brought Camo home to live with them, the little Maltese mix was scared and skittish.
"He was afraid of almost everything," Markley told The Dodo. "We have a big fenced-in yard. He would play and run until he heard anything loud or strange — then he would head for the house."
HSI
This wasn't entirely surprising considering Camo's background. Last year, Camo's original owner dumped him at a dog farm in Seoul, South Korea, knowing he'd be slaughtered for his meat. And while Camo waited for his turn to be killed, he was forced to live in a filthy cage without regular access to food and water. His fur became matted and covered in feces, and he spent his days cowering in the back of his cage.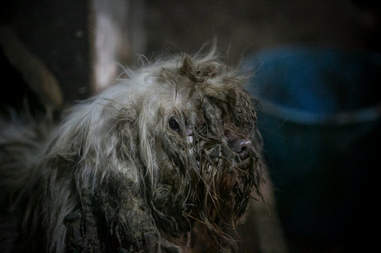 HSI
In June 2017, help finally arrived for Camo and the 54 other dogs at the meat farm. The owner had reached out to Humane Society International (HSI) and asked for the group's help in shutting down his business.
"The elderly farmer, who had been farming dogs for 20 years, had had a change of heart and couldn't bring himself to send his dogs to slaughter any more," Wendy Higgins, director of international media for HSI, said in a statement last year. "He couldn't bring himself to eat dog meat anymore either."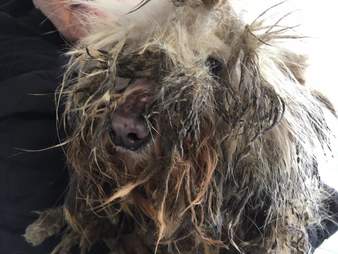 HSI
Camo was initially suspicious of the rescuers, and he growled when they removed him from his cage — but at the same time, he seemed desperate to connect with people.
"He kept looking at me like he wanted to trust me," Adam Parascandola, senior director for animal protection and crisis response at HSI, told The Dodo last year. "He didn't seem so much unsocialized — just confused as to why he was there."
HSI
After being removed from the farm, Camo was transported to the U.S. and taken into the care of Roff Rescue, a group based in Pennsylvania. Then Camo was placed in foster care with a woman who also worked as a dog groomer.
"She was able to groom him and send me the photos," Parascandola said. "I knew he'd been underweight, but I couldn't really see it until she'd shaved him — he was completely emaciated underneath all of that fur."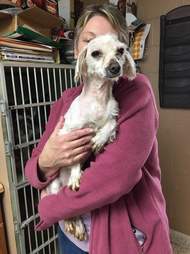 HSI
When Camo was adopted by Markley and her husband, he still had fur to grow and fear issues to deal with. But with lots of love and care, Camo blossomed with his new family.
"As the days passed, Camo became quite a loveable lapdog," Markley said.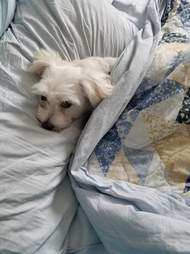 Sally Markley
The Markleys also adopted a second dog from Roff Rescue, a Shih Tzu named Kasey, at the same time that they rescued Camo — and Camo's friendship with Kasey helped him become more relaxed.
But Camo still has his struggles, Markley said.
Sally Markley
"I think Camo still has some recurring memories of his past," Markley said. "He will only go where he has a clear view. For example, he would not go to the water bowl in the kitchen after we put in an island — he couldn't be sure there wasn't something out there that might get him. So the water bowl is now in the dining room. The same goes if I rearrange furniture — if it turns out to be a problem for him, I rearrange again."
Yet Markley is willing to do anything for Camo. "I would and do anything to make living here comfortable for him," she said.
Sally Markley
Now that Camo is in Markley's life, she couldn't imagine her life without him — and she encourages anyone who wants a companion to get a rescue dog like Camo or Kasey.
"Camo is a big cuddlebug," Markley said. "He and Kasey sleep in our bed. His spot is on his back with his head lying against my cheek. Various times during the night, I will feel a little kiss on my cheek from him. I love him so much."