California Pet Stores Can Only Sell Rescue Dogs And Cats Now
This is HUGE!
California is kicking off the new year with a huge step forward for animals.
As of Jan. 1, the state's pet stores are officially banned from selling puppies, kittens and rabbits sourced from commercial breeders. Instead, shops will only be allowed to house rescue animals from local shelters.
The new policy takes aim at puppy mills and backyard breeders, which notoriously put profits above the animals' welfare by forcing them to live in cramped, unsanitary cages.
With little to no vet care, baby animals are often shipped out sick for sale at pet shops — while their lonely adult parents spend their lives in squalor being continuously bred for more "stock."
The neglectful industry will likely take a monetary hit from California's new law, which is the nation's first and most strict regulatory policy of its kind.
"[This] takes us one big step closer to the day when puppy mills have nowhere left to sell," Kitty Block, acting president and CEO of the Humane Society of the United States (HSUS), told The Dodo.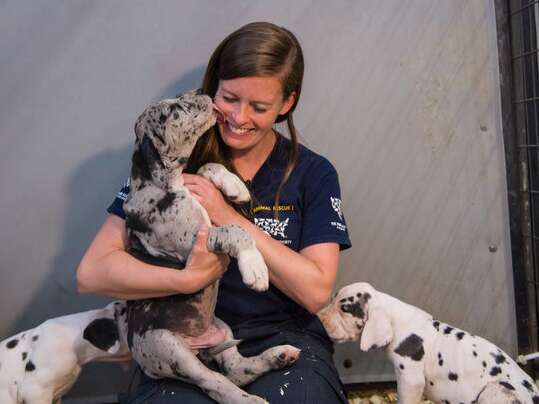 The law is not only aimed to reduce the demand for mill-bred animals, but also to help ensure people are well-prepared to care for a new pet before deciding to bring one home. The measure is especially inclusive for rabbits, who are often sold on a whim as "starter pets" at pet stores — but actually require just as much care as a cat or dog, and can live 10 years or longer.
With the Golden State's policy now enacted, animal advocates hope more states will follow suit in the fight against the cruel commercial breeding industry. Multiple cities across the country have already started to ban the sale of animals at pet stores, which poise entire states to adopt these policies altogether.
In 2020, Maryland is also set to ban the sale of dogs and cats in pet stores — and with lawmakers increasingly speaking out for the animals, even more positive change could be on the way soon.
"In 2019, the Humane Society of the United States will be working closely with several state legislatures to enact similar measures," Block said. "The California law is only the beginning!"
To stop breeding mills and protect animals from neglect, you can
learn more here
.