Bunny's Mom Spends Hundreds On Toys — But He Just Wants To Play With Rocks
"He really seems to enjoy their company."
Thumper has been living with his mom since he was a baby, and over the past five years she's bought him every toy and piece of furniture under the sun. She's spent hundreds of dollars, trying to make sure he has the best of everything — but for some reason, Thumper has always preferred the simpler things in life.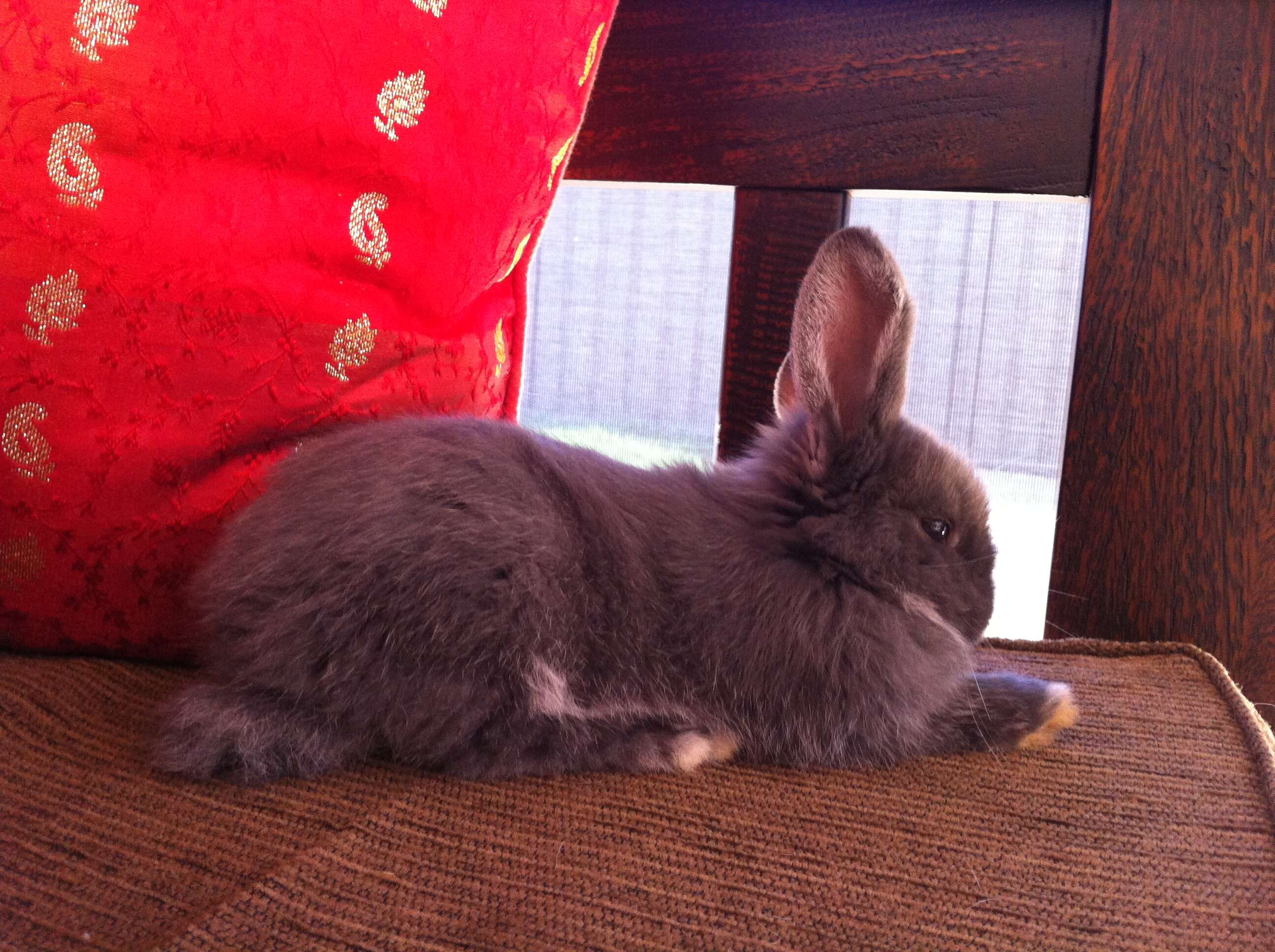 "Anything and everything you could find on eBay or at your local pet supply store for small animals has likely been a part of his life at one point or another," Ranelle King, Thumper's mom, told The Dodo. "He's had igloos, cave-style pet beds, donut-style pet beds, mini children's couches, pet hammocks, wooden doll beds with blankets, tunnels, woven balls, hay rollers, hanging hay holders and chew toys, chew boards, and various puzzle treat toys filled with his favorite treats."
Very, very occasionally, Thumper will play with one of the luxuries his mom presents him with, but nine times out of 10, he'd rather play with everyday items that you can find anywhere.
Especially boxes and rocks.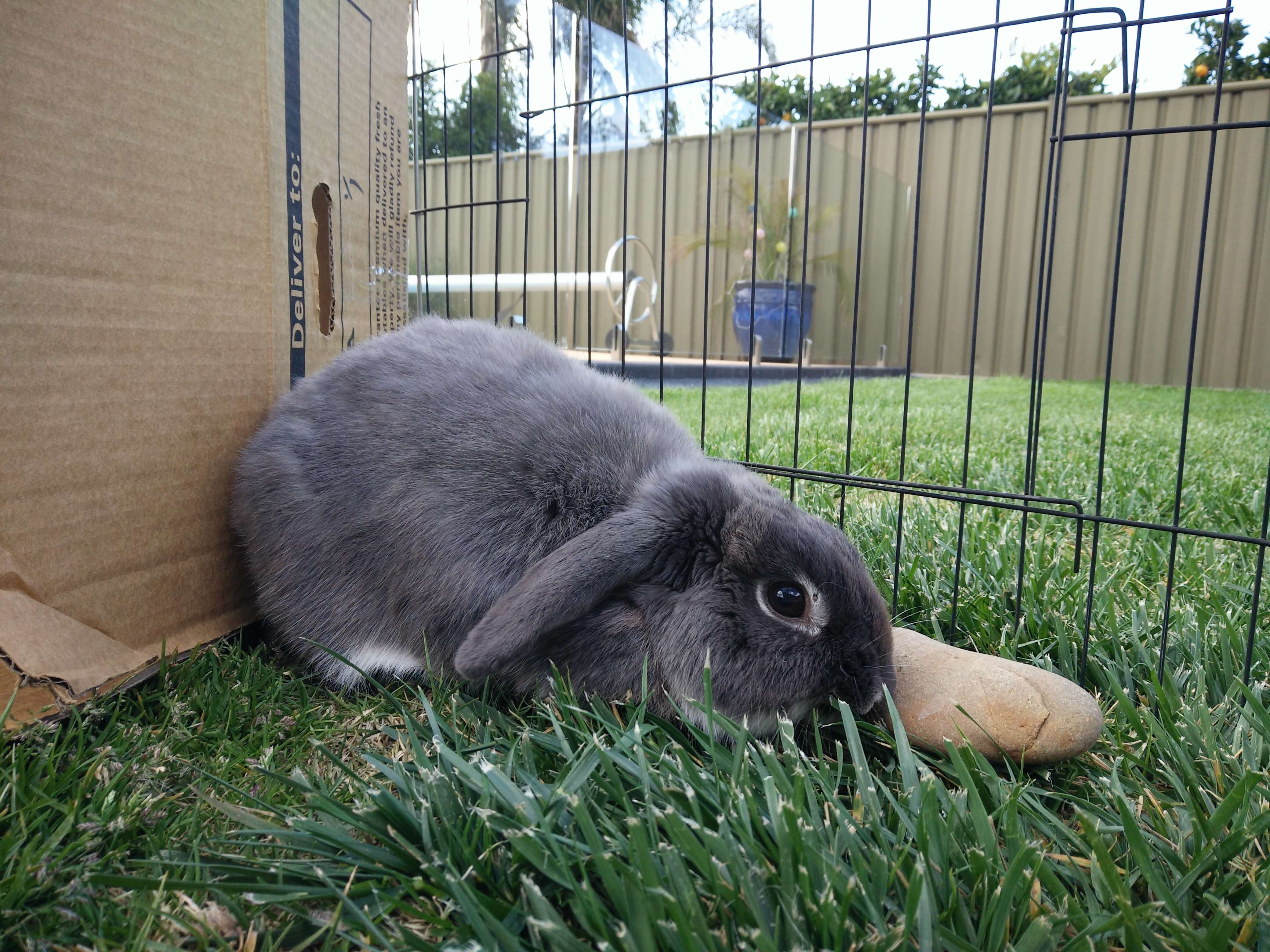 Rabbits love having places to hide, and since Thumper has rejected most of the tunnels and nooks his mom has bought for him, she started giving him cardboard boxes instead, which of course, he absolutely loves.
"I used them with the intent of them being good alternatives for 'in the meantime,' and they also had the added bonus of being safely rabbit chewable," King said. "But lo and behold, five years later and he still turns his nose up at nearly all igloos, tunnels and cave-like hideaways I bring home for him — but cardboard boxes received as packaging for online purchases, or taken from local stores who ordinarily toss them in the bin, are welcomed like breakfast in bed on a Sunday morning."
Thumper is also very protective of his boxes, and when he's not inside of them, he's lying right next to them, making sure that no one dares to take them away from him. Thumper loves hanging out with his boxes outside in his run, and one day, he found another very inexpensive, very natural toy that he's now pretty obsessed with, too.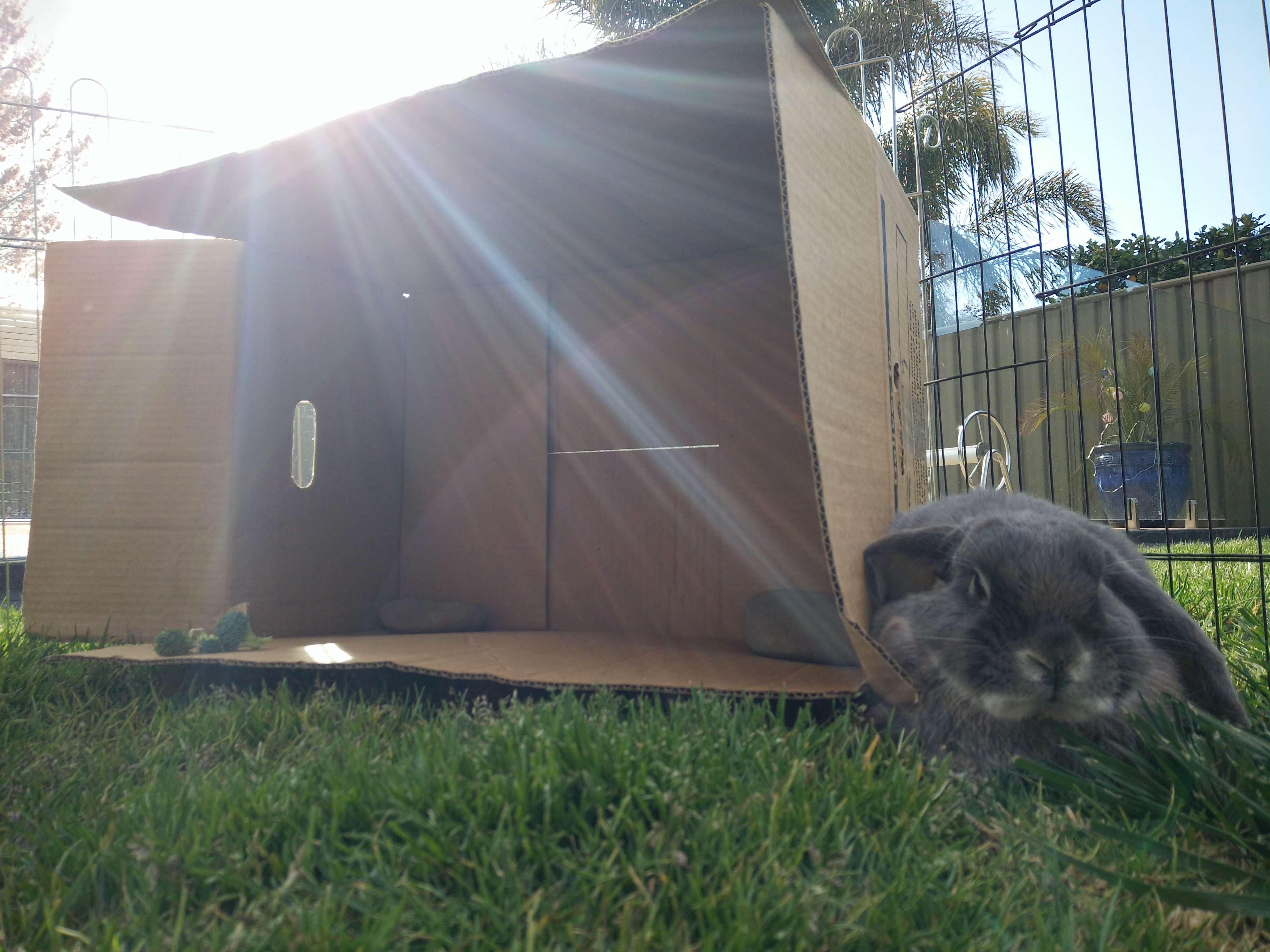 "It all started on a breezy day two odd months ago, when I used a couple of rocks to weigh down the pages of my book as I was reading in his run," King said. "I went inside for lunch, and when I returned to his run, I saw that my book had flicked shut, and the rocks had now moved — one was inside of his trusty cardboard box, and the other was at the opening of it. Confused, and also mildly annoyed that I now had to sift through my book to find my page again, I grabbed the rocks and placed them back down on my book. I'd only gotten about two-thirds of the way through the page when Thumper hopped on over, and began nudging one of the rocks, flipping and rolling it, back towards his cardboard box."
Ever since that day, King always makes sure that Thumper has a few rocks to play with. His favorite thing to do is an activity she likes to call "interior rock design," where he pushes his rocks around his cardboard box, designing his space in different ways.
"I get the feeling that he really enjoys doing this, because sometimes the rocks can be quite heavy, but it hasn't seemed to deter him yet," King said. "He really seems to enjoy their company, and living out some sort of rabbit interior designer dream he appears to have! I can't help but think it's part of some midlife crisis now that he's hit the big five."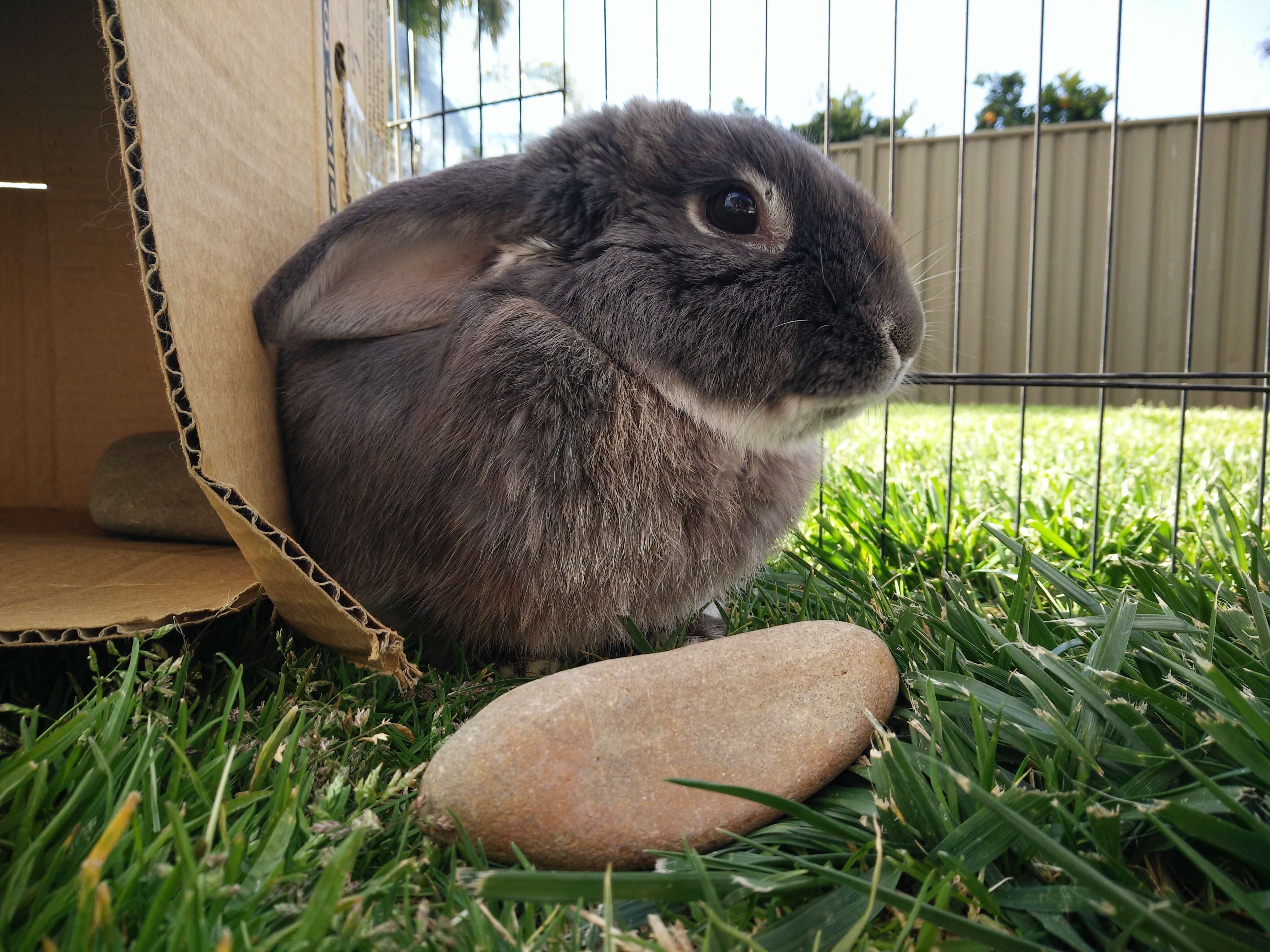 When Thumper isn't protecting his boxes or furnishing his spaces with rocks, he loves hanging out with his cat sister, Zana, and pretending to be a cat just like her by mimicking her behaviors. He likes squeezing himself into seemingly uncomfortable spaces and sleeping for hours, and he also sometimes brings his mom treats and then demands pets, as if he is a cat presenting her with his prey. Zana and Thumper also love playing tag together, and lounging outside in the sun when it's warm.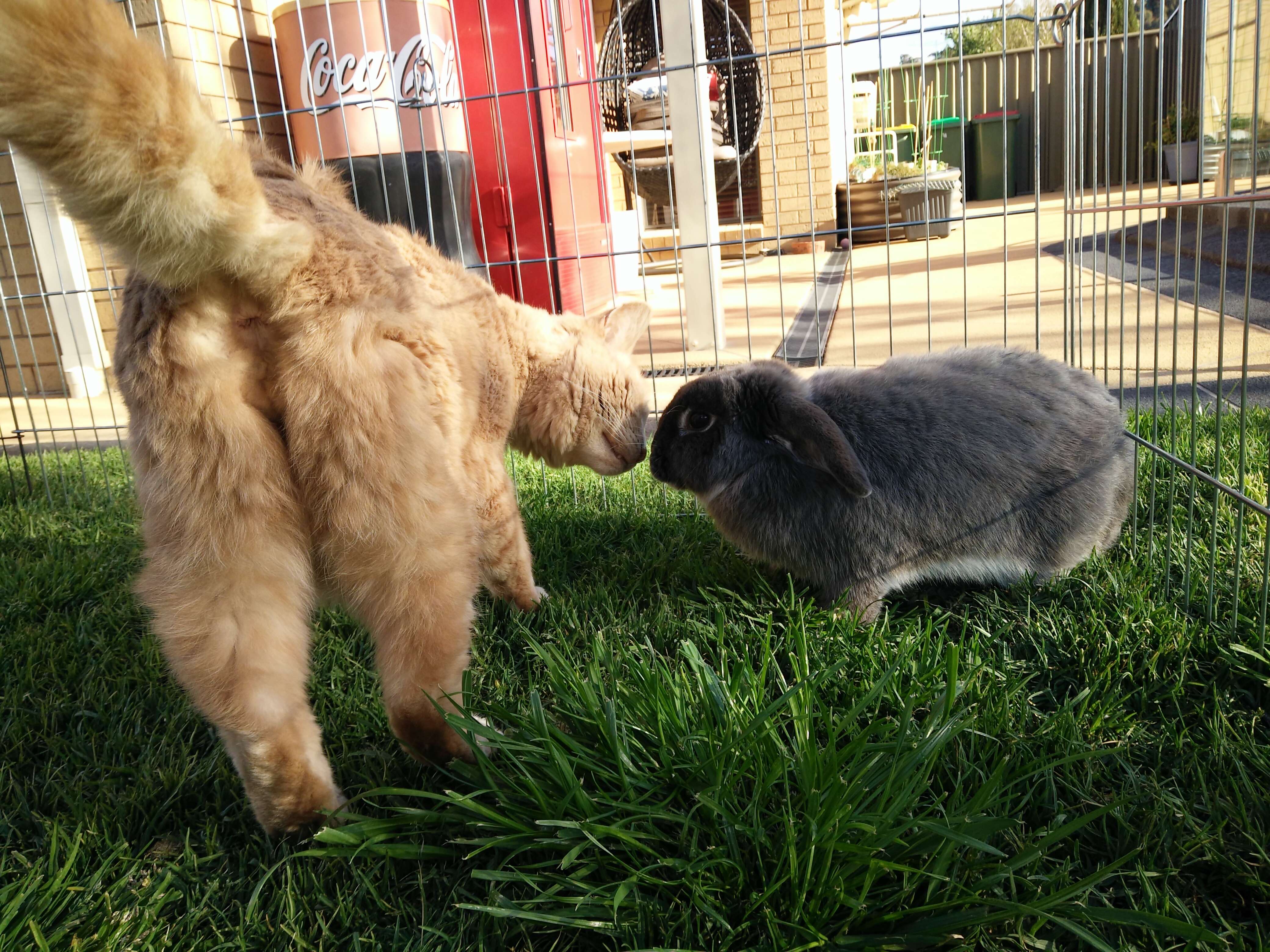 Thumper loves and appreciates his family and everything they've done for him, but he also knows exactly what he wants, and isn't afraid to tell his family if he doesn't like something. While his choices of toys may be strange, boxes and rocks make him happy, and that's what really matters.
"For a small animal, Thumper has quite a big personality," King said. "He's quite confident and upfront about telling you what he wants and what he's feeling — definitely a strong, independent lil' bun!"