Sick Baby Bulldog Was Left At Vet Office — So He Became The Newest Employee
"In between play sessions, he mostly hangs out with the receptionists and helps greet our clients."
Huck was bought from a breeder when he was just a tiny puppy, and it didn't take his new family long to realize that there was something different about him. He was unable to control his bathroom habits, and his family feared that he had a serious underlying issue. They tried to return him to the breeder but the breeder wouldn't take him back, and gave the family a second, healthy bulldog puppy instead. The family was afraid Huck might end up being put down if he ended up in the wrong hands, so they decided to turn to a local vet practice for help.
While at an appointment at Harbor Point Animal Hospital for their second puppy, the family told Dr. Jamie Laity about Huck, and Dr. Laity quickly asked them to bring him in so she could examine him. After conducting a thorough exam and doing some X-rays, Dr. Laity was fairly positive that Huck had spina bifida, a condition where the spinal cord doesn't develop properly. After hearing the likely diagnosis, the family decided to surrender Huck to the animal hospital. Dr. Laity took him home for the weekend to wait to take him to a neurologist to get a confirmed diagnosis — and quickly fell in love with the sweet, unique puppy.
A few days later, Huck was officially diagnosed with spina bifida — and officially adopted into Dr. Laity's family.
"Dr. Laity couldn't resist Huck and she and everyone at Harbor Point fell in love with him instantly," Amy Laity, practice manager at Harbor Point Animal Hospital and Dr. Laity's wife, told The Dodo. "She couldn't give him up and risk that he would end up in a home that couldn't properly care for him, or even worse, end up euthanized."
Dr. Laity knew that Huck would need some specialized care, but being a vet, she was totally prepared to handle it. Since he is incontinent, he has to wear a diaper and a belly band at all times, and as a result needs frequent baths, but so far Huck doesn't seem to mind any of this at all.
"He loves trying to hop into the bathtub and seems to really enjoy the water," Amy Laity said. "He has quickly learned to stand and hold still for his frequent diaper changes, and is a really good sport about wearing all of the silly outfits we put him in!"
Huck can't be left alone for long periods of time due to his condition, so he comes to work at Harbor Point Animal Hospital with Dr. Laity every day, and has quickly become a local celebrity. Everyone who comes in is thrilled to meet the hospital's newest employee, and Huck is just as thrilled to meet and play with anyone and everyone who comes his way.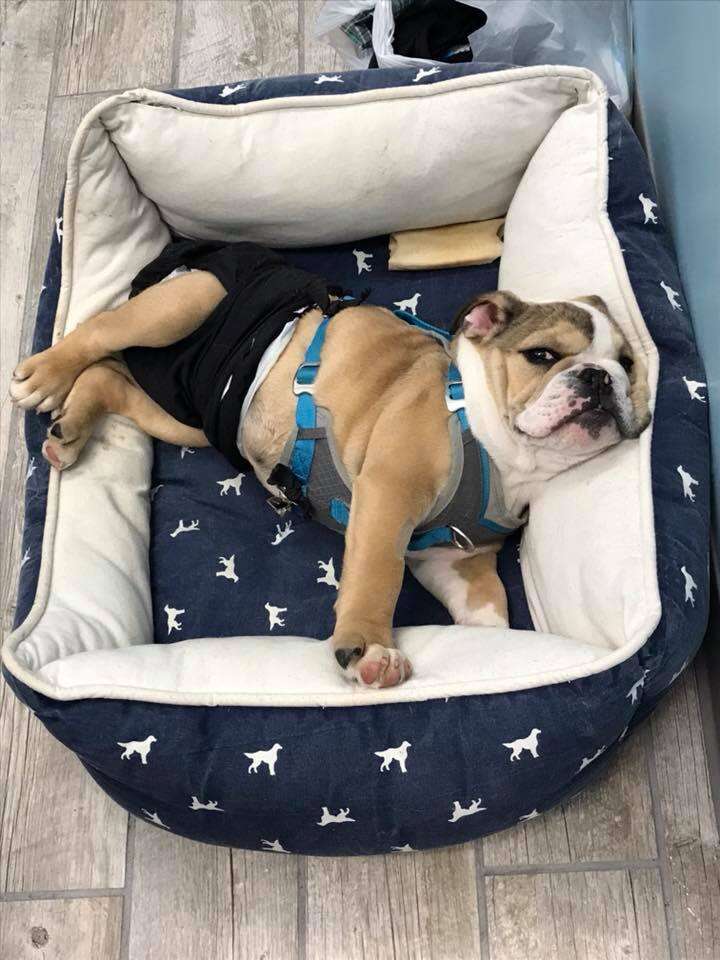 "He participates in doggy day care to help him learn good socialization skills," Amy Laity said. "In between play sessions, he mostly hangs out with the receptionists and helps greet our clients. People will come in just to see him and take pictures! Last week a client came in just to take a selfie with him and told us that his kids were going to be so jealous because he's 'famous.'"
Huck also has three dog siblings at home, two Labs and a boxer, and he absolutely loves playing with them and following them around whenever he's at home. Even though he's a lot smaller than them, he can totally hold his own during playtime, and is loving being a member of the pack. He has some cat siblings too, whom he's dying to play with, but they're not as interested as his dog siblings.
Huck went from being a sick, unwanted puppy to having the best life any dog could ask for. He's loving every moment of life with his new family, and brightens the days of every single person who comes to the animal hospital.
"You really wouldn't know anything was wrong with him if he didn't have his diapers," Amy Laity said. "He is a happy, healthy, playful puppy!"