Dog Insists On Joining His Dad Every Time He Has A Bath
"He'll come running across the house and try to jump in" 🛁😂
Most dogs dread bath time, but Blue thinks a little differently.
The sound of the tub faucet turning on is music to the 1-year-old bulldog's ears. He can sense it from across the house and comes running every time.
"You have to close all the doors," Will McCameron, Blue's dad, told The Dodo. "Otherwise, he'll come running across the house and try to jump in."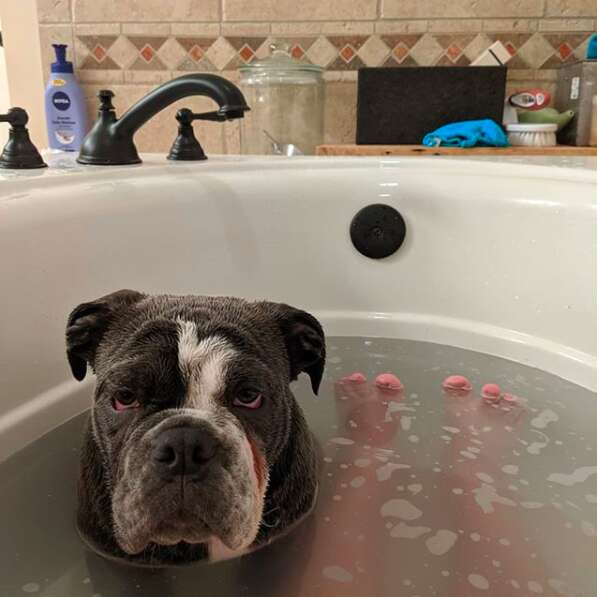 But it's not just bath time that excites Blue — if his dad looks the other way, any body of water is fair game.
"I've had other dogs before but I've never had a water dog — and he is definitely a water dog," McCameron said. "Bath, shower, lake, pool, whatever, he's getting in."
In a lake or a pond, Blue likes to swim and splash around, but in his beloved bathtub, it's all about relaxation. "Once he gets in the bathtub he just sits there and soaks," McCameron said.
Working with his dad at a brewery, Blue can get pretty dirty on the job, so his presence in the tub is often not welcome. But that doesn't stop Blue from begging.
"A lot of times, he'll climb up and bark at you and whine and bang his nose on the wooden part of the tub underneath, and eventually he'll just give up and jump in," McCameron said.
And, sometimes, Blue gets so tired while waiting that he just gives up and falls asleep on the tub.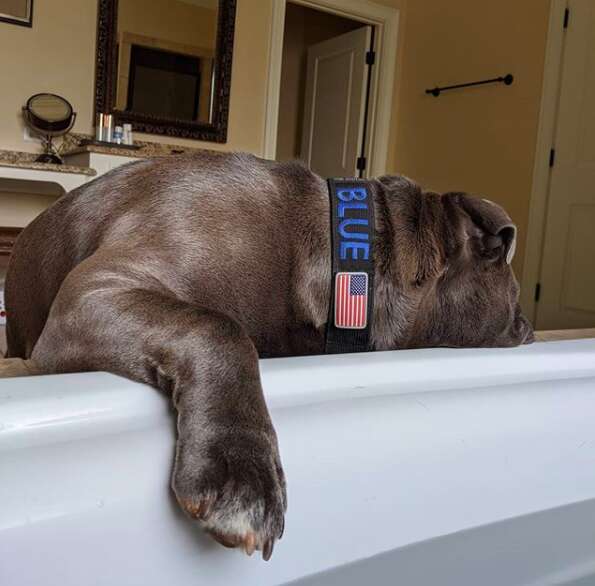 Blue's second favorite activity is what comes after the bath: "He's a little baby bull," McCameron said. "Whenever he gets out, he likes to charge whoever has the towel and wrestle and play and attack and try to knock them over."
"He's just a super nice, sweet dog," he added. "He's probably going to turn out to be the best dog I've ever had."