Puppy Abandoned In Apartment Finally Finds Someone To Trust
"I was probably the first one to show him he was safe and loved."
A Labrador mix named Bugsy used to live with a family in an apartment near Dallas, Texas — but one day, they moved out before their lease was over, and decided not to take Bugsy with them.
Two weeks later, the landlord entered the abandoned apartment after learning the tenants had abruptly left. He was shocked to find the place covered in urine and feces — but what shocked him even more was the skinny, scared puppy trapped inside.
Bugsy as he was found in the Dallas apartment

| Dallas DogRRR
"It's sad that people make the conscious decision to leave a dog behind," Kerry Anechiarico,  executive director of Dallas DogRRR, the rescue group currently caring for Bugsy, told The Dodo. "I'm not sure if they left him behind because they couldn't take him or if they were just leaving him behind because they felt that he would be safe until someone could find him and help him. But abandonment is a problem in Texas, and to make that conscious decision that you're leaving an animal behind to fend for themselves is sadly difficult to understand at times."
Bugsy shortly after he was rescued

| Dallas DogRRR
The landlord called animal control, and an officer came to collect Bugsy, who is estimated to be about 3 or 4 months old. Then the officer dropped Bugsy off at a county shelter where Anechiarico also works as a volunteer. When the shelter staff asked if Anechiarico wanted to take Bugsy into his rescue group's care, he immediately agreed.
Bugsy was severely emaciated before being rescued.

| Dallas DogRRR
The first thing Anechiarico did was take Bugsy to the vet.
"He was very skinny, emaciated and dehydrated," Anechiarico said. "8.4 pounds was his initial weight. For being a 3- or 4-month-old puppy … he was as skinny as he could be."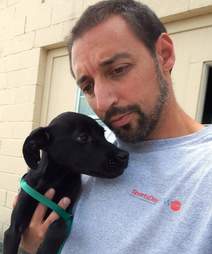 Anechiarico holding Bugsy

| Dallas DogRRR
The vet team worked to get Bugsy in a stable condition, treating him for dehydration, malnutrition and anemia. When they took a fecal sample, they discovered the puppy had been eating glitter.
"He was probably trying to eat whatever he could find in the apartment just to try and get something in him," Anechiarico said.
Dallas DogRRR
The vet team fell in love with him — and they even gave him his name.
"He got that name from the vet staff who saw how big and beautiful his eyes were relative to the rest of his small body," Anechiarico said. "They fell in love with his eyes and how they were just bulging out a little bit."
Dallas DogRRR
One thing the vet team couldn't immediately fix was Bugsy's shyness — he was reserved and very skittish around people, according to Anechiarico.
"I don't think he was around people who were necessarily paying attention to him," Anechiarico said. "Usually puppies just want to come up and play with anybody, but ... he was very tentative. When you put a leash on him, he wouldn't walk to you — he kind of wanted to get away, so he'd pull away from you."
Dallas DogRRR
Anechiarico took Bugsy home for the weekend, and worked hard to gain his trust. Slowly, Bugsy emerged from his shell.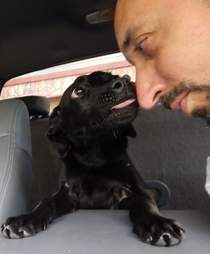 Bugsy touching noses with Anechiarico

| Dallas DogRRR
"I think we just hit it off," Anechiarico said. "I was probably the first one to show him he was safe and loved. Once he recognized that, he opened up and trusted me. He was happy to become my shadow, and followed me around exploring and experiencing new things."
Dallas DogRRR
After spending the weekend at Anechiarico's home, Bugsy was moved to another foster home where he'll stay until he finds a family to adopt him. While Bugsy has been through a rough time, Anechiarico expects that he'll make a full recovery — and that he'll make a great pet for someone.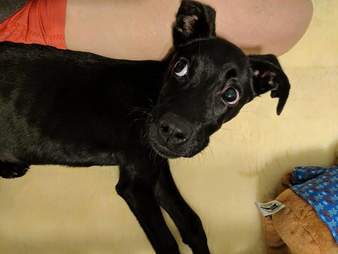 Dallas DogRRR
"He's a puppy," Anechiarico said. "At first, he probably couldn't tell what being a puppy was all about, but now that he is safe and he's starting to trust, he's running around like any puppy should. He's learning to play with toys. He's learning to play with his foster brother. From here on out, it's 100 percent safety, and he's going to be able to experience everything a puppy should."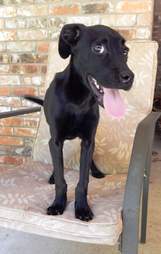 Dallas DogRRR
Bugsy will spend a few more weeks healing, but he'll eventually be looking for a forever home. If you're interested in adopting this special puppy, you can
contact Dallas DogRRR
.
Thinking about adopting a dog of your own? Then meet Dodo Adoptbot, an interactive guide for new pet parents. Get started on
Facebook Messenger
or text HOME to 38349.