Rescue Dog Is So Obsessed With His Plastic Boxes
"It's comforting to him, like the equivalent of a child falling asleep with a pacifier in their mouth."
Buggy the bulldog had a rough start to life, but after all he's been through, he's finally found something that makes him feel undeniably happy and safe:
His plastic storage bins.
Buggy, who now lives in Chicago with a loving adoptive family, has come a long way since he was discovered all alone in a dry riverbed.
The then-4-month-old English bulldog puppy was taken in by Leslie Bird, founder and director of NorCal Bully Breed Rescue, in Sacramento, California, where medical staff discovered that he was suffering from numerous health issues, most likely the result of irresponsible breeding, according to his vet, Dr. Seth Bleakley.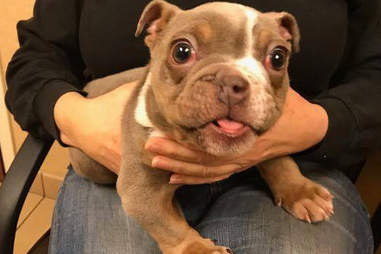 Leslie Bird
Born with unattached luxating elbows in both front legs, he was barely able to walk, and with an elongated palate and only one nostril, breathing was a challenge as well.
But, ever the clever dog, Buggy figured out a way to cope.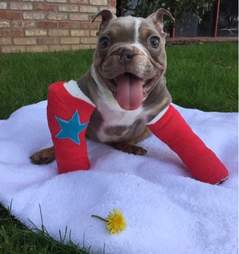 NorCal Bully Breed Rescue
"When he was a puppy at the rescue, his way of helping himself breathe with open airways was to fall asleep with a wooden object, like the bottom rung of a kitchen stool, in his mouth," Melissa (who preferred to keep her last name anonymous), who adopted Buggy after his rescue, told The Dodo. "If [the wood] was at his height, he would put his mouth on it and fall asleep … It is a self-soothing way to ensure that he's breathing."
Instagram/Buggythebulldog
Since those early days, Buggy has undergone multiple surgeries to help him walk and breathe better, including procedures to give him a second nostril and shorten his palate.
But sometimes habits are hard to break.
"When Leslie from NorCal drove him to me from Sacramento, she had a giant Tupperware that she had all of his stuff in. So the day after I got Buggy, I'm emptying the bin and went to go do laundry and there was a blanket left in the bin," Melissa said. For Buggy, in a new environment, thousands of miles away from his trusty wooden stool rung, desperate times called for desperate measures.
"Buggy climbed into the bin, lodged his mouth on the side, and I found him sleeping like that," she said.
"It has become a habit. It's comforting to him," Melissa added, "like the equivalent of a child falling asleep with a pacifier in their mouth."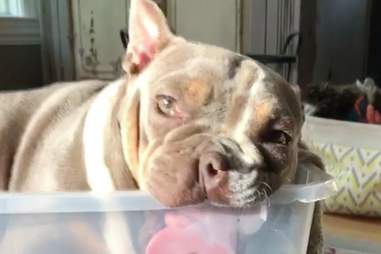 Instagram/Buggythebulldog
While Buggy's preference may be for wood or plastic, like his Tupperware "Buggy box," the intrepid dog is always on the lookout for a good place to rest his jaw.
Be it a laundry hamper ...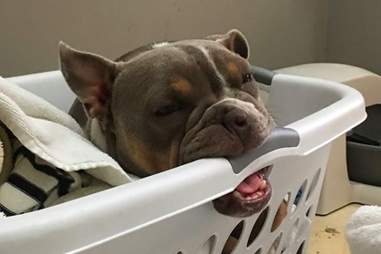 Instagram/Buggythebulldog
... Or a metal stair railing.
Anything at Buggy's height is fair game, but nothing beats the original.
Now with three new rescue dog siblings, Pudge, Winston and Lefty, Buggy enjoys having his own special space — and a typical dog bed can't compete with the comfort of his plastic box.
"We have Buggy boxes now all over the house; it's what he prefers to sleep in," Melissa said. "If Buggy needs a break, or is tired, he seeks out the Buggy box. If Buggy wants some time to himself to just observe, it's his office; it's where he can oversee everyone."
But jealousy can be an issue, Melissa noted. "Now all my dogs want to sleep in boxes — except for Winston, who's a mastiff."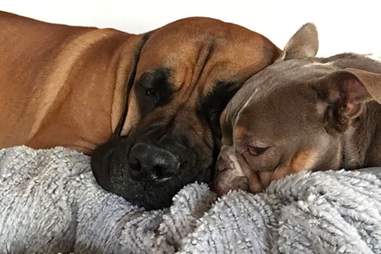 Instagram/Buggythebulldog
Since joining his forever family six months ago, Buggy has completely transformed. The health issues that plagued the bulldog's puppyhood had left him withdrawn, with a tendency toward lonerism and bossiness, according to Melissa.
But after bonding with his rescue dog siblings and human family, his true "larger than life" personality has blossomed, she said.
"Buggy is basically our shadow," Melissa noted. "He wants to know everyone's business."
Though Buggy's life will never be simple, he is so happy to be a family pet — treasured and beloved — and his family feels lucky, too.
"People look at Buggy and they think, 'This poor guy,' but after the first month of getting used to the sound he makes when he breathes, I don't see his differences," Melissa added. "If you just see his personality, he's strong, funny, sincere and loves having a family — and, now, he's cuddly!"
To follow the adventures of Buggy and his many boxes, you can check him out
on Instagram
.