Dog Who Spent His Life Tied To A Pole Just Went On His Very First Walk
"Despite everything he has been through, he is still the happiest, sweetest boy."
Three-year-old Buddy has not had it easy.
He spent his early life tied to a pole in a backyard in Tennessee. Neighbors called animal control when they saw Buddy being hit by his owners.
"Their calls went unanswered," Ashley Hyslop, of TEAM Dog Rescue, a rescue organization based in Toronto, Canada, told The Dodo. 
TEAM Dog Rescue
Then Buddy's owners moved away — and they just left him tied to a tree in the yard. Neighbors came to feed Buddy until they could figure out a solution for him.
One woman named Bari came forward and offered Buddy a temporary foster home. But her own dog could not be around other dogs.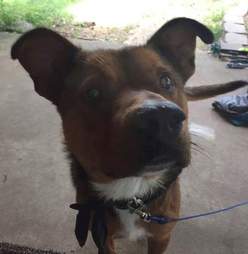 TEAM Dog Rescue
So Bari built a shelter for Buddy in her backyard and people worked to spread the word to help find Buddy a real home.
Hyslop's sister found Buddy on Petfinder one day. As someone who works in the country music industry, Lindsay Hyslop regularly travels from Toronto to Tennessee. But because she traveled so much when she found out about Buddy, she couldn't commit to taking him in. But that didn't mean she couldn't help.
After being abandoned by his first owners, Buddy lived in this shed in someone's yard while waiting for a home.

| TEAM Dog Rescue
The weather was starting to get colder and Buddy couldn't possibly live in the outside shed for much longer, especially since Bari had taken him to the vet and found out that he had all kinds of issues that needed treatment: He was heartworm positive, very skinny and had skin problems. He also still needed to be neutered.
"With all of these things against him, the chance of him finding a home was slim to none," Hyslop said. And no one had shown any interest in adopting him, aside from Lindsay, who just couldn't because of logistical concerns.
TEAM Dog Rescue
So Hyslop reached out to Bari, in hopes that she'd be amenable to a plan to help Buddy. "I felt awful for him and reached out to Bari," Hyslop said. "The rest is history. I would not give up on Buddy and committed to making sure he got to us."
Soon enough, Hyslop's sister was on her way to Nashville to pick up Buddy and bring him back to TEAM Dog Rescue in Canada, where he could get connected with a foster home while waiting for adoption — and where he could finally learn what life inside a home was like.
TEAM Dog Rescue
They had raised money to give Buddy heartworm treatment before the trip. And once he was healthy, he was on his way to Canada.
TEAM Dog Rescue
TEAM Dog Rescue
Now Buddy is at a foster home in Toronto, where he's learning what it's like to be a happy dog. Just the other day, 3-year-old Buddy went on his very first walk.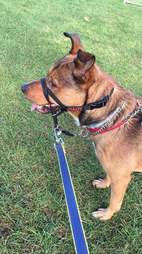 TEAM Dog Rescue
"What you are seeing is a dog's first walk," the rescue posted excitedly on Facebook. "He lived his life tied to a post in a backyard."
He was also given a comfy dog bed and toys. And ever since being allowed inside, he's found he likes looking out windows.
With any luck, Buddy will find a permanent home soon.
TEAM Dog Rescue
TEAM Dog Rescue
"He is now officially Canadian and doing amazing in his foster home here in Toronto," Hyslop said. "His foster parents adore him. They have brought him to work and are teaching him how to walk on a leash."
Hyslop added that there is "something very special about buddy. My sister first saw it. Then Bari, us, his new fosters, vets. Despite everything he has been through, he is still the happiest, sweetest boy."
Buddy with his foster mom in Toronto

| TEAM Dog Rescue