'Britain's Loneliest Dog' Still Looking For A Home After 500 Days In Shelter
"He never fails to make us smile."
When Hector joined the crew at Little Valley Animal Shelter in October 2017, shelter staffers never imagined that he'd be there for very long.
But nearly two years later, Hector is still without a home — earning him the title of "Britain's Loneliest Dog" from the British media.
Hector when he first came to the shelter

| Little Valley Animal Shelter
The RSPCA pulled Hector from his original home due to welfare issues when he was just a puppy. Since then, he's won over every single volunteer at the animal shelter.
"Hector is hilarious," Jo Evans, the shelter manager, said in a press release. "He never fails to make us smile and is a firm favorite with all who meet him."
"He's adored by staff and we can't understand why he is always overlooked," Evans continued. "This big lad has lots of love to give."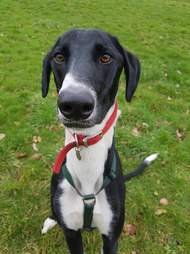 Little Valley Animal Shelter
Now a full-grown adult, Hector cuts an imposing figure. Standing over 3 feet tall with all four paws on the ground, the black and white lurcher, a type of cattle dog, seems to be all legs.
But his goofy expressions and soulful brown eyes make the large dog instantly endearing. He has a "huge personality and the size to match," notes the shelter's website. "Hector is an active boy who is looking for like-minded owners who can take him on plenty of adventures!"
Little Valley Animal Shelter
Hector is intelligent and playful, but has been constantly passed over due to issues with separation anxiety and resource guarding.
"Hector has not been used to being left in his previous home and because of this he can find being home alone quite scary," the shelter writes on Facebook. "He will, therefore, be looking for a home where someone is around for most of the day to help him settle in and teach him that being left alone for short periods is OK."
Little Valley Animal Shelter
His guarding behavior around food and toys means that he needs to be the only dog in the house and is not a good fit for a home with children.
"We would love for Hector to be able to live with other animals and children," the shelter writes on Facebook. "If this was the case, he would be happily in a home by now, which is what we all want for him."
Hector has made great strides with training, and shelter staffers are eager to show the 2-year-old dog's new owner how good a boy he can be.
With any luck, Hector won't be the loneliest dog for much longer.