Little Boy With Autism Barely Spoke — Until He Saw This Dog Photo
"It was so magical."
When people went above and beyond to help an emaciated stray dog now named Cookie, they had no idea just how far their good deed would resonate.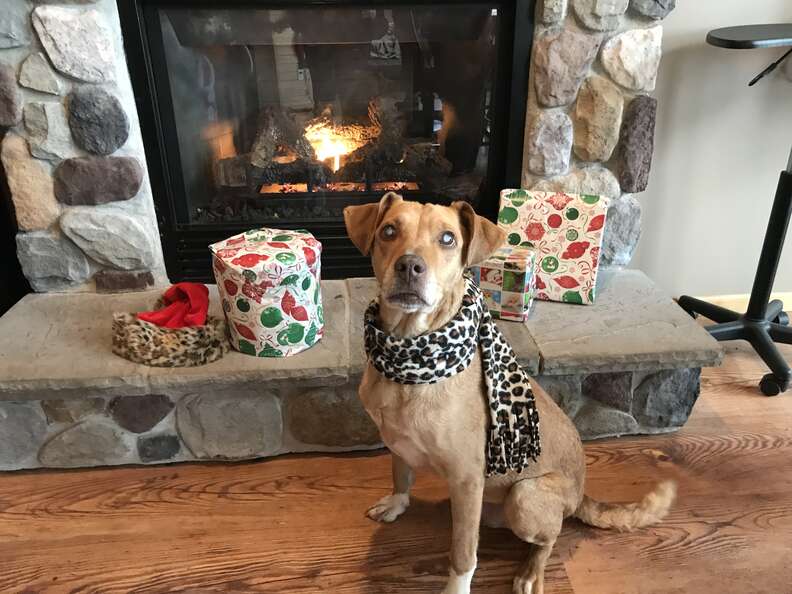 Cookie had been living as an emaciated stray, wandering the woods of Minnesota. A Good Samaritan who was trying to capture her became concerned as fall temperatures began to drop, and tipped off The Wildcat Sanctuary (TWS) in Sandstone, Minnesota, which stepped in to help.
Several weeks later, Cookie was being fitted for her first pair of winter boots at TWS when one of the staff members snapped a photo to share online.
"Even though we're a sanctuary for wild cats, I can't tell you the number of phone calls I get about all sorts of animals in need," a sanctuary staff member wrote. "Of course, we'll do everything we can to help any animal suffering. That's how this sweet little girl ended up at our gate."
Cookie was a mess when she first arrived. For her size, she should have weighed about 70 pounds — instead, she only weighed 38. She had visible mammary tumors, was partially blind because of cataracts and tested positive for diabetes. It's so lucky she landed where she did.
"She's the absolute sweetest dog you'd ever want to meet and LOVES being around cats, both big and little ones, here at The Wildcat Sanctuary," Julie Hanan, advocacy coordinator for the sanctuary, told The Dodo.
So by the time Cookie was being fitted for her winter boots, she was already doing much better. When the staff shared this photo online, the way they had all throughout her remarkable recovery, they had no idea it was about to touch a family living an ocean away.
William lives in England with his family. He is nearly 6 years old — but he hasn't been able to speak very much at all for his whole life. He was diagnosed with autism when he was 3.
"William is a very happy, gentle boy," Emmi, William's mom, told The Dodo. "He says some single words, but most of these are not used in a communicative way or will just be him labelling things he sees."
Animals have become especially important for William; he is very bonded with the family's rescue cat and is also obsessed with watching nature documentaries.
"His favorite animals are all ocean creatures and big cats, specifically tigers, cheetah and jaguars," Emmi said. Accordingly, William loves following TWS on Facebook, so when the sanctuary's new resident, Cookie, popped up, getting little booties on her paws, William had quite a reaction.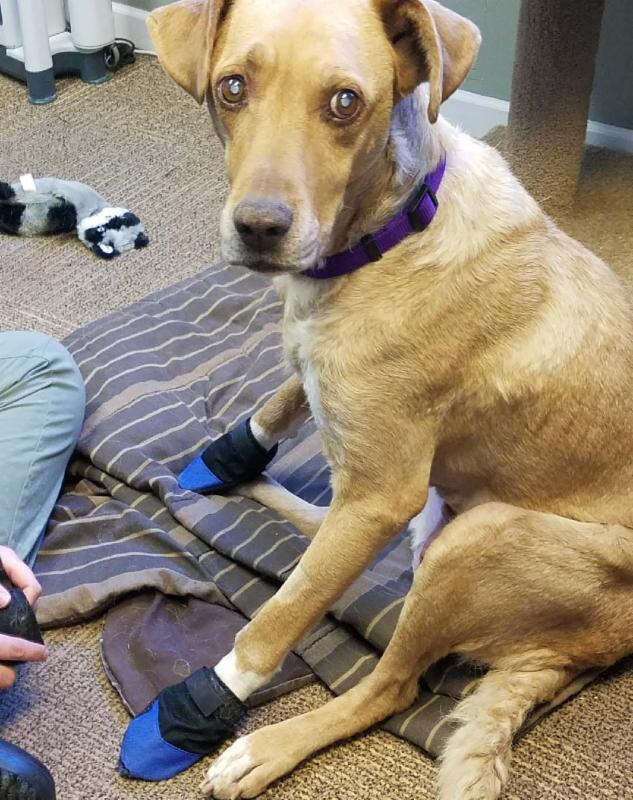 When he saw Cookie's photo, William actually strung together words into a full phrase. "Not only did he actually speak and say ... 'Cookie wearing shoes, funny,' but he gave me his opinion of the photo too!" Emmi said. "It was so magical."
But the best part? William hasn't stopped there. "This hasn't been a one-off! In the days since this breakthrough he's been coming up to me and saying 'Cookie-dog' to ask to see her latest updates!" Emmi said.
And William isn't the only one making strides. Cookie, now safe and warm at the sanctuary, her new forever home, has been gaining weight. Her tumors are benign. And she will be getting surgery for her cataracts in January so that she'll be able to see again.
To help staff at The Wildcat Sanctuary care for their canine, Cookie, and all their rescued felines, you can
make a donation
.