Dog Who Was About To Be Put Down Has The Best Dads Now
"He's ruined my life in the best possible way. I'm now the guy with 3,000 photos of his sleeping dog on his phone."
A little dog named Rivi didn't stand a chance at the crowded Puerto Rican shelter he called home.
But fate miraculously intervened for the 3-month-old bow-legged pup. In late August, he was saved as part of a large-scale joint rescue effort by The Sato Project, an organization dedicated to rescuing abused and abandoned dogs from Puerto Rico, and the Humane Society of the United States (HSUS).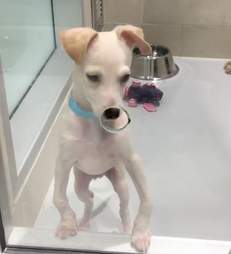 Animal Haven
Rivi was one of 205 doomed dogs airlifted from Puerto Rico to Florida for a second chance at life. In Puerto Rico, home to 300,000 stray dogs and millions of cats, shelters often have massive overpopulation problems and spay-and-neuter programs are limited, according to the HSUS website. Facing a shortage of funding, some shelters in the area have a 95-percent euthanasia rate — and Rivi's abnormality is likely what made him a candidate.
Though little is known about Rivi's background, rescuers believe he was born extremely bow-legged, an abnormality that can be breeding-related, or a result of poor nutrition and lack of calcium (especially with larger dogs). In puppies, the condition could also be the result of an accident, such as being hit by a car or a severe fall, according to PetMD.
Animal Haven
After landing in the U.S., the unique pup traveled farther still, and became one of 13 Puerto Rican dogs to be taken in by Animal Haven Shelter in New York City at the time.
Though out of harm's way at Animal Haven, his bowed legs would require physical therapy as he got older. But his disability didn't dissuade a New York-based couple named Kasey Graham and Ian Liberto from choosing him over all the other puppies at the shelter.
"We saw a couple of cute puppies on a visit to Animal Haven. Across the hall in a different room we saw someone else holding Rivi, and thought, 'Wait! Where's that dog been?'" Graham tells The Dodo. "We assumed he was no longer available, but the next time we visited, we got to play with him and knew he was the guy for us."
Kasey Graham
As soon as Animal Haven put Rivi on its website, the adoption application was accepted and Liberto, Graham and Rivi traveled home together as a family. The new pet parents quickly found that Rivi wanted to leave his dark past behind him — including his name. "He wasn't responsive to 'Rivi' when we brought him home. We tried a name with a more percussive first sound and his ears perked right up. Sammy stuck. Sammy R. Bowlegs," Kasey says.
Now comfortably installed in his forever home, Sammy "Rivi" Bowlegs loves to play with his dads at all hours, and finally gets to enjoy being a puppy.
Kasey Graham
"He loves to zoom around the apartment and onto the ottoman, his favorite hangout spot. He plays with anyone who's around and howls softly when he's having too much fun to keep it inside," Kasey adds. "Sammy is the world champion puppy cuddler. After a session with his favorite toys (skunky or chewy), he will climb into your lap, give you kisses, and stay content for hours."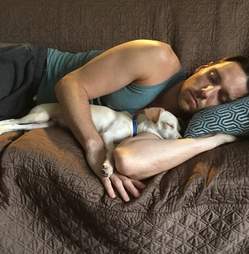 Kasey Graham
Not even Sammy's bowlegs can hold him back from having fun. He runs and jumps like any other dog. "His bowlegs certainly haven't affected his quality of life, movement or agility. He loves other dogs, and I don't think he has any idea his legs are a bit different," Kasey says.
It's sitting still that can be a challenge, explains Kasey. "When he sits on his haunches his front legs can quiver a bit. We're not sure if it's a bit of nerves too, or just that his front legs are not quite full-strength yet. We're keeping an eye on it with his vet."
Kasey Graham
In just a few short days, the little pup has quickly transformed his owners' lives. Kasey was never a dog person before, but now he's completely devoted to the health and wellbeing of his pup. "He's ruined my life in the best possible way," Kasey explains. "I'm now the guy with 3,000 photos of his sleeping dog on his phone. I have 30 tabs open on my computer, all Google searches starting with, 'Can a puppy…' or 'Should a dog…'"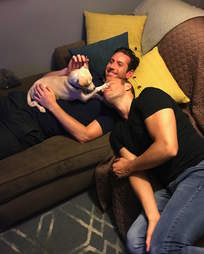 Kasey Graham
Sammy seems perfectly happy with his new role as a pampered pet. He's traveled a long way to finally find the perfect family. "He's very cozy in his new home," Kasey says. "And we can't really remember it without him."
To find out how you can help the homeless dogs of Puerto Rico and to learn more about the rescue efforts taking place, visit
The Sato Project
here.