Dog Who Disappeared After Car Crash Is So Excited To Reunite With His Mom
She did everything she could to find him — and even rented a helicopter to search from the air.
Pure joy is what Anai Montero felt the moment she was reunited with her Boston terrier, Rex, after 12 days of agony. This incredible reunion is the result of a dog with a will to stay alive, and an owner who refused to stop searching for him.
Anai Montero
It all started in June, on what seemed like a perfect birthday for Montero. She, her boyfriend and Rex drove to Assateague Island in Maryland to spend the day on the beach. "I got my birthday wish of spending it with my family, which of course, includes Rex," Montero told The Dodo.
Anai Montero
The trio had an amazing day. "Rex absolutely loved the water and being out on the sand with us. Little did we know that this perfect day would soon literally take a turn for the worse," Montero said.
Anai Montero
On the way home they got into a horrible crash with another car while driving through Berlin, Maryland. "It literally felt like an earthquake. I felt my whole body jolt. It happened really fast," Montero said.
Anai Montero
Montero and her boyfriend were OK, but when they looked in the back of the car, Rex was not there. "I got out and looked under the seats — he wasn't there. We could not find him anywhere," Montero said. "People who saw the accident said Rex flew out of the vehicle, hit the ground and took off running."
Montero and her boyfriend rented a car and searched frantically for Rex. "I was running around in a panic looking for him. He's so small I didn't know if there was internal bleeding or damage to his body," Montero said. "We looked near a forest that was nearby. I would scream his name out and it would turn into sobbing. I didn't know if he was OK. It was awful."
Anai Montero
Volunteers from the local humane society heard about Rex and helped them search until 2 a.m., when it began to rain. Montero lives about three hours away from Berlin, in Montgomery County. Exhausted and heartbroken, the couple decided to get some rest and rented a hotel room in the area.
The crash happened on Stephen Decatur Highway in front of a corner store. Little did Montero know then how well she would get to know this area, along with the people who lived there. The hunt to find Rex was on.
"The next day the search became intense. We got the whole town involved," she said. "It's a super tight-knit town. Each day people we didn't know were out searching, asking how they could help. I would tell them, 'He likes squeaky toys,' and people came out with squeaky toys. It was incredible."
There were sightings of Rex, and people sent Montero pictures, yet he still remained at large.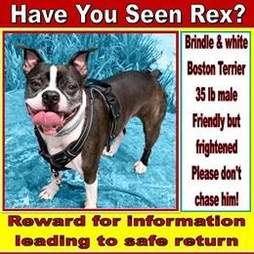 Anai Montero
But Montero was determined.
She put ads in the local newspaper, flooded social media with Facebook and Instagram pages she made about Rex and passed out and posted more than 1,000 flyers. 
Despite all her efforts Rex remained on the run. Frustrated, Montero called in some professionals.
She chartered a helicopter and pilot to search for Rex from the sky.
Anai Montero
Montero called a professional pet tracker who let her borrow an outdoor surveillance system she mounted on trees in the woods. Perhaps the cameras would catch a glimpse of Rex passing by.
Days went by and still no Rex. Montero, her boyfriend, her friends and her family would alternate working and driving back to Berlin to search for Rex.
Then one night Montero got a call — someone said Rex had been spotted. Unfortunately people started chasing him and calling his name and Rex got scared. "He started running from people and in the process was hit by a car while crossing Stephen Decatur Highway, the same road where the original accident happened. Then he took off running again," Montero said.
Anai Montero
Montero, her mother and their friends all jumped in their cars and raced out to Berlin. They put articles of clothing with Montero's scent and Rex's toys all over the stretch of road where he was last seen. "We prayed for him to go there. I stayed until 3 a.m. and then left to go to work," Montero said.
She left wondering if she would ever see Rex again, worried sick he was suffering after being hit by the car. Her mother stayed behind to continue the search.
On her way to work, Montero got the call she had been waiting for — her prayers were answered. "Someone said Rex was on their back porch," Montero said.
Montero's mother rushed over to the home, delighted, and she called Montero and told her she had Rex! She picked him up and brought him straight to an animal hospital.
Evelyn Cheme
"He lost half his body weight and tore a ligament in his back leg. He also had a deep wound under one of his front legs," Montero said. "He also had tick bites and skin rashes."
Evelyn Cheme
Miraculously, Rex was expected to be OK.
Evelyn Cheme
Montero's mom drove Rex home for the reunion Montero had been painfully waiting for. "It was beautiful, they opened the door and he jumped on me! I cried, he went straight to his water and food bowl and devoured it, went to his bed and started playing with his toys like nothing had happened," Montero said.
Anai Montero
Now Rex is home, doing well, recovering from his injuries and putting weight back on. Montero posted this video on his Facebook page.
Anai Montero
Montero said she's learned some lessons from this terrifying ordeal: She bought Rex a GPS tracking collar, and a special dog seat belt, to keep him secure in case they're ever in an accident again. "If he had one, this most likely would not have happened," Montero said.
Anai Montero
Montero hopes other dog owners learn from her experience and said she is so thankful to everyone in Berlin, her family and her friends for helping save Rex's life. "I feel so humbled and grateful," Montero said.
Anai Montero