Little Dog Stuck In Shelter Won't Leave His Big Friend's Side
"My heart just melted to see the love they have for each other."
Mona Ahmed stopped in front of a kennel holding two dogs — Felix, a little black Chihuahua mix, and Oscar, a larger yellow dog with a missing paw. Felix was snuggled up against Oscar, resting his head against his fur.
"My heart just melted to see the love they have for each other," Ahmed, who works as a volunteer photographer at a city shelter in Fresno, California, told The Dodo. "Right away I took my phone out and took a picture."
Every week, Ahmed goes into this Fresno shelter — which has a high euthanasia rate — to photograph dogs and post their images on Facebook, hoping to help get them adopted. But when Ahmed tried to photograph Felix and Oscar separately, this proved to be impossible.
"She had a really hard time separating them," Christi Camblor, cofounder of Compassion Without Borders (CWOB), an organization that rescues dogs in the U.S. and Mexico, told The Dodo. "If she pulled one out, the other would start whining."
Seeing how bonded Felix and Oscar were, Ahmed was horrified to learn that they were slated for euthanasia that very day at 5 o'clock.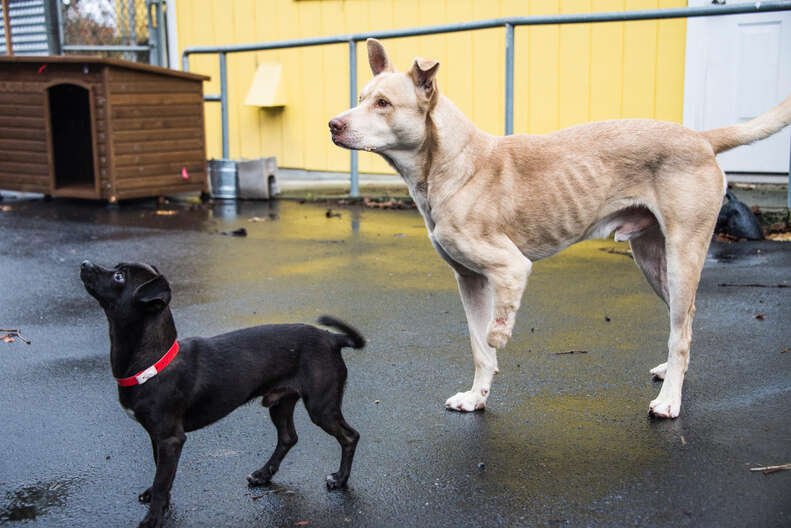 "She started putting out all of her emergency feelers," Camblor said. "She begged the folks at the shelter to please just give them one more day. [Felix and Oscar] just really tugged at her heartstrings."
The shelter workers agreed to give the dogs one more day, but no more than that — Felix and Oscar had contracted kennel cough, a contagious respiratory illness, and the staff didn't want the disease spreading to other dogs at the shelter.
This was just enough time for Ahmed to connect with volunteers for CWOB, who happened to be in Fresno picking up a few other rescue dogs.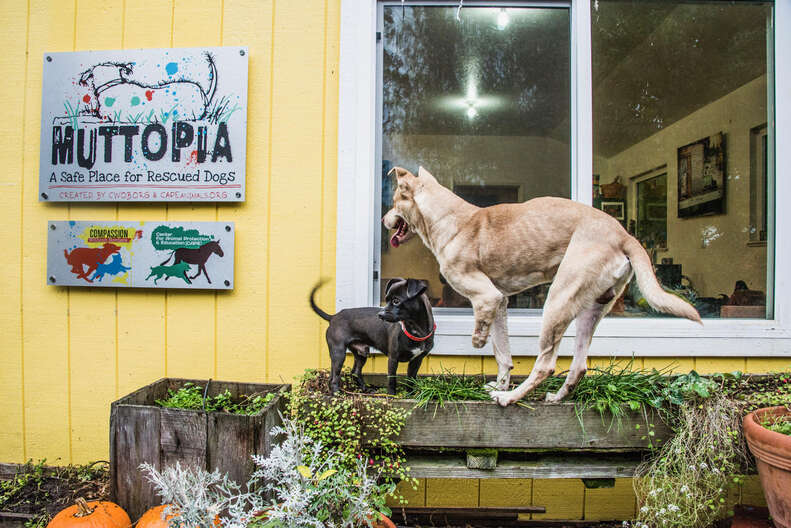 "We almost never take dogs sight unseen," Camblor said. "I usually go down and pick the dogs myself. But that photo. It was such a sweet photo. So I asked [volunteers] to go back and evaluate them to make sure they were friendly."
Felix and Oscar turned out to be very sweet, so the CWOB volunteers pulled them from the shelter and drove them to Muttopia, CWOB's rescue facility in Santa Rosa, California.
"They're actually pretty sick," Camblor said. "Their kennel cough is pretty bad. It's just nonstop coughing."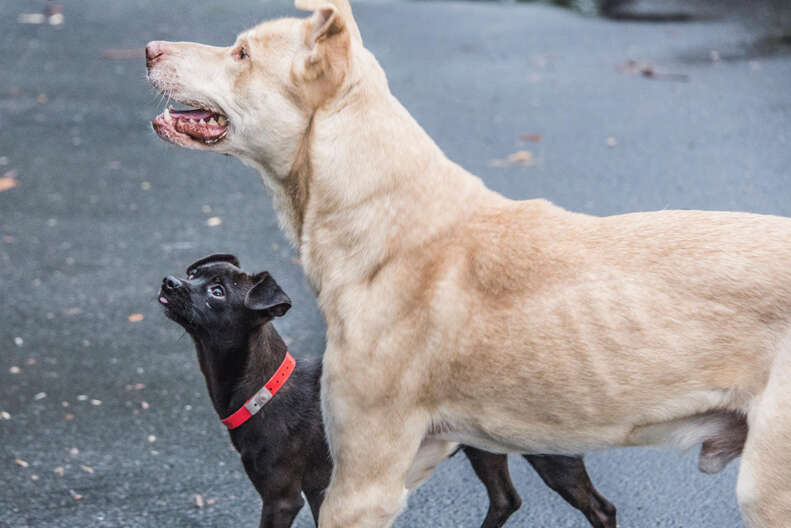 They might not have been feeling well, but Felix and Oscar were all smiles when they arrived at Muttopia.
"They hopped out of the car and were instantly wagging their tails," Camblor said. "They were both so friendly and sweet."
And Felix and Oscar continue to be inseparable.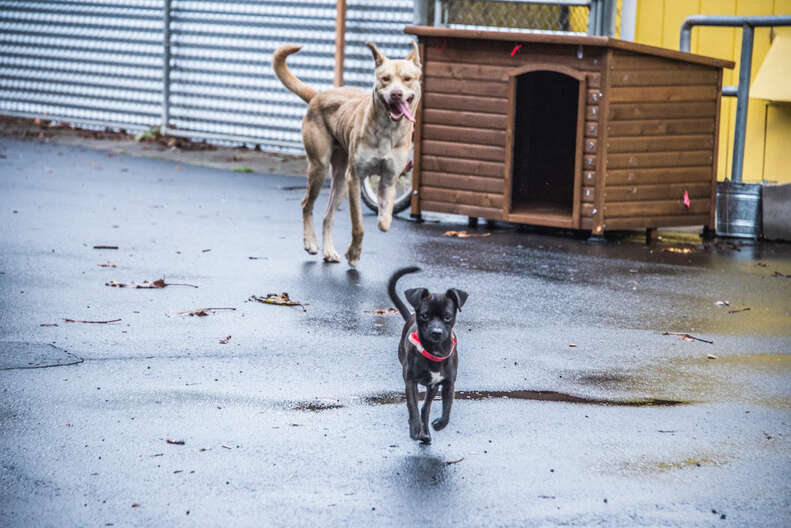 "If they're sleeping, they're sleeping together — exactly how that photo captured it," Camblor said. "When we let them loose, they're running around together. They are very bonded. They also seem to get very anxious if they need to be separated."
Felix and Oscar will stay at Muttopia for a few more weeks while they recover from kennel cough and get neutered. Camblor also wants to get a prosthetic for Oscar's missing paw. When they are ready to be rehomed, Camblor has two wishes — that they go to a home in Northern California (which makes the adoption process easier), and that they're placed in the same home together.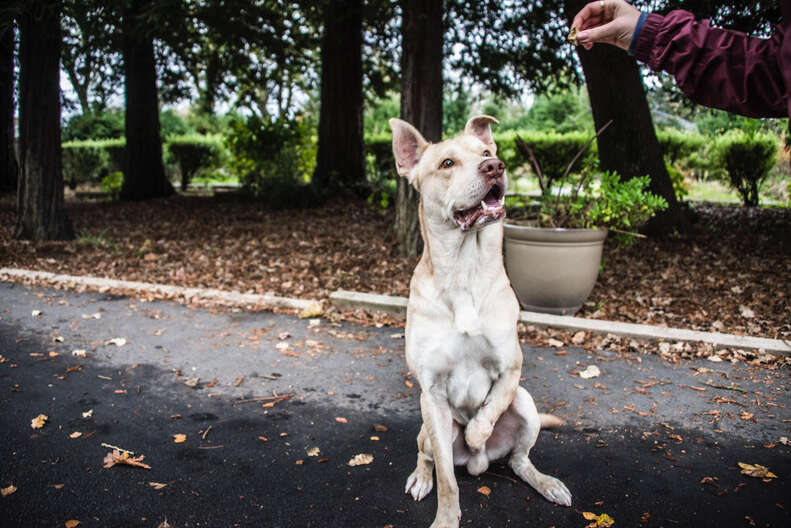 "It's very heartwarming to see how they seem to bring each other comfort, and they're such good buddies," Camblor said. "It's also really nice for us to see how happy they are in our care out here."
Ahmed, the first woman to notice Oscar and Felix's special relationship, is so grateful that they were rescued.
"They are my angels for taking them, and I want to thank them from the bottom of my heart," Ahmed said. "You have no idea how many tissues I used the day they were rescued — but I cried happy tears."
To help Felix and Oscar make a full recovery, you can
donate to CWOB
. If you live in Northern California, and you think you have the perfect forever home for Oscar and Felix,
contact CWOB
.