Shelter Dogs Who Wouldn't Let Go Of Each Other Find A Real Home — Together
"I took one look at them and immediately applied to adopt them."
The bonded pair of dogs were shaking with fear, according to Cindy Droogmans, founder of A-Team Elite Rescue Dogs, a rescue group based in Long Island, New York. And she knew she had to do something to help them.
So Droogmans coordinated their trip to Huntington, New York, where they were treated for heartworm, which is probably why they were dumped in the first place, according to Droogmans.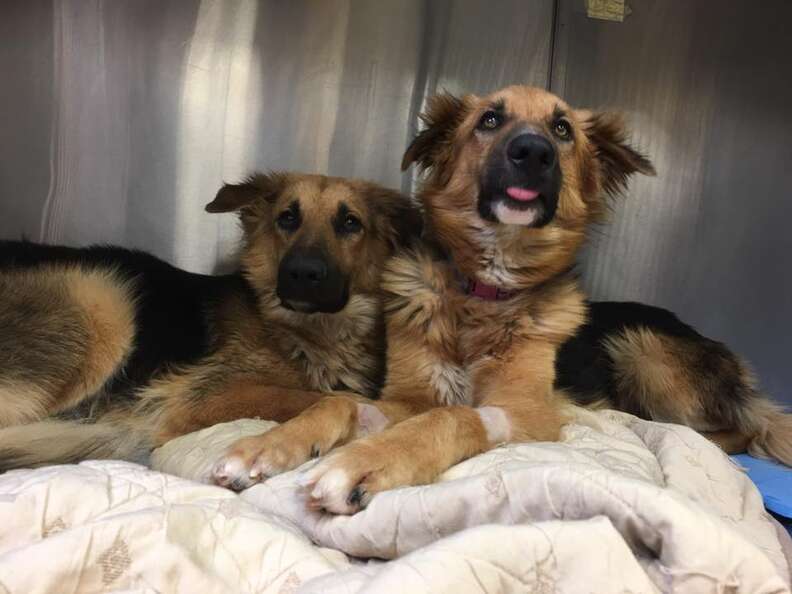 Even at the veterinarian, Apollo and Adonis were inseparable.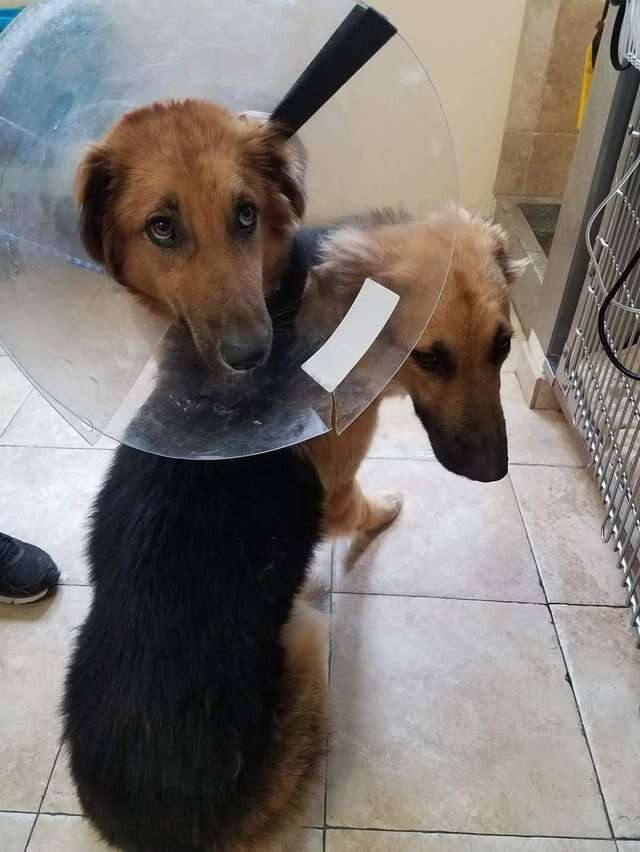 And once they were well enough, it came time to try to find them a home. This can be tricky for dogs who are so bonded. Ideally, they can find a home together, but it can be a lot to ask, since one dog is already a large responsibility.
But the thought of splitting up Apollo and Adonis was unbearable.
"A bonded pair is always difficult to place, but look at them," Droogmans told The Dodo at the time. "How can they ever be split up?"
"A friend of mine shared a post about them needing a home and to be kept together on Facebook," Jennifer told The Dodo. "I took one look at them and immediately applied to adopt them."
The couple already has two other rescue dogs, Sheena and Chara. "Since moving into our new house a year ago, with four acres, [we] have been wanting more rescues," Jennifer said. "I didn't think we would be picked because we live far away from the rescue group and had two other dogs already, but I got a call the next day saying they loved our application and [asking] if we wanted them. Of course we said 'yes!'"
So, donning matching red and blue bandanas, Apollo and Adonis rode to their forever home.
Luckily, Apollo and Adonis wouldn't have to be.
A couple in Virginia contacted Droogmans about the special pair. Jennifer and Donald, who live on lots of land, wanted to give a home to both the dogs. Droogmans determined that this was the perfect home for the best friends.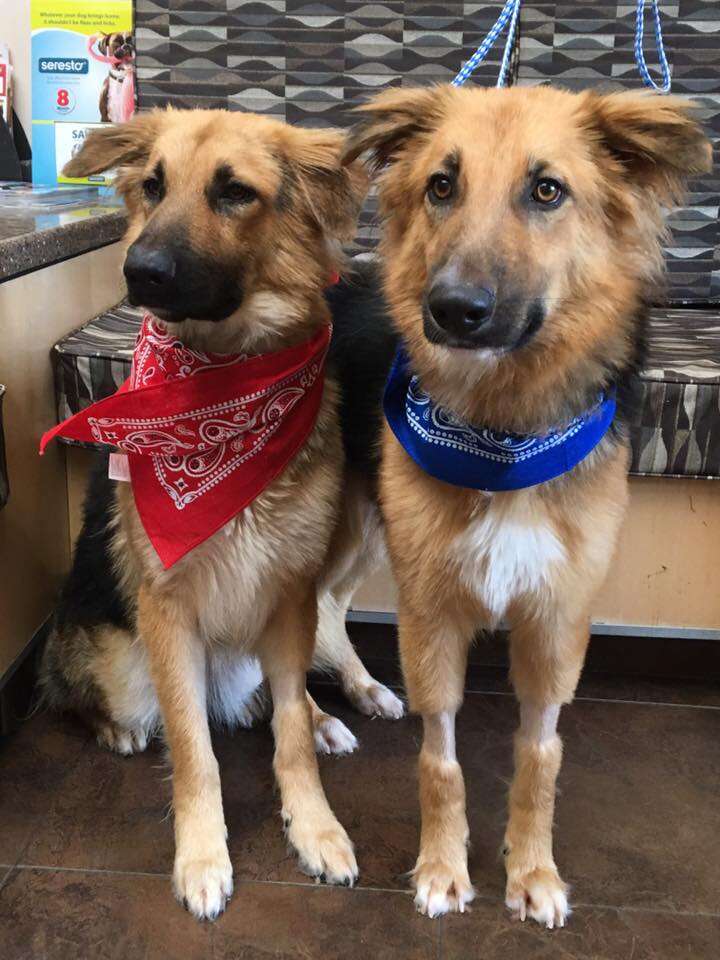 But once they arrived, something really scary happened — Adonis got spooked and as the family was unloading the dogs, he took off running.
Each hour that passed brought dread to the people who were desperately searching for the dog. Pleas for help locating Adonis circulated all over Facebook. "Adonis is still wearing his red bandana," some of the posts read.
"He was hiding in barns and under houses," Droogmans said. "We had to be careful because Adonis is extremely scared."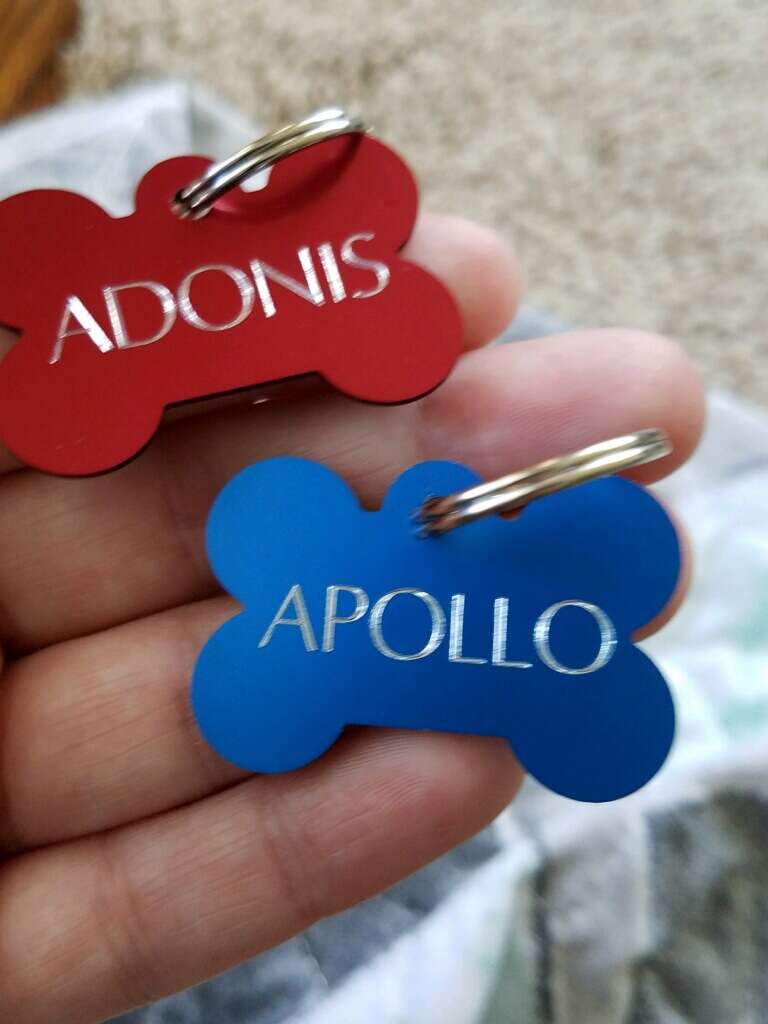 Over 24 hours passed — but people never gave up on him.
And finally a rescue team spotted him and was able to get close enough to bring him home.
"The trackers team did an amazing job," Droogmans said. "I was crying and shaking all over. He is back with his brother."
It seems that finally Adonis is starting to realize that he and his best friend really are safe. And beyond that, they're finally feeling loved.
"They are doing great and getting used to their new house," Jennifer said. "They are very sweet babies and a perfect addition to our family!"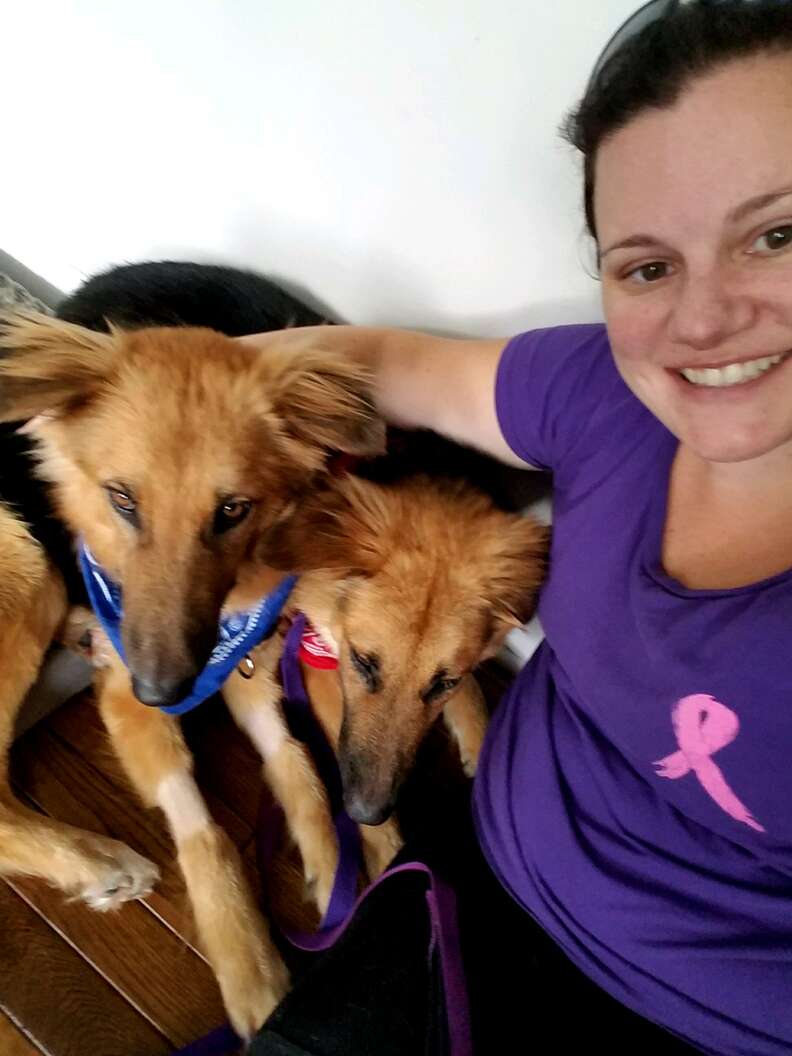 To learn how to donate to A-Team Elite Rescue Dogs,
click here
.