Puppies Left In Dumpster Are So Happy When People Come To Save Them
"They immediately snuggled up ... and were all tail wags" 😍🐕💕🐕
Last Friday, a man walked into the San Antonio Pets Alive! medical clinic and asked to surrender two skinny, 3-month-old puppies. Employees directed the man to a local no-kill shelter, and watched him leave with the dogs — but he didn't get very far.
Four hours later, an employee at a nearby meat market opened his store's dumpster only to find the two puppies thrown away like trash. He reported the abandoned dogs directly to the clinic, and the kennel supervisor rushed over.
From the moment she opened the lid, it was clear how grateful the little dogs were to be finally safe.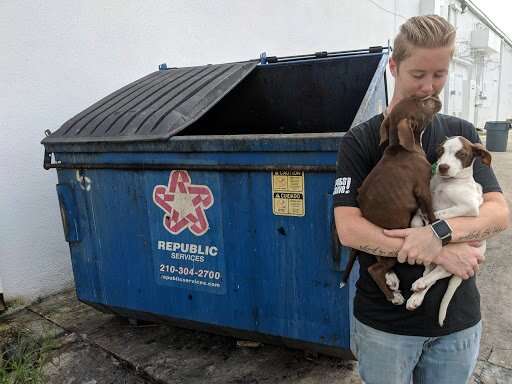 "They immediately snuggled up to our kennel supervisor and were all tail wags when we offered them food and love," Kylie Brasher, the director of the medical clinic, told The Dodo. "They were given baths due to being covered in fleas and we could tell that was a new experience for them — they much preferred the food!"
Up close, clinic workers could see just how severely neglected the puppies had been by their former owner.
Besides being malnourished, both puppies, who are now named Crockett and Bowie, tested positive for ringworm and other parasites. When they first arrived at the clinic, staffers observed Bowie doing his best to protect and care for his brother. Bowie would cover Crockett with his body to keep him warm, as well as sharing everything he had.
"When Crockett wouldn't eat, Bowie was taking pieces of his kibble and laying them by his face," Brasher said. "I've never seen a puppy do that!"
"Their bond is so heartwarming," Brasher added.
Another checkup revealed that Crockett was suffering from canine parvovirus, a highly contagious and sometimes deadly disease, which meant the puppy brothers had to be temporarily separated.
Though both puppies face serious health issues and a long road of treatment ahead, their caretakers are confident that they'll pull through. They've even started to see the brothers' personalities come through.
"Now that the puppies have full bellies and are on medications for the medical conditions, they are extremely affectionate and playful," Brasher explained. "We are very hopeful for full recoveries."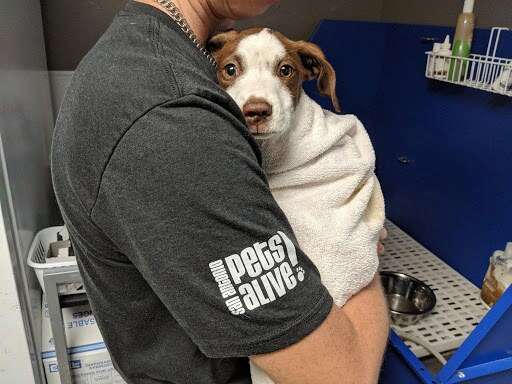 Once Crockett finishes his parvo treatment, he will be able to spend more time with his brother, and it's clear to the staff that he can't wait for that moment to come. "Crockett is feeling more adventurous now and is climbing the baby gate in his kennel to get to staff for attention," Brasher said.
Meanwhile, Bowie is getting all the affection he can out of staffers — who are all too happy to oblige. "Bowie likes to be held on his back like a baby while you rub his belly," Brasher said. "He also gives very polite little nose kisses!"
As soon as the puppies are healthy and neutered, they will begin their search for a forever home. And whoever chooses to make these loving brothers part of their family will surely get plenty of gratitude in return.