Sick Dog Sisters Won't Let Go Of Each Other As They Heal
"I never realized a bond could be as close as this."
A year ago, Casey Alves would have never guessed she'd become a mom to two pit bulls. She and her husband had just bought a house in Maine, and they'd adopted a senior cat, Louise, from the Coastal Humane Society in Brunswick. But then Alves got a message that changed everything.
"I got a Facebook message from a family friend who is a foster for a local organization here that goes down south and picks up pups from high-kill shelters," Alves told The Dodo. "She said, 'We've got these two pit bull pups. They're 5 months old, and they're sisters, and they're looking for somewhere to go, and hopefully they can stay together.'"
Initially, Alves was hesitant. She wasn't sure if the two dogs, Ria and Ella, would get along with Louise, and she also worried about the cost of taking care of two more animals. But when Alves learned that the puppies both had a severe case of demodectic mange, a disease caused by mites burrowing into their skin, Alves felt herself becoming convinced.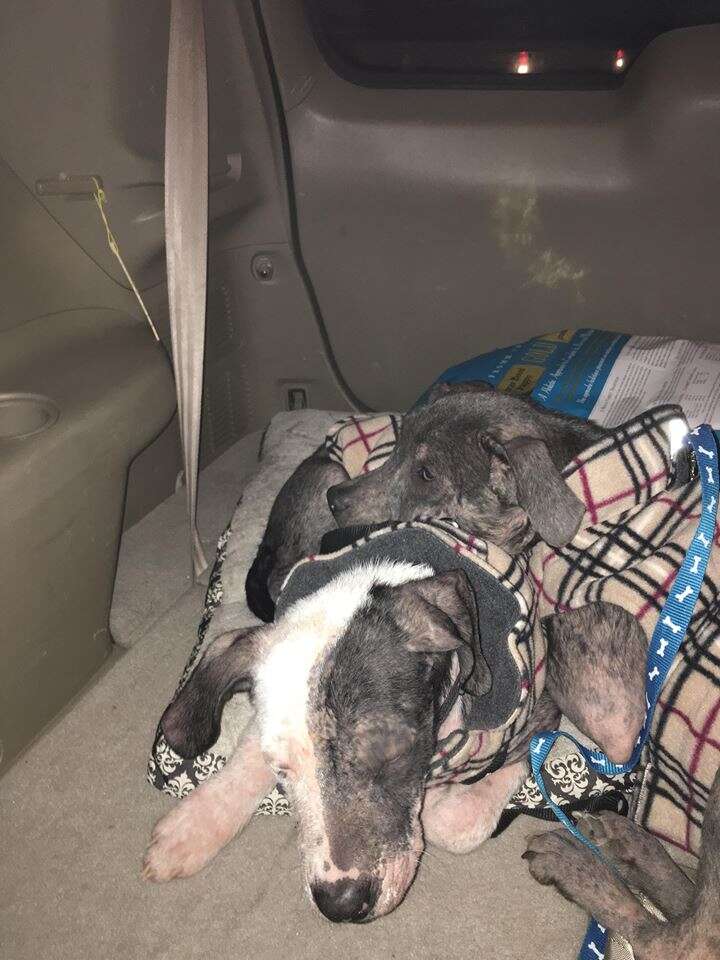 "I said, 'You know, let's just do it. It's just fostering,'" Alves said. "My husband is also an army vet. He had served overseas for a year, so he had always said that he wanted a dog. Dogs are really good for vets, and dealing with some of the PTSD that they have."
When Alves and her husband picked up Ria and Ella in December 2017, the dogs were in rough shape.
"They were very small, and they were greatly lacking hair," Alves said. "Ria almost looked like a little old lady. It was clear to me that they needed more muscle, more meat on their bones."
Alves quickly understood why the rescue group didn't want to separate Ria and Ella — the two sisters were extremely bonded.
"We got them into the back of the car, and they laid in the SUV cuddled in a ball," Alves said. "It was clear that they didn't enjoy car rides, so their safety net was each other."
They even stayed close while exploring their new home.
"We let them roam around, but they stayed right next to each other — like side by side as they roamed around the house," Alves said.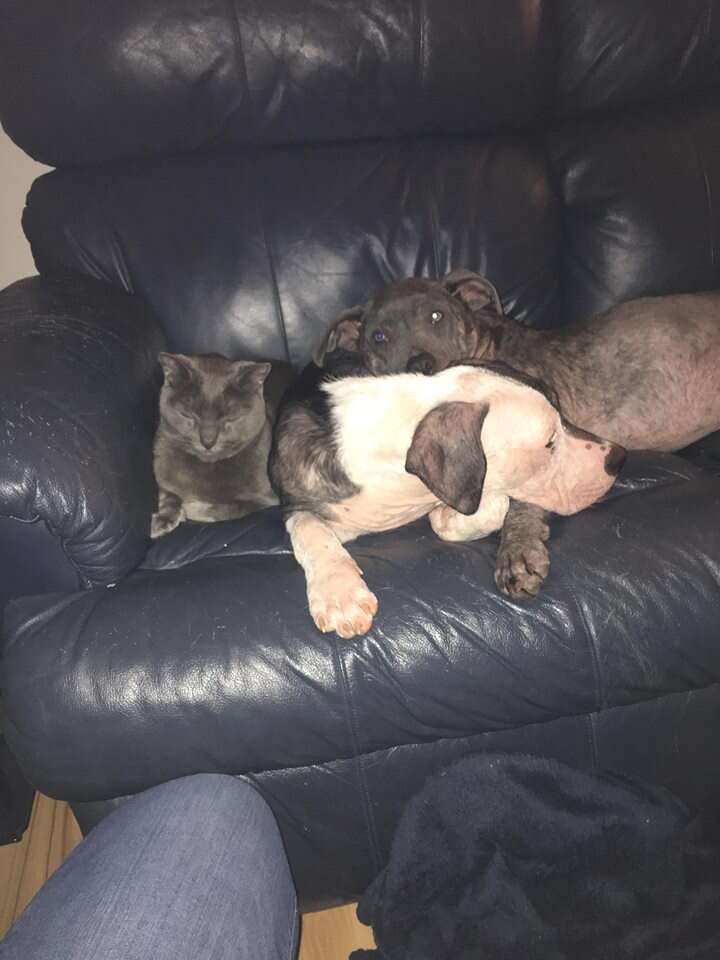 They'd also cuddle on the couch — or, sometimes, right on top of Alves' husband.
"It was clear that they were just so thankful to be somewhere," Alves said. "They jumped right on my husband ... and laid together in a ball. Even now that they're much bigger — too big to sit on our laps — they still do."
It took several weeks for Ria and Ella to recover from the mange, and the two sisters comforted each other throughout the healing process.
"The mange was bad, and it was uncomfortable for them," Alves said. "But they were constantly cleaning each other … and it was really, really sweet. I had never had sister pups before or dogs at all, so I never realized a bond could be as close as this."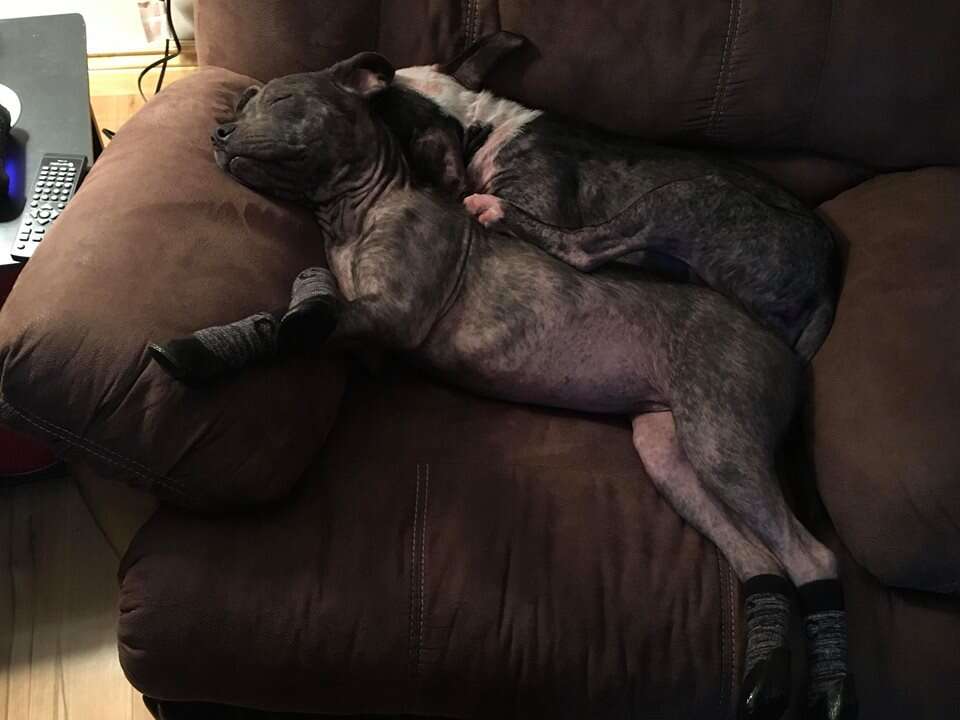 Six weeks later, Ria and Ella had almost fully recovered, and their fur had grown back.
"It was really unbelievable," Alves said. "We didn't even completely know the color of the dogs. You could tell that Ria was going to be black and white, but Ella we thought was dark gray — but she's really like this gray-brown color."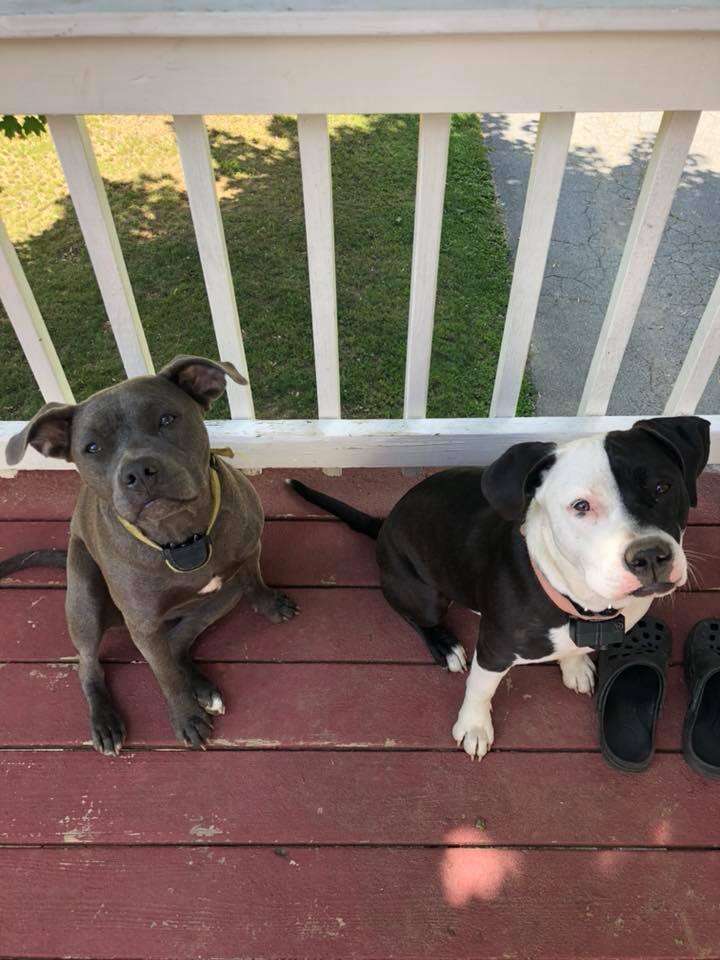 Alves wrote a post on Pittie Nation, a closed Facebook group for pit bull lovers that's tied to The Dodo's Facebook Watch show, also called Pittie Nation, to share the story of the dogs' remarkable recovery.
"I got a lot of comments and praise for taking them in," Alves said.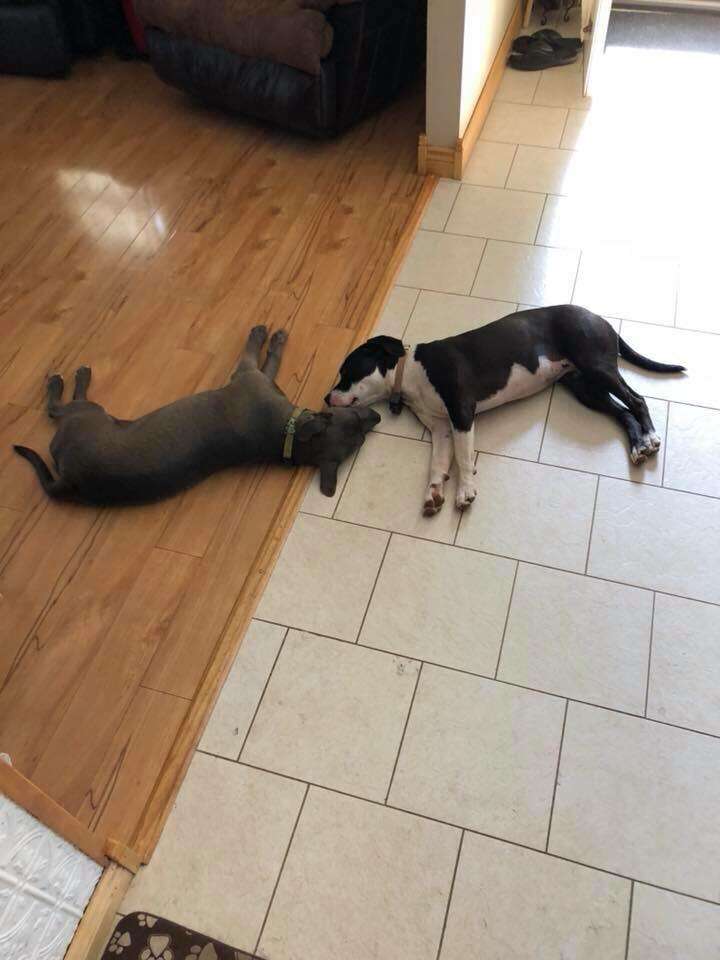 But one thing has never changed for the two pit bulls — their love for each other.
"They're a little bit more independent, and they spend a little bit more time separate from each other, but still, when I go looking for them around the house, I'll find that one has her head on the other's torso or neck or something," Alves said. "They're quite funny how they stay together."
Ria and Ella don't just love each other — they also adore the cat, Louise. However, Louise isn't too fond of them.
"Ria and Ella love to sit as close to her as they can," Alves said. "Louise will tolerate it for a few moments if they sit still, but usually the girls try to sniff her or clean her ears. Once she's had enough, she will hiss and walk away."
At the end of the fostering period, Alves and her husband were faced with a tough question — did they want to give Ria and Ella up? Ultimately, they decided to keep them, and Alves said it's the best decision they made.
"They are our family now," Alves said. "I can't imagine our lives without them at all."
Want to adopt your own dog? Then meet Dodo Adoptbot, an interactive guide for new pet parents. Get started on
Facebook Messenger
or text HOME to 38349.